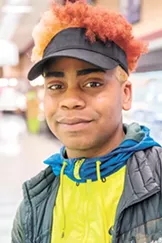 DERRICK JENNINGS
I don't have an answer to that. I don't think anything is the best.
What's the best food of the decade?
Well, for Spokane, I have actually been going to the Chinese buffet that they have out here, up on Division.
What makes it the best of the decade?
Food. I mean, I love food, so...
You are here in a grocery store, so clearly.

---
REMINGTON STEELE
Are you sure your name is Remington Steele — like the —
It is. [Proves it with driver's license] My parents gave me that one.
The best food of the decade would be Golden Corral. I can interact with my friends a lot better in a place like that. It just has a lot better atmosphere to me.

---
JEFFERY BELL JR.
I'm not really sure that there has been anything good that's happened in the country in the last 10 years.
What about movies? Best movie?
Actually, I have to say the Deadpool movie. It was a little breaking for cinema. It pushed on a lot that most movies don't. I'd say its inappropriateness and how accepted it was, like breaking the box offices that way.

---
MEGAN SPIESS
How about best... TV show.
Downton Abbey.
What was so great about Downton Abbey?
Their clothes.
Were you angry when Matthew got killed?
No. I wasn't a big fan of Mary, so...
So she just had it coming?
Something like that.

---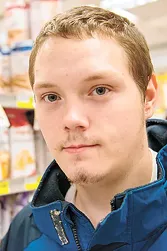 ZACK PARKER
You can pick a category, it can be anything. What about, what is the best book of the decade?
The Hunger Games series, honestly.
What was the best Hunger Game?
Mockingjay, honestly.
Did the movies do it justice?
No, they should have done all the movies in a two-part series. There was so much in that book you can't cover it all.

INTERVIEWS BY DANIEL WALTERS
BROWNE'S ADDITION ROSAUERS, 12/22/2019