NIKELL GREGERSON
One of my goals would be to get my life on track. ... And just get good grades and do good in baseball. I'm the first and only girl on the L.C. baseball team.
What'd you mean by get your life on track?
I'd like to continue getting my grades good and continue bettering my mind and how I think of things.
---
DENISE CEARBAUGH
Find contentment.
Do you not have that right now?
No, I'm a FOMO kind of person. We've been traveling the past couple years in our RV, so we just landed here in Liberty Lake. We're gonna explore the Spokane area and see the Pacific Northwest and just find the beauty here.
---
TOM VERGE
I hope that at the end of the elections, our country is united again.
Does it feel pretty divided where you live in Skagit County?
I think our country has never been more divided, whether it's in our town or where our children live or anywhere else, and that's sad. By the end of 2020, I just hope we come together again.
---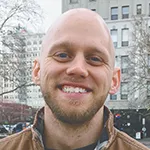 DANE LAWSON
Making it through this semester of nursing school. I'm old and I'm going to school for my fourth degree, because the first ones were in business and economics, so I want to do something that I'm passionate about, helping people.
---
LIBBY VIGIL
Get into grad school.
Do you know what you want to go to school for?
Sociology. I'd like to hopefully go into academia and research and teach. [In undergrad] I did some work in prisons, and I went to Argentina and did some work in prisons there. So studying incarceration and race and how those kind of intersect.
INTERVIEWS BY SAMANTHA WOHLFEIL
12/27-28/19, RIVERFRONT PARK