TIMOTHY SATROM
Make sure that the homeless crowd had a safe place to go, because the library is closing for the next year and a half.
---
JO FRANKO
I think the thing I notice more than anything else — and this is so stupid — but the streets and sidewalks are in terrible shape. I push a walker around, so I notice it a whole lot more than other people do. I notice the ruts and the curbs. I would also take a much longer time looking at [the homeless] issue than just superficially dealing with it in the beginning.
---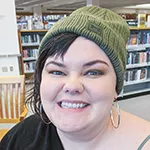 FITZ FITZPATRICK
If it was possible, dedicate some money to more low-income housing. And then free ice cream for everyone!


---
TOD MARSHALL
The mayor ran a divisive campaign, one that targeted very vulnerable citizens. I hope that she changes this approach and that she finds ways to connect people so that multiple perspectives can be brought to solving the most challenging issues of our city, especially poverty and the attendant lack of access for many of our citizens to basic human needs: health care, education, nutrition and culture.

---
TERESA CASTOR
I would hope to end homelessness here in Spokane, Washington. That would be my number one goal.
Do you know people who are homeless?
Yes, I do, quite a lot, and I see it every day out of my window.
INTERVIEWS BY CHEY SCOTT
1/6/20, DOWNTOWN SPOKANE LIBRARY