JOHN CRAMPTOM
That is a silly question. I'd be a pepperoni pizza.
Why is that?
I just like a little spice in my life. That's why. Just doing stuff outside the routine day-to-day. Something that gives me a little thrill.

---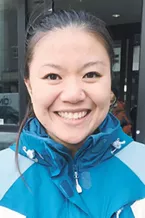 ERIN CLARK
Veggie because I'm vegan.
Does that say anything about you?
It says you're a little more Earth-conscious. In some ways, depending on how you do it, more health-conscious. Either way, it's a little more earthy.


---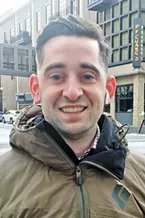 TIM WILLIAMS
I would be a supreme pizza. Because it's my favorite but also because there's a lot of meat on there — I'm spicy — and there's a lot of vegetables on there because I'm healthy.
---
RYAN CHRISTOPH
Probably a Thai pizza because I'm Asian? My dad's side of the family is from Thailand. It has curry sauce, peanut sauce and various curry vegetables.
---
CALEB MILLER
I love Hawaiian pizza. That's my favorite. But I think I'd be pepperoni with olives. Like every Thanksgiving, I eat like four cans of olives. I think I'm mostly made up of olives at this point so if I were to turn into a pizza it would be mostly olives.
Does it say anything about your personality?
You can put them on your fingers and you look like a monster.


INTERVIEWS BY JOSH KELETY
01/13/20, RIVER PARK SQUARE