DYLAN MUSTACH
"You can do it."
What's your least favorite thing about Valentine's Day?
Probably the conspiracy that you need to have sex on Valentine's Day.
---
ANDREW JIMENEZ
I guess, like, I'd probably put something like I love you, but like "I L-u-h U," something dumb like that.
Do you have plans for Valentine's Day?
Not currently.
Are you hoping to have some?
Maybe, you never know.
---
CAITLIN AENLLE-ROCHA
I would say "Be You."
And what's your favorite thing about Valentine's Day?
I love the love. I love that it's just all about spreading love, and loving everyone around you.
---
SOPHIE TOLSON
How about just "Kiss Me," I like that one.
And is Valentine's Day a least favorite or favorite holiday of yours?
It's actually my favorite holiday. Because I like pink, and I like chocolate, and I like telling people I love them.
---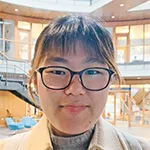 MINAMI NAGAHAMA
"Have a blessed Valentine's."
And where would you rank Valentine's Day on your list of favorite holidays?
It would be maybe second, Christmas first.
INTERVIEWS BY MACIE WHITE
1/31/20, GONZAGA UNIVERSITY