ARE YOU WORRIED ABOUT CHANGES TO THE AFFORDABLE CARE ACT UNDER DONALD TRUMP?
Tony Amato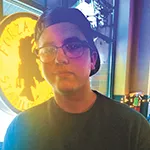 Yeah, I am, actually, because my mother actually used the Affordable Care Act to figure out that she had some kind of disease that she thought was something else, and now she knows, and now she's actually getting therapy for it. Without Obamacare she wouldn't be able to do that. And now that Trump is repealing it, it's not gonna be good for her in general.
---
Teagan Wicker
There's good things about Obamacare and not-so-good things about Obamacare, but I don't know what Trump is planning to do.
How can we make health care more affordable and accessible?
I think making it more accessible for people... there's people on the streets who are sick and they don't have homes... and I think that health care should be more available to them.
---
Sarah Hooker
Yes, I am. I'm not sure what he has planned, but yes.
How can we make health care more affordable and accessible in the U.S.?
I don't know, to be honest, but hopefully somebody has a better plan.
---
Kelly Van Lith
I honestly do not feel like I understand the complexity of the health care system enough to, like, officially say right now, and I'm kind of in that mode where I'm learning a lot about it. This is the first time I've been on a employee-based health care program off of my parents'. So I think, yes, worried in the sense that there are changes coming, but also I feel like I need to understand the whole spectrum better
---
Andrea Parrish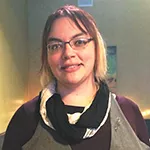 Am I worried about the changes? Yes, but not only because of President-elect Trump, but also because of the way the Republican Congress has said they intend on changing things. I personally, and a lot of my family, have been impacted, especially by some of the coverage requirements, saying that insurance companies can't limit coverage because of pre-existing conditions.
INTERVIEWS BY EMILY GOODELL, 12/9/16, FORZA COFFEE COMPANY