ELIZABETH GEORGE
Excites you?
That the Republican Party finally gets a dose of reality.
Concerns you?
Nuclear holocaust because of a lack of diplomacy.
---
LENNY CIABATTARI
Excites you?
Deregulation — letting the handcuffs off of big business.
Concerns you?
Personality. I don't like his personality at all, he's a jerk.
---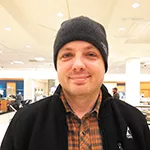 DANNY BENNETT
Excites you?
We finally have a president who actually speaks his mind...
Concerns you?
...which is kind of his downfall.
---
LIZ MORRIS
Excites you?
There is nothing. At all. At all.
Nothing?
Literally nothing. I have nothing but concerns.
What concerns?
I am a female. I'm part of the LGBT community. Public education, the military — I have yet to hear a plan of any kind, for anything.
---
JACQUELINE GARZA
Excites you?
He's a businessman, so I think he'll create more jobs. I think that's what he knows.
Concerns you?
As a pharmacist, I just don't think he really has the experience or the desire to actually improve health care. Health care just can't be treated as a business, and right now I think it's all about saving or making money.