JOSI GOODWIN
I would really like a juice bar, like a Wellness Tree; that'd be great! And maybe a yoga studio.
OTMAR TRATTLER
Parking. If [people] can't park close enough, they won't come. I also think they need to promote the children's playground, and add crafts fairs and more activities.
TAYTUM FULLER
Places that stay open later. [Veraci Pizza] is a family-oriented restaurant and closes around 9, but we still have people walking in at 8:30. Bars would be good too — we have to send people across the bridge, because everything closes early and most places here just have beer and wine.
KYLA HOTCHKISS
I'm a resident, and we need a parking garage. It's starting to get a little jammed in here.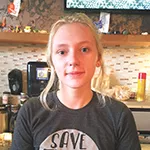 MACKENZIE ROBINSON
I'm just excited for the grocery store. I think it completes the area. It'll be a little self-sustaining area, and super convenient — if we run out of avocados, we can just run across the street.