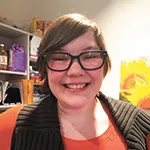 SASHA GIBSON
Yes, all the time. When you're engaging in social justice, you're going to hear that, especially if you're advocating for safe places for students.
Have you ever been called a "special snowflake" to your face?
No, it's online or on social media, even my family members will say it.
KATY BLACKERBY
No, I've never heard of that, I have no idea what that is!
SABRINA VILLANUEVA
No, but I've heard of it in a political context.
Who is being called a "special snowflake"?
It's mostly used for liberals or Democrats. I binge-watch Tomi Lahren because she pisses me off... That's when I hear or read it, and it's usually derogatory.
KERI IWASAKI
No, and I haven't heard that term before. I know really liberal people get called names.
TYLER CHASE
Our professor actually called us "special snowflakes" today! Not in a bad way or anything, it's funny — we were just talking about résumé-building and he said we're all "special, unique snowflakes."