LISA ANSELMO
Vampires.
Why?
I've got four kids, so we love watching movies like Hotel Transylvania.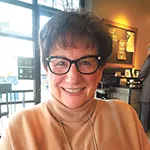 SUSAN ASHE
None! I avoid those kinds of movies, I don't really like them; I'm more into thrillers. Besides, my monster's in the White House.
JASMINE DANDRIDGE
King Kong.
Why?
I like him because they underestimate him, he's actually really sweet. They thought he'd kill the girl, but he doesn't.
DON HARMS
The aliens from Alien.
Why?
Because they're badass! You have to blow them up [to kill them], they're tough.
SHYAN DAY
Ghosts, like from found footage movies.
Why?
You could be sleeping and they could be choking you or something, that's so scary.