DOMINIQUE MURPHY
Probably my English class. We read a lot of good books. We didn't really dive into any good books until I was, like, in junior year. English, my home-ec class, we did fitness and food, and that's when I started to really get into nutrition and things like that.
HILARY BAIRD
Art and music.
Why?
I have always been a super-artsy person. I love the way art can be interpreted differently by different people.
JUSTIN LONDON
Math and science.
Why?
It ends up being the case that in order to understand the world in a deep manner, you have to understand the structure of all things.
I think mathematics and physics, in particular, are two of the best ways to get to first principles.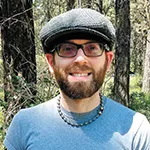 RYAN NICHOLS
Athletics, theater and English, I would say.
Why?
Because you could progress in your knowledge and the way you think. Especially with theater. I am a theater guy, so I love learning more, and being able to progress more as an actor.
LEAH NICHOLS
I loved history, and I loved science.
Why?
History because I felt like understanding history, we could learn to make life better now. Science because I liked learning about the natural world.