TESS COX
On my team, more like some awesome celebrity like Selena Gomez.
Why?
I just want to meet her. I am terrible at basketball, so probably not someone I would want to impress.
NICK FLETT
I've got two young children, and it is a little hard to take them around, with all the crowds and everything else. When they are older, me and the kids would be fun.
JENNY HOLMES
My Hoopfest dream team would probably be my boys being on a team and winning.
Who have been on your past Hoopfest teams?
I have never played in Hoopfest. I've only been a spectator.
KATE DILWORTH
We would have a really creative name that I can't think of right now. It would probably be just some of my best friends who are really athletic and taller than me. I am terrible at basketball, but I would be the number one fan on the court.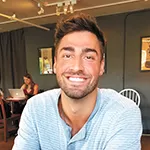 AUSTIN DAMON
My Hoopfest dream team would be myself and probably my three buddies from high school. We wore bikinis (one year), and I don't know if they'll ever come back, but if I can get those guys, we could all wear bikinis. We made the front page of the newspaper. That would be my dream team.