THOMAS BARBER
Germany.
Why?
I actually lived there from 1976 to 1981. Being a kid, I loved exploring caves around the small town that I lived in. So I want to go back and do that again as an adult, and relive those experiences.
WILLIAM VUE
That's a hard one, because we actually live abroad. I'm gonna say South America, and keep it really broad. The culture, the nature and the jungles would be interesting.
CHRIS DORR
For me, London is No. 1. Just the history, and all the great football you can watch. It would be fun to go there and experience that.
JAMES SHANK
Let's go with Garmisch-Partenkirchen, Bavaria.
Why?
I like the food, scenery, the people, the whole ambiance. It would be a great place to explore.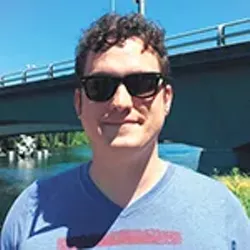 KELSON LEWIS
India is a place I've always dreamed about going to.
Why?
Because the culture is just radically different than America, and I've always wanted to go there.