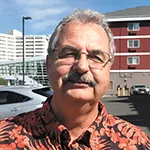 JOE LAKE
We were going to watch it in Madras, Oregon, but when we looked at the skies a week ago, they were bad so we moved over to Newport. My brother found a house that sleeps 21 people. I'm a Florida man — I came up here to watch it.
GRACE FISHEL
I'm getting glasses and probably going somewhere, not sure yet. In Spokane, for sure. I'm just not sure where yet. I don't know where the best spots to go are.
Are you excited for it?
Yeah! It will be really cool.
LAURA BETHKE
I'm working.
So you're not going to be able to sneak out and get a glimpse?
Oh, I can. They've allowed us an hour to sneak out, but my entire team is in Portland so they're doing a big event over there, but I'm here. And I don't have glasses.
Are you upset about that?
No. It's not a big thing for me.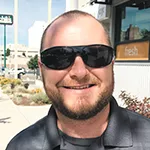 DAVE STARK
We've been slacking on it a little bit. I have a 9-year-old, and he's super excited about it, so we're gonna buy some of those glasses, and probably try to find a vantage point away from the city a little bit, and go check it out.
GARRETT NEILSON
I don't really have any plans for it. If I got some special glasses I could watch it, but I'm not planning to make an event out of it. I mean, it's cool. But it's happened before.
Interviews by Wilson Criscione at Main Market Co-Op, 8/15/17