DENISE STETTLER
Yes; it actually annoys some people. I yell, "Hey, batter batter!" to throw off the other team, but people are always like, "Hey, this is a football game."
PAUL STETTLER
I put on my Seahawks jersey; it's a real, authentic one, thanks to my daughter.
JOHNATHON BARET
Honestly? Drink beer.
CONNOR HARRIS
I take a pregame dump. Pooperie. It works.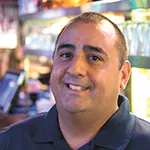 RUDY GUTIERREZ
Get my BBQ ready, so we can have some good food at halftime. Oh, and you can't forget the pregame beverages.