REGINA SIEBER
When I was a child — I was born and raised in Germany; we were refugees from East Germany — it was, like, a big farm where people from the East [lived]. But basically, it was the closeness of the people; those seven years I lived there were the most memorable for me. When I was 4, I remember someone from the house dressed as Santa Claus.
JEFF GIST
It would be just spending time with my family, and getting everyone together and eating a good Christmas meal.
Which do you prefer, Christmas or Thanksgiving?
I probably prefer Christmas over Thanksgiving, but I love them both.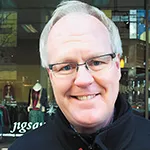 LARRY SOEHREN
I think my favorite memory now is a project I work on called Fantasy Flight, where we take 60 kids to the North Pole every year — they're homeless and shelter kids — and every year we help them establish their Christmas memories; for us to volunteer is really an opportunity to appreciate what we have and hopefully change somebody's life.
BRIE BYRNE
Hearing my parents wrapping gifts the morning of Christmas, and us kids spying on them doing so.
Oh, yeah? Did you see what you got?
Yeah! A couple times we did — it's an every-year kind of thing; they're last-minute people.
CLAIRE ROBERTS
Getting up in the morning when I was a kid and seeing my dad super excited about my presents. Half the time, I think he was more excited than I was. He's since passed away, so I like to remember those important moments.