KEVIN KELLY
Spawn is my favorite superhero, because Todd McFarlane went to Eastern Washington University, and he's the creator of Spawn, so that's rad. He's a demon, but he's a good guy.
CHRIS MILLER
Superman, because he's invincible. He shoots lightning bolts out of his eyes. That's convenient. Do you have a favorite Superman movie?I like the comic books better than the movies.
MARY KLEIN
Wonder Woman. She kicks butt, and she looks amazing while she does it.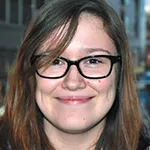 SABRINA PIMMS
My favorite superhero is Ant-Man. He's not really popular, and I like that because not a lot of people are popular. I love to give him recognition for his noble powers of shrinking and having very extreme fighting scenes with Thomas the Train.
ROMAN MAKALOV
The Flash because you get from A to B quickly. And if you could have any superpower what would it be?
The ability to go back in time, so I could fix my mistakes.
INTERVIEWS BY ALLA DROKINA, 2/7/2018, DOWNTOWN