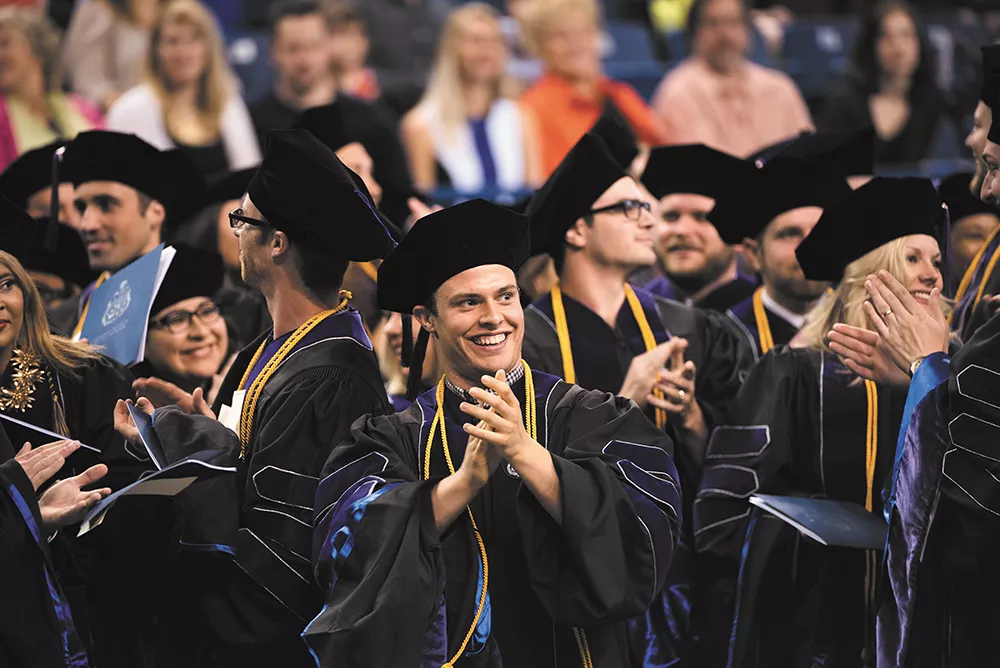 As law schools across the nation have shrunk in recent years, so has Gonzaga University School of Law. Last year, four out of 17 of its tenured professors accepted buyouts offered because of consistently lower enrollment numbers.
But a year after those buyouts, the outlook for the law school appears to be better already. Jane Korn, the law school dean, says that enrollment at Gonzaga's School of Law has stabilized.
"Gonzaga is in a very strong position," Korn says.
Since 2010, enrollment at schools approved by the American Bar Association has steadily decreased, and from 2014 to 2015, enrollment decreased at a rate of 4.9 percent, according to the ABA.
When Korn came to Gonzaga in 2011, each class had about 175 students, she says. The numbers have dipped to around 125 since, but it's remained at that number the past two years. Next year, she says, "all indications are that it will be slightly larger than the class last year."
There are plenty of theories as to what was responsible for the dip in enrollment, but effects of the recession seem to be the main culprit. Enrollment, Korn notes, is ultimately tied to the job market. When it became harder to find a job as an attorney in 2008, fewer people wanted to attend law school.
But job prospects for new graduates have since gotten better, Korn says. Of 121 graduates in the class of 2015, 101 found employment, seven are enrolled in graduate degree programs and only three were not seeking employment. The pass rate for first-time takers of the Washington bar exam was 86 percent, 11 points above the state average, she says.
University of Idaho College of Law, meanwhile, has not experienced a decline in enrollment, says Jeffrey Dodge, assistant dean of students. Over the past five years, the college has consistently enrolled between 100 and 110 new students.
"We haven't had to do any of that. We have not let go any faculty, or cut any programs," Dodge says.
He attributes that to a variety of factors, including strong employment outcomes and affordability. The University of Idaho College of Law was recently ranked 18th in the nation for employment outcomes for graduates, according to the American Bar Association. More than 78 percent of its graduates in the class of 2015 found full-time jobs in the legal industry.
The college also recently announced that it plans to offer first-year classes to students in Boise beginning in the fall of 2017. The college would then have a dual-campus model, with 40 to 60 students at each location.
Increasing enrollment overall at UI's College of Law is not a goal, however.
"More increases would be great, but also the market doesn't lend itself for significant increases right now," Dodge says.
The job market in Idaho is a bit different than in Washington, says Dodge. Idaho, he says, struggles to retain talent. But that can also mean that those end up enrolling in law school have a better chance of finding a full-time job.
"With students leaving college and not returning, or not wanting to return, those that do stay have an opportunity here," he says.