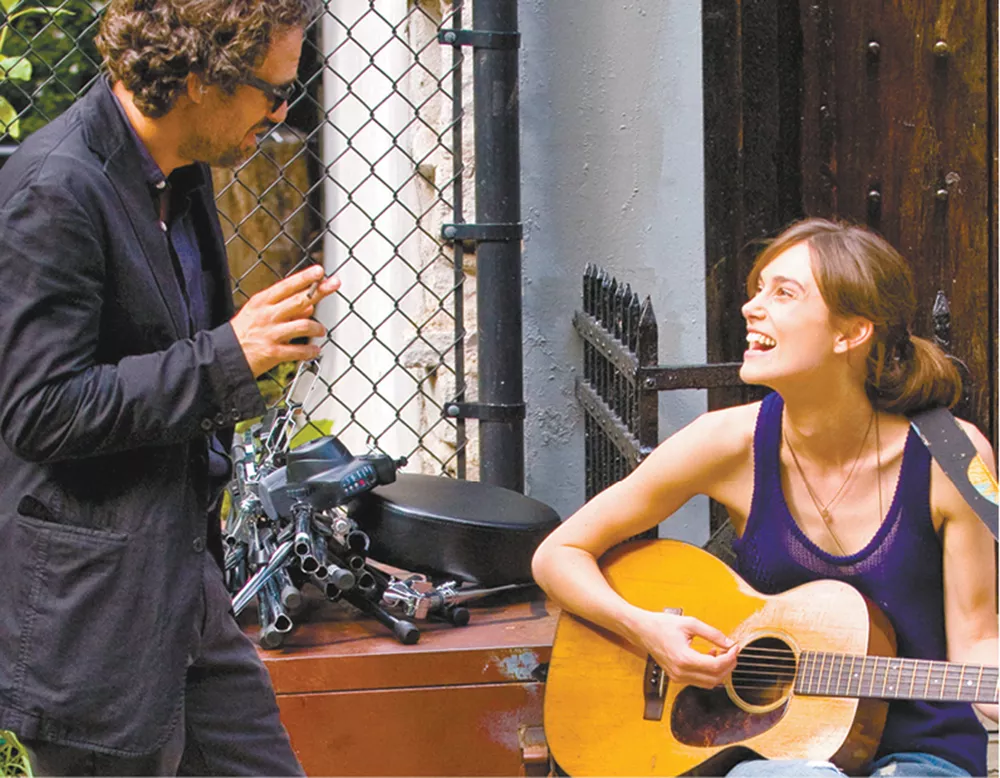 Once upon a time — in that long-ago year of 2007 — there was a magical musical called Once. Set in Dublin, it was the tale of two emotionally damaged musicians whose lives intersected just enough for them to start picking up the pieces, and heal through their collaborative project. Writer-director John Carney — with a key assist from the songs by his stars, Glen Hansard and Markéta Irglová — fashioned a tiny-budget miracle that became a minor word-of-mouth indie hit, leading to an Oscar win for Best Original Song and even a Broadway musical version. It was the kind of creative lightning that anyone is lucky to have strike once.
But apparently that didn't stop Carney from attaching a lightning rod to his head and trying to chase down storm clouds. Because Begin Again doesn't just try to recapture what Carney managed to capture in Once; it almost plays as a remake — specifically, like a Hollywood remake, in the sense that it somehow misses the point of what made the original so appealing.
He moves the action to New York, where our two protagonists are destined, as in Once, to meet over an emotional performance by a singer/songwriter. Gretta (Keira Knightley) has been dragged up onstage at a bar open-mic night by a friend (James Corden) to perform an original composition; in the crowd is Dan (Mark Ruffalo), a once-hot music industry executive whose only discoveries of late have been how quick it takes to get to the bottom of a bottle. But Dan hears something in Gretta's song — we see what he hears in a cutesy bit where instruments float in the air, playing the arrangement in his head — and he becomes determined to record her work and get her a distribution deal with his former partner (Mos Def). It's baffling how little Carney appears to appreciate the narrative efficiency he captured in Once, as though he suddenly decided that he needed 15 minutes of Knightley and Adam Levine sparring to convey what Once communicated in its single "Lies" montage.
He's on somewhat more solid footing where the music is concerned — though, as was the case with Once, much of your reaction may hinge on whether you think the songs are as amazing as the people in the movie seem convinced they are. Mostly co-written by Gregg Alexander, they're a solid collection of folk-pop tunes, and Carney stages the live recording sessions as gleeful celebrations of the creative act.
Yet this is also meant to be, in one form or another, a love story. And Begin Again spends so much time on extraneous nonsense — like Gretta connecting with Dan's daughter by offering helpful relationship and fashion advice — that we're never allowed to focus on the way these two people are supposed to be helping one another discover crucial truths about where they want to be, and with whom. ♦
BEGIN AGAIN
Rated R
Written and directed by John Carney
Starring Keira Knightley, Mark Ruffalo, Adam Levine