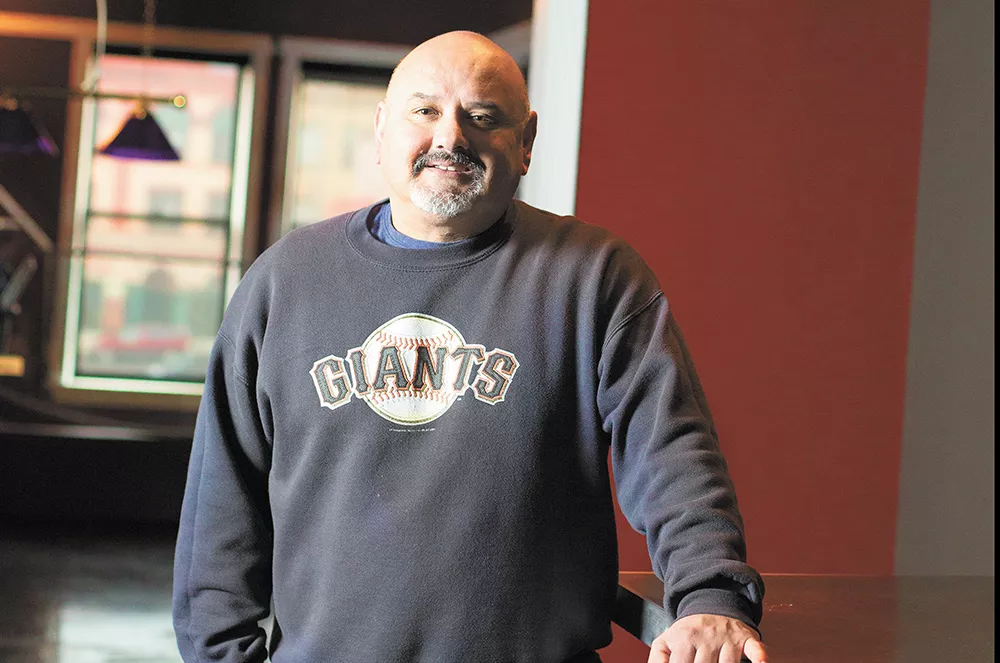 We're standing on the dark stage of the soon-to-be-open Pinnacle Northwest, surveying a tiered room that's experienced its fair share of rattling bass beats, grinding dance moves and powerhouse rock shows.
"We may be getting rid of that," owner Thomas "TC" Chavez says, pointing to a smooth, silver-colored dance pole near the front of the stage. "We're adding another layer of flooring on top of this, but this setup is sound."
The Hop! owner is giving the rundown on his new downtown facility, the former Club 412 space on Sprague that recently closed after not renewing its lease. Planning to open "the Pin" next month while still keeping The Hop! on North Monroe, Chavez says he wants to make his new place the sort of all-ages music club where people also stop in, grab a sandwich and catch a game during the afternoon.
Currently, the freezing building — Chavez hasn't yet found the thermostat — is a work in progress. The smell of sweaty, booze-fueled weekends still lingers here. Moving boxes and restaurant accessories are stacked haphazardly, along with a wooden baseball bat named Hercules ("just in case," Chavez says), in the downstairs bar area formerly known as Shots. Upstairs, the dingy afternoon sky flows through lofty windows, illuminating rock rubble and broken glass sprinkled across the dark floors. Apart from the women's bathroom and the large and smaller stage areas, which are essentially done, there's necessary deep cleaning and fresh painting to complete before the venue can open.
Yet Chavez, 54, is fairly confident he'll have the place ready for the Felix Martin show scheduled for Feb. 13. That is, if anyone will insure him.
The date is seared into his brain: September 8, 2013. It was his daughter's birthday, and he had gotten back from dinner with her on the night tragedy struck in The Hop!'s parking lot. Around midnight, a man was shot and killed, and in those seconds, when Chavez wasn't there, everything changed.
"That phone call from my son was the most surreal of my life," Chavez remembers. "It was such a horrible thing that I wish never happened."
Chavez says there was a drop in clientele those first weeks after the incident, but he wasn't going to give up.
"I knew that time was the answer," he says, sitting on a dusty, tan couch in the green room adjacent to the Pin's stage. "Eventually, people would move on to something else."
But when there's a homicide on your property, no matter who's at fault, insurance companies don't want to cover you. Chavez had originally planned to shutter The Hop! before opening the Pin, but insurers were more receptive if he kept both. So for at least the next year, along with the help of his sons Tommy and Matthew, Chavez is running two businesses.
Chavez, a retired Navy recruiter originally from Los Angeles, opened the punk haven Cretin Hop on Howard Street in 2008, mainly as a place for his then-teenage sons (currently in the local punk three-piece Reason For Existence) to play. Three years later he moved the business to the Monroe location, dropping a business partner and part of the name.
"Logic doesn't always play a part in my decisions. I'm an emotional beast," Chavez says purposefully. "Running a music venue certainly defies logic. This was never my dream or anything, but I do like the challenge."
Since then, The Hop! has been a bastion for local, just-starting-out talent, offering them a place to play. Chavez also books many touring metal and punk shows that wouldn't necessarily find space at other local stages. Surviving this business now for seven years, Chavez knows what the Spokane music scene can handle. And that's why he says he can make the Pin work in the mid-sized space where other music clubs, like Casbah and A Club, have failed.
"If I book it smart, we're going to be OK," Chavez says. "I am rolling the dice coming over here, but the idea of coming downtown intrigued me."
While shows at The Hop! will still include all genres, the Pin will cater some to an older crowd — expect select shows to be 18+ — as well as to the usual metal and punk lovers.
"It's us. We've always been who we are, a family-run business," Chavez says. "The flavor will remain the same between the venues." ♦
Pinnacle Northwest • 412 W. Sprague • thepinevents.com • 368-4077