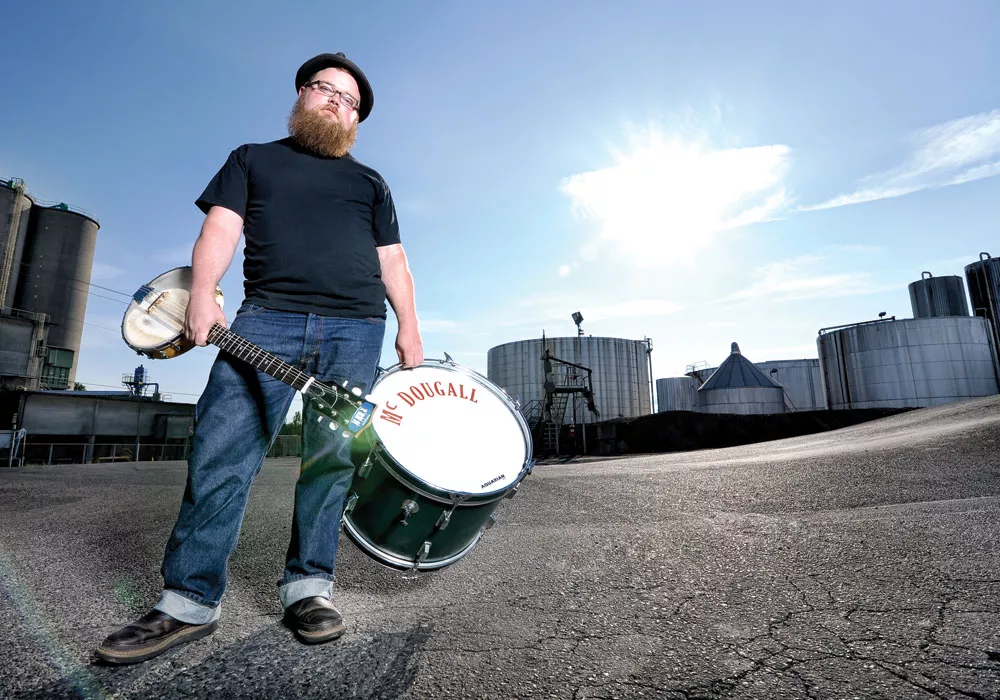 Scott McDougall is a snake charmer. As an unassuming eponymous one-man-band, he hypnotizes his audiences with the humble set-up of a kick drum, hi-hat, harmonica, banjo and acoustic guitar.
The man is a musical healer by trade, using his fire-and-brimstone Christian upbringing as a guide for his toe-tapping, stomping and hollering, old-time folk music.
"I've always been amazed by the music and shows where people are just hanging on one note," he says. "Instead of grabbing people's attention by just trying to make a big noise, I've tried to find balance.
"Sometimes it's a battle for one guy to get a room pulled in, but when it happens it's just amazing."


When he's crouching behind his drum kit and two microphones, McDougall is a flurry of hair and strings.
Sometimes he nods his head in prayer to the God of rhythm and drums. Other times he's more animated; his chin bobbing and weaving beneath the depths of his beard. He'll flash the audience a mustachioed smile. His performances are carnal — stomping, clapping, hollering and practically speaking in tongues.
The 32-year-old Southern California native grew up singing hymns and playing drums on Sundays at church. Both his father and brother are pastors and he says his mother's "old gospel-style music" on the piano, organ, and accordion heavily influenced his instrumentation. His dad bought him an electric guitar from a thrift store in the San Fernando Valley when he was 15.
"It was just some cheesy no-name guitar that we had to get fixed up," he says. "My dad said, 'I just don't want you becoming one of those music heads,' and sure enough, that's what happened."
McDougall turned to punk rock. He joined a series of punk bands but started drifting away from the angst and "tears in your beers" music. He remembers taking cross-country vacations with his family. On these trips his dad would buy gas station cassette tapes of Marty Robbins and Johnny Cash.
"Johnny Cash was the one," McDougall says. "He was a big part of my transition from punk rock into the acoustic side of things."
He picked up and moved to Portland, finding support in the local music and bicycle scene (he's also a bicycle mechanic) and performed solo acoustic sets. He incorporated a kick drum and hi-hat into his music while touring with bands like Hillstomp and Last Watch.
"It became evident pretty quick that it's not easy to get people's attention without some kind of kick in there," he says. "The kick drum and hi-hat really changed things. Suddenly I started getting a room full of people to turn around and listen."
When McDougall sings, his voice warbles and quivers over lyrics about epic tales of adventure, freight trains and traveling down the highway in the back of a pickup truck. Lyrically, his songs are angelic.
His fifth and latest album, Our New Histories, is a combination of solemn salvation medleys like "This Very Hour," and instrumental banjo songs like "Battle Creek March." He says he's drawn to the foot-stomping string and square-dancing music of yesteryear not because of nostalgia — because of his desire to connect with other people.
"I'm not trying to thump anyone over the head with my beliefs," he says. "But I am a Christian, and hope is a big theme in my music. Hope is what gets us through it all, and I want to live and share this with other people."
Last year, he put his full faith into his music. He quit his day job and focused on traveling and touring — sometimes with friends along the way, sometimes as a solo act.
He recently moved to Battle Ground, Wash., into a house with his brother and six nephews and nieces. He still plays on Sunday mornings in church with his family. Much like church, he says his concerts are an experience, a moment in time for souls to connect.
"You don't come to church to sit and listen," he says. "You come with the anticipation of participation."

McDougall with Last Watch and Whiskey Dick Mountain • Thur, Feb. 2 at 10 pm • $7 • 21 • Mootsy's • 406 W. Sprague Ave. • 838-1570