Making Spokane safer from potentially volatile oil trains. Codifying a Sustainability Action Plan that reduces carbon emissions while saving money. An ordinance opposing President Trump's religious registry that passed unanimously. These are a few impactful decisions with larger implications taken up by the Spokane City Council in 2017, and what its critics point to this primary season as too much time spent on national issues instead of just "fixing the streets."
It's an emotional hook in Spokane as old as Bing Crosby's sainthood, built on a false premise, meant to misinform the public.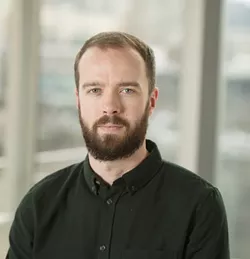 The reality: Most nights at the city council are free of any culture-war skirmishes, with votes passing unanimously. "Local governments tend to attract people who are solution-oriented rather than ideologues," says Dave Cieslewicz, the former mayor of Madison, Wisconsin, and co-founder of the Mayors Innovation Project, a network of progressive city leaders. "As a rule, cities tend to hang together pretty well in terms of being politically homogenous and therefore governable."
Our city government is mostly free of the sort of ideological grandstanding that has left both Washingtons deadlocked — with our state legislature barely avoiding a government shutdown and an increasingly cringeworthy Congress that requires safeguards. The United States can often resemble two separate countries — one rural and one urban — but because of partisan gridlock, it has been up to cities to take matters into their own hands, especially regarding job growth, affordable housing, income inequality, racial justice and, yes, climate change.
So to the council's critics: What is your vision for the city? What are your solutions? Fixing the streets is happening, thanks to most of you. Yes, you, if you were one of the 77 percent of Spokanites who voted for a 2014 street levy that runs until 2035, and won't leave any of the city's 266 miles of arterials behind. The plan was supported by Mayor David Condon, Council President Ben Stuckart, businesses and bipartisan donors, without any organized opposition. The Street Department — which is overseen by the mayor's administration, not the city council — is ultimately responsible for the streets. Your council member or their staff can assist, but the most direct way to deal with a pothole within city limits is to simply call 311. The money is there. We are also seeing the proof in other projects approved by voters, though there's only so much work that can be done at the same time without adversely affecting businesses and transportation.
There are limits, of course, to what city councils can do independently, but if you think that raising the Pride Flag above City Hall is a distraction, that's dismissive of the mandate the council has to serve the majority of the public they represent. Actions like changing Columbus Day to Indigenous People's Day — and joining multiple cities in the same commitment — are often brought forth by constituent requests. Witness the hundreds who pack council chambers to testify in support of these so-called "distractions," and it's very clear how important they are to the citizens of Spokane, who sometimes stay until the late hours just for the opportunity to speak for three minutes.
If those same critics really felt that the city council was spending too much time on national issues that could be litigious, they wouldn't be pushing Proposition 1, a measure legalizing racial profiling that already faces a court challenge. They would've been critical of the Spokane Valley City Council for supporting anti-transgender legislation, a clear civil rights violation. Organizations like We Believe We Vote wouldn't ask city council candidates whether or not they are "pro-life." It's about fixing the streets, remember?
But it isn't. When you dig deeper, it's a weak argument filled with potholes on a road that won't fix itself. Cities can't wait to lead in a time of struggle — and neither can Spokane.♦
Paul Dillon, a Center for Justice board member, manages public affairs for Planned Parenthood of Greater Washington and North Idaho.