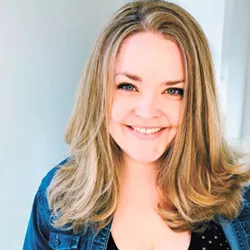 Bekah Lindsey takes requests.
Sometimes, the local realtor will sing songs from Frozen II or "You're Welcome" from Moana. Other times, she'll sing the Beatles or Justin Timberlake. At the request of one teenager, she performed Nirvana.
But generally, as long as the lyrics aren't inappropriate, she'll sing whatever patients in the Sacred Heart's Children's Hospital want her to sing.
Every Tuesday, Lindsey joins two other musicians with the Songs for Kids Foundation to perform for patients in the oncology department, the Pediatric Intensive Care Unit and other places in the hospital. And she believes those experiences her group delivers, little moments of joy amid the suffering, really do make a difference for both patients and their parents.
"We've had people say, 'Oh my gosh, they haven't smiled in two weeks, thank you so much!'" Lindsey says. "It's healing for us as well."
But thanks to the coronavirus, those children's concerts have ended too. They've worn masks during flu season and done hallway concerts for patients who didn't have a good immune system. But because the coronavirus was so easy to spread, they couldn't justify continuing.
It was the right move, she says, but also represented a deep loss.
"I miss seeing their faces, having them singing with us, and just lightening their day," Lindsey says. "We didn't really say goodbye. We'll be back, but I don't know when."
It's already scary for kids to be in the hospital. She says she can't imagine how scary it is to be in the hospital during a pandemic.
But maybe, she says, there's a way to continue performing.
"It'd be cool if somehow we — I didn't think of it until right now — if we could do little remote concerts," Lindsey says.
In fact, just a few hours later, Lindsey sends the Inlander a text with the very tentative possibility of good news: "I just learned that Songs for Kids is looking into setting up virtual visits for the kiddos using Zoom."