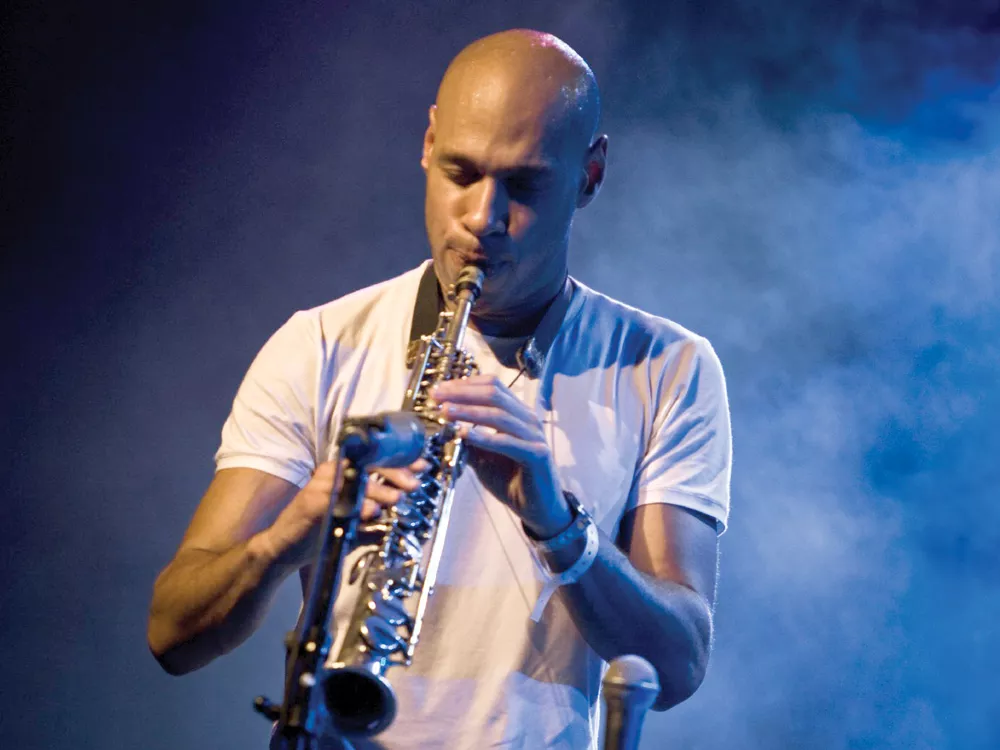 It takes a mix of chemistry, originality and identity to mesh a soloist with a jazz ensemble for a one-night stand.
But since it's world-class saxman Joshua Redman and the Whitworth University Jazz Ensemble, the music probably won't turn out all that bad.
And if those fresh-faced undergrads and jazz giant Joshua can make that mix stick, the crowd can just lay back and watch the music simmer.
"There's nothing like the power and intensity that a big band can give you," Redman says. "And when they sound great, and when they're swinging, it's quite a force."
Redman says the collaboration with Whitworth is a challenge for him, too. He doesn't do that many performances with larger ensembles.
"I do it from time to time, schedule permitting, and if it seems like it would be interesting," he says. "Most of my performance work and touring work is with small groups.
"I'm not so plugged into the Jazz Ed scene," he adds.
Probably not. Redman broke into the big time in 1991, when he won the Thelonious Monk International Jazz Saxophone Competition. (Think American Idol, but with actual talent for a judging panel; among others, sax legends Jackie McLean and Branford Marsalis judged that year.)
It didn't take long for Redman to sign with Warner Bros. and release his first album, 1993's self-titled recording — an album that earned him the first of two Grammy nominations. National and worldwide tours followed, often in trios and quartets.
Redman has since lent his subtly powerful woodwind skills to performances and recordings with folks like Ornette Coleman, the free-jazz master of aural disaster, and piano impresario Dave Brubeck.
The trick for a guy like Redman to blend with an ensemble of nearly 20 members is "maintaining some sense of originality and having my identity in the music," he says. "This is a situation where most of what I'm going to be doing is soloing. Hopefully I won't mess them up too bad.
"I try to just find a way to contribute to the music and service the music as best I can," he says.
Dan Kebele, the ensemble's director and a music professor at Whitworth, has been trying to bring Redman to Spokane for the annual guest-artist concert since his current ensemble's members were chewing Fruit Roll-Ups on the school bus.
"For the last decade, at least, I've been trying to get Joshua Redman to come out, and there's always been a problem, either his schedule or something, or he's touring," says Keberle. "I've always thought he's one of the greatest jazz tenor players in the world, if not the greatest," he adds.
For the Saturday night concert, Keberle and another professor have made arrangements of several of Redman tunes: the gospel-tinged "Home Fries;" the poppy, bluesy "Can't Dance;" and the peppy and eclectic "Hide n' Seek." Also thrown in: an obscure Duke Ellington song called "Phantasm," and several standards.
"[Standards are a] part of the jazz heritage, it's the history of jazz," Keberle says. "It's great for the students to hear [players like Redman] in historical context."
And it's good for students to see Redman play the same songs that all jazz students eventually learn, Keberle says.
Redman, who may not have played any of these songs since before he began gigging in the early '90s with his father, Dewey Redman, also a jazz saxophonist, will have only one day to practice with the Whitworth ensemble.
"It's not ideal, but as jazz musicians we're quite used to working with very little rehearsal," Redman says. "We've trained to be able to wing it on the fly and hopefully create interesting and inspiring stuff without a lot of preparation."
Joshua Redman performs at Whitworth University • Sat, Nov. 5, at 8 pm • Whitworth University • Cowles Auditorium • $15 adults; $10 for students and seniors • whitworth.edu • 777-3280