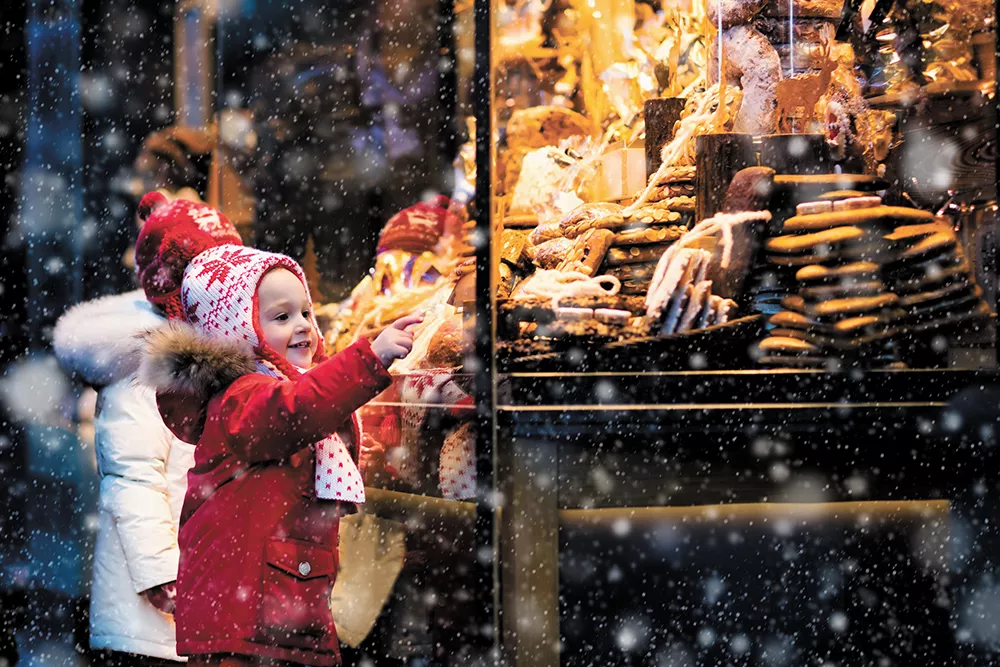 One-stop shopping is a time-saver: gifts for anyone or any reason on your list, fewer miles per gallon and good eats nearby should you need to refuel. Sure you have choices — online, megastores, malls — yet shopping at locally owned businesses helps sustain communities. Plus, in downtown Coeur d'Alene, it's fun!
Take advantage of the Lake City's abundant parking — first two hours streetside are free! — and make a day of it. For the boho-chic on your shopping list, check out LUCKY MONKEY TRADING COMPANY (412 Sherman Ave.) and GRACE AND JOY (formerly Santosha) inside the RESORT PLAZA SHOPS. While you're there, find something for the outdoor enthusiasts on your list at FINAN MCDONALD.
For gifts that truly sparkle, try SUPER SILVER (414 Sherman Ave.) and CLARK'S JEWELERS, family owned for more than 100 years (307 Sherman Ave.).
If your holiday tradition includes a keepsake ornament for the tree, go to CHRISTMAS AT THE LAKE (519 Sherman Ave.). Another option? SUMMER'S GLASS, where they'll even teach you to make your own ornament (211 Sherman Ave.).
Filling a basket with goodies is a great way to share your hometown with faraway friends and family. Snag something with the resort logo at the RESORT LOGO SHOP inside the Coeur d'Alene Resort (115 S. Second St.) or go casual with clothing from the clever folks at CDA ID CLOTHING COMPANY (Resort Plaza Shops). Browse local and handmade gifts, food items and décor at MARKETPLACE GIFTS (Resort Plaza Shops), as well as COEUR D'ALENE FRESH (317 E. Coeur d'Alene Ave.). And if you'd rather leave the basket-filling to the pros, check out POSSIBILITIES for gift baskets sure to impress (211 1/2 Sherman Ave.).
Keep your significant other warm this winter with sheepskin-lined slippers from THE LEATHERWORKS (215 Sherman Ave). Or talk to the experts at FLEET FEET SPORTS (511 Sherman Ave.) about the best footwear for your exercise routine. Rather ride than walk? Be ready for spring with a new bike from COEUR D'ALENE BIKE CO (314 N. Third St.).
For the art lovers on your list, Coeur d'Alene is chock-full of places to awe and inspire, including ANGEL GALLERY OF FINE ART & ANTIQUES (423 Sherman Ave.), BLACKWELL GALLERY (205 Sherman Ave.), ART SPIRIT GALLERY (415 Sherman Ave.) and STUDIO 107 (503 Sherman Ave.), where you can also get a bite to eat and a glass of wine to end your perfect day downtown.
---
Upcoming Events
Christmas Unwrapped
NOVEMBER 30-DECEMBER 16
Each season, the Coeur d'Alene Resort features an original holiday theater production by Ellen Travolta, capturing the spirit of the Christmas season. This year's production, Christmas Unwrapped, promises a night of music, laughter and stories brought to life by Ellen and Margaret Travolta, Molly Allen, Abbey Crawford and more. Thursday-Saturday, 7:30 pm; Sundays, 5 pm; Coeur d'Alene Resort.
Holiday Light Show
NOVEMBER 29-JANUARY 1
Holiday traditions are made in Coeur d'Alene at the Resort's Holiday Light Show, which features more than 1.5 million lights in one of the most elaborate holiday displays in America. Walk the boardwalk at the Coeur d'Alene Resort and experience the wonder, or better yet, take a Journey to the North Pole cruise to visit Santa's workshop. Each cruise culminates with Santa calling your child's name and a brilliant fireworks display. For tickets and cruise hours, see visitcda.org.
Eagle Watching Cruises
December 1-January 1
The eagles arrived early in North Idaho this year. See them in their splendor from the comfort of a Coeur d'Alene Resort cruise boat. Tickets $24.24-$26.25; 1-3 pm; 855-379-5478.
[image-2]