When Wendy Levy moved to Spokane from the Bay Area nearly two years ago, she brought the home base of the Alliance for Media Arts + Culture. As executive director and sole full-time employee of the arts advocacy group formed in 1980, that was her prerogative.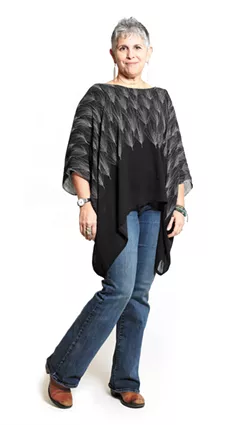 The move started a little bumpy when swastika vandalism popped up around town a couple days after Levy arrived. "I'm both gay and Jewish, and I was like, 'Where have I moved!?!'" Levy says. "But that happens in Oakland, too, and New York. Hate is everywhere you look. But it was really beautiful to see how the community came together around it. It felt really inclusive and lovely."
Levy is a filmmaker herself and former consultant to the Sundance Institute, but at one point she realized that rather than focus on her own films, "my creative contribution was going to be as an advocate for artists everywhere." So now she spends her time working with everyone from small community arts groups to big tech firms to help push the arts as a source of community engagement and improvement. The following interview has been lightly edited for length and clarity.
INLANDER: In a nutshell, what is the Alliance for Media Arts + Culture?
LEVY: We're an organization of community-based media arts organizations, arts institutions and independent media makers. We've got thousands of members in 25 states and seven countries working together to grow the media arts field and deepen its impact ... There's four main things: Collaboration, innovation, strategic growth and cultural impact. Together, all of our programs speak to some aspect of that. Collaboration is wildly important ... I would love to see an artist-in-residence at every science organization, every government.
As executive director, what's your day-to-day like?
A lot of grant writing, program development, tending to the community and really identifying artists in the world who are also leaders and educators and teachers, because for any program we do in any city, we need those artists who can show up and that considers teaching and sharing and training and co-creating as part of their creative practice.
You recently got a $300,000 grant from the MacArthur Foundation. What does that help you do?
Operate. Just operate ... A $300,000 grant over two years from MacArthur is not tied to a specific program, it's really a kind of "We believe in you. You have shown over the years to move programs into the world that have impact in communities." All of our programs together have a leg up now. And a MacArthur Award is a big signal to other funders that they don't have to worry about funding the Alliance because one of the more prestigious foundations in the world has said "You're doing good work."
Last year you started the Monday Movies series in Spokane. Why was a film series the way to first connect with the Spokane community?
For me, documentary films are by nature community-building. Especially the kinds of films we show. They're the authentic true stories of people's lived experience in the world. If you're Jewish in a non-Jewish place, if you're black in a predominantly white community, your family story and your family archive ... in some ways is an act of cultural expression, is an act of, sometimes, resistance. Because you're not being mediated by the outside. You get to choose how you're being photographed. You get to decide how your story is told. In Spokane, I've noticed it is in fact multicultural here, but often very divided. Folks of color and white folks don't often go to the same cultural events, things are way more separated than I would love, so I'm really intentional in my life in seeking out other kinds of people.
It's impressive to see all the places audiences will "visit" through this year's films.
They open up your heart, and they do trigger some empathy, but in documentary right now, we want to move from empathy to solidarity with others, so it's not just about tolerance of others, but really understanding their experience in the world, and their identity that's different than yours. How do we keep hate from rising up? It's by connecting around these stories. It's so frickin' important. ♦
The Alliance's 2019 Monday Movies series starts Monday, Feb. 18, at 7 pm with a screening of Hale County This Morning, This Evening. Details on page 52.