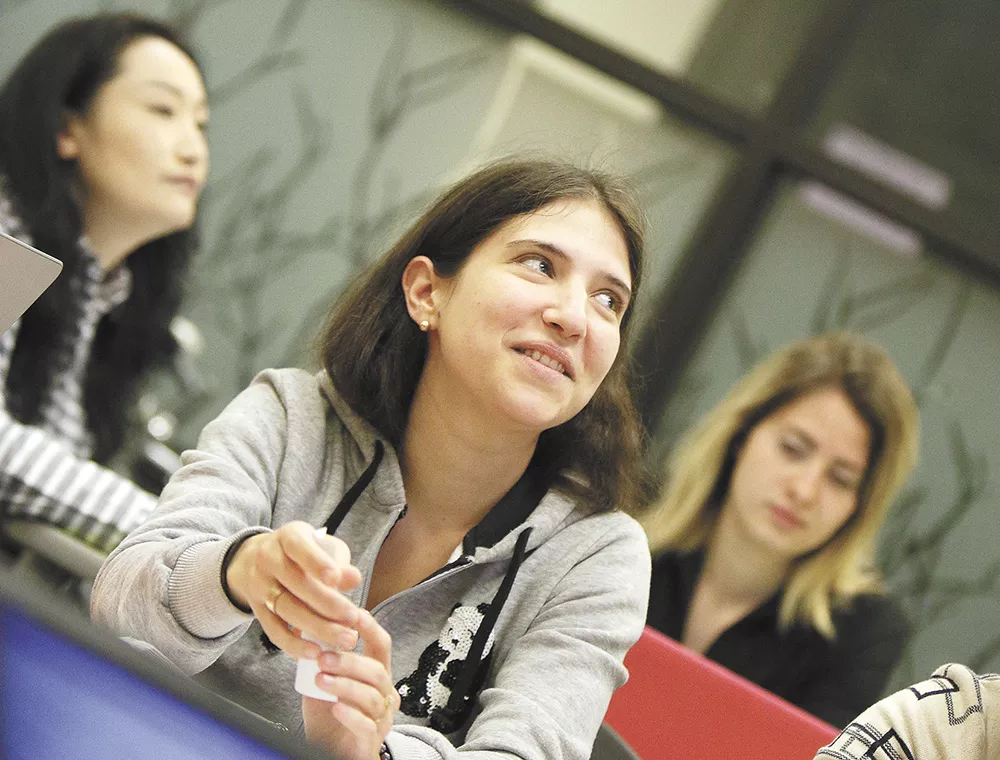 In Donetsk, Ukraine, Tanya Koval built a life for herself. During her early 20s, she went to school, visited museums, frequented the theater and hung out in local parks.
That was until war overtook her hometown.
Koval is now a 25-year-old refugee trying to build another life in Spokane. She still likes going out to the park, but she has trouble communicating with other people. She wants to further her education, but sometimes struggles understanding her teachers. Not being able to speak English fluently has suddenly become a barrier.
World Relief Spokane settles between 500 and 600 refugees each year in Spokane, according to Director Mark Kadel. That number should increase next year, with the U.S. taking in more refugees overall. Also, pending federal authorization, the International Rescue Committee plans on opening an office in Spokane in 2017, which could bring an additional 150 refugees to the area, says IRC Seattle Executive Director Nicky Smith.
For many of these refugees, learning the language of their new home is critical not only to being able to communicate socially with other people, but also in finding jobs and providing for their family. Most refugees in Spokane take English as a Second Language courses at Spokane Community College.
But for people like Koval who crave a new way of learning, there's the Spokane College of English Language, located across from the STA Plaza downtown. The for-profit college develops online curricula sold to hundreds of institutions worldwide. What makes Spokane College of English Language unique, says director of operations Josh Porter, is that it's the only institution in the U.S. where that online curricula — called SMRT English — is both developed and taught in the classroom. Coupled with other programs that help refugees adjust to a new culture, he says Spokane has become a great place for refugees and international students to learn English.
"The blended-classroom model is where education is going," Porter says. "And we're lucky to be on the forefront of it."
As Porter teaches his academic writing class, a globe rests on a desk in the middle of his classroom. A group of a half-dozen international students sit in a semicircle around it and edit their essays on Google Docs.
"Nobody in this room knows more than anybody else," Porter tells one student. "We just know different things."
The class uses SMRT English curricula, owned by Jim Clark of Vancouver, B.C.'s Canadian College of English Language. It stands for Simple & Intuitive Class Management System, and it's been developed to be paperless and usable on any device. Various SMRT courses are used by 165 institutions in the world. Spokane College of English Language is the main SMRT curricula service in the U.S.
"The idea is that you're taking online curricula — something that can be collaborated on with hundreds of teachers with brilliant ideas and notions and thoughts — but then also provide the guidance of a teacher in the classroom that can sort of shift and move and attend to the student's needs," says Porter.
As Koval points out, studying online only wouldn't be enough for her to learn English, her third language.
"If I studied with just the internet, or if I just read books, I [wouldn't] know the pronunciation," she says.
Porter says he used to teach in Haiti using decades-old books, with vocabulary that was outdated. He hated teaching that content to students because it taught them to speak English in an odd manner. The SMRT curricula is updated constantly, he says, and it often mixes in current events.
The college's campus used to be at Spokane Community College. Since moving to downtown Spokane, it's been able to serve refugees and offer tuition waivers, says Ben Whitmore, SCEL academic director. Students can enroll at any time throughout the year for a competitive price, and new courses are always added. The school recently ended a four-month pilot program to train refugees and former refugees as medical interpreters, for example. With the technology-based model, Whitmore says there are more possibilities to develop useful courses used internationally.
"All you need is one of those devices, which everybody has in their pocket, and you need a cellphone tower. With that, you can provide curriculum that can be created in four, six, eight weeks to teach them whatever skills are needed," Whitmore says. "Philanthropically we want to work in Spokane and help the refugees in the community. But we're also thinking, why can't we teach a class on women's health in Africa?"
The ESL program at Spokane Community College uses curricula that's long been established, but is updated every year as required by the state. The program serves hundreds of refugees per quarter, says Stoja Saric, ESL program director at SCC.
Saric is a refugee who learned English through the SCC program. She says if she hadn't had the opportunity to learn English, developing in the community would have been harder. She says that since she came to Spokane in 1998, the city has increased its support for refugees.
"Spokane has certainly grown," Saric says. "Compared to when I came to America, it seems more organized, and people are communicating with each other. It just feels more communal."
Smith, with the International Rescue Committee, says she's excited about the prospect of potentially opening an office in Spokane — in 2017, if approved — because the ESL programs are so impressive.
"Both Spokane Community College and the Spokane College of English Language," she says, "fill a very important niche."
Koval says that one day she would like to go to school to become a dentist. Her husband, who moved to the U.S. with her, already has finished his schooling at the Spokane College of English Language and got a job. Now, she's at SCEL weekdays from 8 am until 3:30 pm.
"These people are bringing amazing skill sets to the community," Whitmore says. "They're not burger flippers in Ukraine. They're architects, they're doctors, they're nurses, they're advanced agricultural specialists. They're bringing amazing skills that, if you unlock the English capability, they can have a successful life and bring some talent to this city." ♦