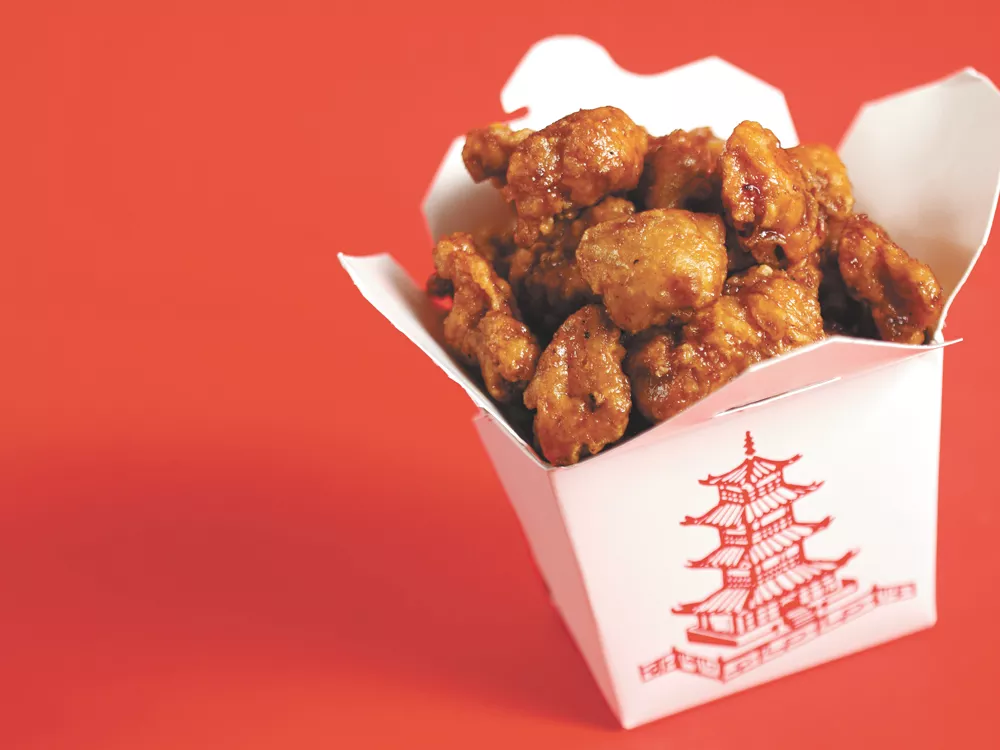 Americans love their orange chicken. It's a favorite item of the supermarket buffet line and has been perfected as Chinese fast food. Some say it's their favorite Chinese dish, even though it's not really Chinese at all.
As eight Inlander staffers, recently deputized as official orange chicken tasters, sat around an office conference table digging into pieces of five different takes on the dish, things were mostly silent. Clearly, this was proving more difficult than expected. While all of the orange chicken entrees we ordered shared the same name, the flavor, appearance and texture varied to the point that we needed to remind ourselves that, indeed, these were all supposed to be orange chicken.
This made it a little difficult to rate each dish for qualities like the tang and spiciness of the sauce and the crispness of the meat. It was like comparing apples with, well, oranges.
So, how did this dish take on so many forms? Here's some history. As you might have already known, the orange chicken found in the United States is actually nothing like the dish of the same name in China — if you can even find the dish there.
Orange chicken is a much sweeter spin-off of a somewhat similar recipe called General Tso's chicken, which is laden in a spicy, chili-laced, sweet-and-sour sauce. And... it didn't originate in China.
Both orange chicken and General Tso's chicken are, however, believed to be based on dishes developed in the Hunan Province of China, and, according to Diane Kuan, a New York-based food writer who also teaches Chinese cooking classes, were introduced to the U.S. in the '70s.
Hunan cuisine is traditionally very spicy, Kuan says on her food blog appetiteforchina.com. To appeal more to American diners, though, chefs early on tweaked the traditional Hunan recipes by deep frying the meat and sweetening the sauces. Typical 'Merican food qualities: lots of sugar and grease.
Fast forward a decade or so to the widespread introduction of Chinese-American fast food restaurant chains like Panda Express, and orange chicken has only gained in popularity with the masses.
Have enthusiasts of this sweet and tangy meat entree reached a point where they base all other orange chicken experiences on Panda Express' uber-popular take on the dish? That's what we wanted to know when we dove into this throwdown. The results might surprise you, as they did us.
The Judges:
The eight-person judging panel was made up of a varied mix of Inlander staffers, including a few self-proclaimed orange chicken lovers, a few who just love good food in general and some who merely wanted to give the five samples a try. Each plate of chicken was assigned a number and only one person at the table knew where each had come from.
The Process:
As mentioned, each dish was rated on the tang and spiciness of the sauce, the crispness and texture of the meat and for value, considering the price and portion size. Then judges gave each dish an overall score to balance out individual preferences.
The maximum score each dish could receive was 200 points. We took each plate's total points awarded and divided that into the max score, then ranked each restaurant from best to blah.
The Results:
What makes for good orange chicken, we learned, is the opinion of the person eating it. Our results varied greatly from judge to judge, but one thing was certain — orange chicken at any restaurant is likely to be a customer favorite for the foreseeable future.
---
Panda Express
808 W. Main Ave. • 624-0300 • $10.05
Score: 75.5%
No one expected that Panda's orange chicken would come in first. We're still surprised this happened. But stacked up against the other four restaurants we picked, it was somehow still able to pull ahead. Maybe this chain really is onto something.
Tasters ranked it highest for crispiness of the chicken but still had some complaints, such as: "This one seems like there is more breading than chicken," and that it was, "almost too crisp to the point of chewy."
For flavor, Panda's chicken was middling, and a few judges said it could have used more sauce while another thought it had just the right amount of spiciness to it.
Overall, staffers felt that Panda's orange chicken tasted pretty good, but some pieces were really hard or had too much breading.
---
Ming Wah
1618 W. Third Ave. • 455-9474 • $10.05
Score: 63%
One of the two locally owned places chosen for the throwdown, Ming Wah's orange chicken was probably one of the more authentically flavored dishes, and got decent scores in the category of overall flavor and texture.
One taster noted: "If you're looking for orange chicken that really tastes like oranges, this is your best bet."
Judges gave this dish props for having a few thin slices of actual oranges in it and liked the touch of sesame seeds sprinkled on top.
Those who weren't big fans of this version said that the sauce was too sugary and had no spice kick. On the upside, the restaurant provided some bang for your buck with a plentiful portion size.
---
Sushi Maru
808 W. Main Ave. • 455-3900 • Two small plates $5.98
Score: 61.8%
The one kicker for Sushi Maru's orange chicken was the value for the price. We opted to order two plates of the conveyor belt sushi place's orange chicken to make sure we had enough for all the judges, and while two orders were smaller than, say, Panda's, it was still a good deal and would definitely serve as a filling meal for one.
Judges weren't overly impressed with the Bellevue, Wash.-based chain's dish, but it did score well in the crispness category and a few judges gave it high marks in overall taste and texture.
"A little dry, but the chicken chunks were good-sized. Not too sweet, not too much breading," noted one taster.
---
P.F. Chang's
801 W. Main Ave. • 456-2166 • $13.95
Score: 56.8%
The higher-end, national Asian cuisine chain mostly scored lower because of the price compared with its portion size. Although the portion was on the smaller side, the sauce on this chicken scored well and judges described it as "zesty," "tangy" and "spicy."
Not all of the staff tasters agreed with the deeper, more intense flavors in this orange chicken; a few noted that it had more of a smoky barbecue taste ("where the hell is the orange?"), and one judge thought the sauce was reminiscent of hot wings.
The meat wasn't breaded at all, and for that one judge gave it an overall score of 9 out of 10, noting that the "flavor is awesome, and the lack of texture is welcome compared to its heavily-fried brethren."
---
Red Dragon
1406 W. Third Ave. • 838-6688 • $11.42
Score: 56%
The last two contenders in The Inlander's ultimate orange chicken throwdown were nearly tied — separated only by 0.8 percent.
Red Dragon was the only restaurant aside from Ming Wah to add anything additional to its orange chicken in the form of stir-fried veggies. Most judges appreciated this touch.
The thick, almost gravy-like consistency of the sauce scored well compared with the other four, and most judges liked its sweeter flavor and noticeable orange kick. Some tasters, however, noted that the sauce overpowered the meat and made it soggy.