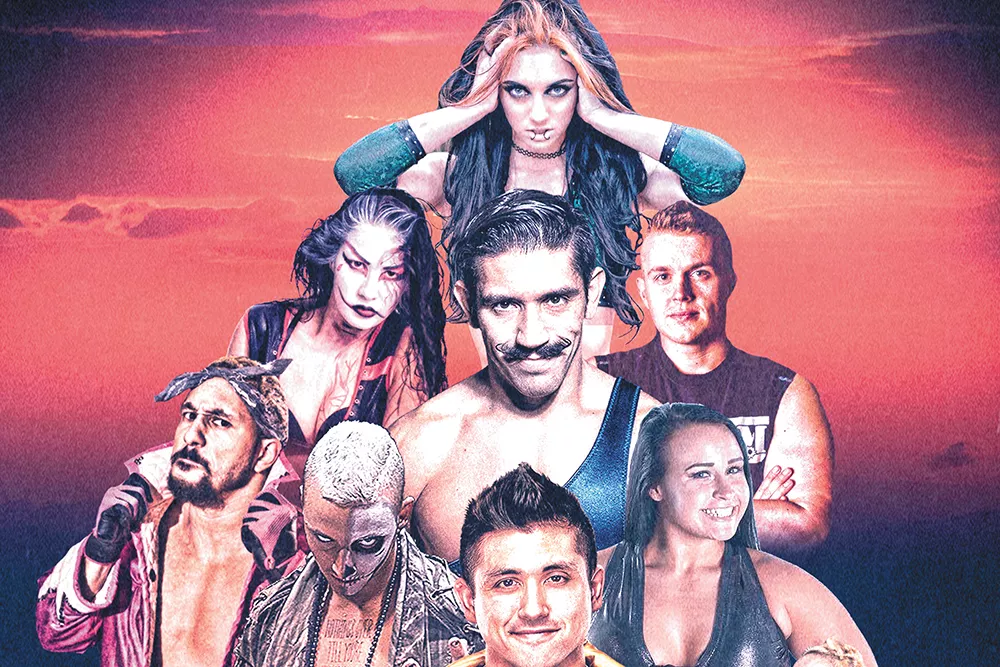 It's not like pro wrestling is hard to find. Each week, World Wrestling Entertainment (WWE) delivers five hours of the stuff on the USA Network. But all of the scripted athletic action is predetermined to fit the vision of one man: WWE owner/chairman/CEO Vince McMahon. And oftentimes, his vision... well... it leaves something to be desired. If you're looking for free-spirited wrestling in intimate environments, you need to dive into the world of independent wrestling.
"If people have an understanding of what WWE is, they would realize independent wrestling is nothing like WWE in the absolute best way," says Prestige Wrestling CEO William Quintana. "You essentially have guys — from top to bottom — that could be and should be in WWE as far as their talent. But they're not in the WWE, so they're allowed to go out there and have creative freedom."
On May 24, Prestige will run its first indie wrestling show in Spokane at the Pin. For Quintana, bringing his Hermiston, Oregon-based promotion to Spokane seemed like an obvious fit to further grow the strong Northwest indie scene, which includes Seattle's Defy Wrestling and 3-2-1 Battle, and Portland-based DOA Wrestling.
The talent Prestige books mixes rising indie stars, former WWE wrestlers looking to carve their own path, and Northwest-based grapplers. The main event features old-timey mat wrestler Simon Grimm (who wrestled as Simon Gotch in WWE) versus the half-skull face-painted, high-flying Darby Allin, one of the hotter up-and-coming indie stars. The person with the best gimmick on the card — the fearsome kabuki-styled undead bride Su Yung — faces off against the demonic Drexl in the anything-goes "Spokane Street Fight." The six-match card also features the Spokane-based, Canadian-themed stable the Eh Team squaring off against the Wreck You Rangers. The Eh Team's local appeal also played a factor in Prestige's confidence in the Spokane market.
"Some of our wrestlers are from Spokane — the Eh Team: Chase James, Lance Pierson, Jackson Price, a whole bunch aligned with their group," Quintana says, "and they have a pretty tight group of friends. It just seemed like there would be a pretty good built-in scene."
Independent wrestling has taken off around the globe in recent years. With the advent of streaming internet message boards and streaming video, matches by non-WWE performers in the middle of nowhere can gain huge attention. The independent scene has gotten so big that a group of top indie stars were able to sell out a 2018 Chicago-area arena show (called All In) in under 30 minutes, and the same group is now starting All Elite Wrestling (AEW), which aims to be the independent-minded alternative to WWE with a weekly show coming to TNT this fall (Allin is signed to AEW).
"I definitely feel like we're entering a boom period [for indie wrestling]," Quintana says. "It's a scary boom period, in the sense that a lot of independent talent is being taken by All Elite Wrestling and WWE, but we've also had the foresight to try and build stars. And there will always be more stars. Even if AEW and WWE sign everyone, give it five or six months and a new crop of stars will be discovered."
Prestige has already set its high water mark for ticket presales for the Spokane event, which is already sold out. He has additional dates at the Pin on hold, so he'll be ready to announce dates for Prestige's return to Spokane soon.
For Quintana, wrestling is an ideal art form because it brings together entertainment genres that are normally cordoned off from each other. And he wants Spokane to experience that bloody and beautiful blend.
"I like to compare [wrestling] to movies," Quintana says. "I specifically book our shows so that you have drama, action, horror, comedy, love stories — you have everything, and it's all intertwined through violence and storytelling. On this show, you have your ground-and-pound match, you have your high-flying match, you have your hardcore match, you have you're women's match. It's going to be incredible." ♦
Prestige Wrestling: The New Fury • Fri, May 24 at 7 pm • All ages • The Pin • 412 W. Sprague • thepinspokane.com • 385-1449