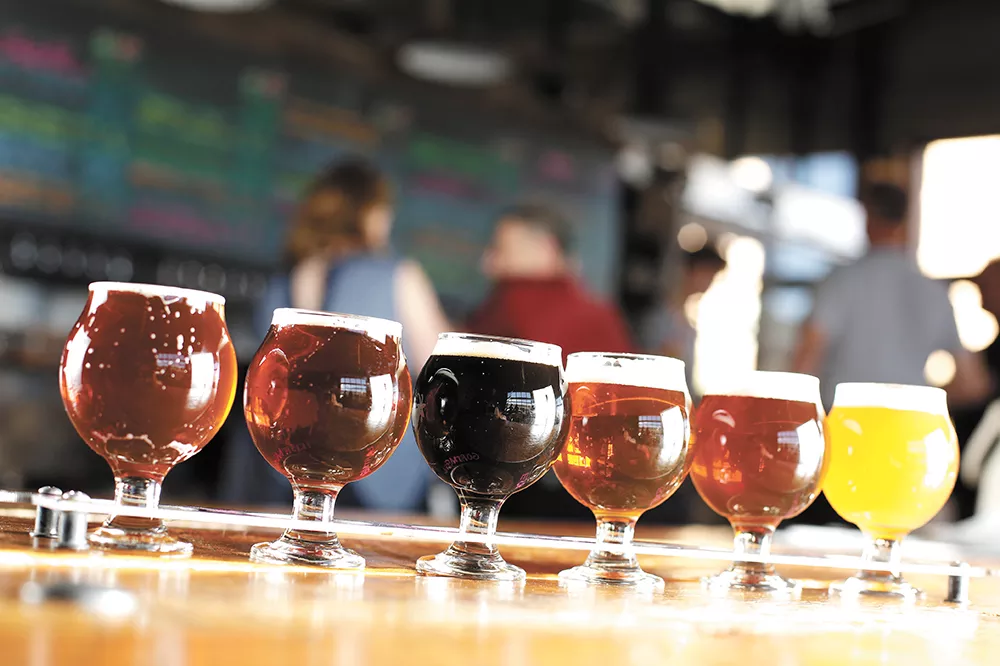 The fourth annual Spokane Craft Beer Week is almost upon us.

It's a time of the year to celebrate local beer, and in doing so, really push our livers to the limit. Inspired by the Brewers Association's American Craft Beer Week, brothers Matt and Clete Hanson brought the weeklong tribute to our region in 2015.

From May 14-20, there's nearly 100 local beer-related events happening at restaurants, bars and breweries throughout the city. Here are seven events we recommend:

Kickoff Party at Perry Street Brewing
Monday, May 14 at 5 pm | 1025 S. Perry



The week begins with the annual party at Perry Street Brewing. The event will feature guest taps from Badass Backyard Brewing, No-Li Brewhouse, Big Barn Brewing Co. and Steam Plant Brewing. One dollar of every pint sold will go to T.E.A.M. Grant, a parent-teacher group supporting Grant Elementary.



CollabFest at Iron Goat Brewing
Tuesday, May 15 at 4 pm | 1302 W. Second



Perhaps the main attraction of Craft Beer Week, this year's collaboration festival was originally slated for Bellweather Brewing, but moved to Iron Goat at the last minute. Multiple collaborative beers from various local brewers will debut at the festival — including a strawberry hefeweizen by Orlison Brewing Co. and Whistle Punk, as well as a brett saison by Iron Goat, and the folks from Good Brews podcast and Community Pint. For $10, you get four drink tickets and a commemorative tasting glass.



Off-Flavor Training at Badass Backyard Brewing
Wednesday, May 16 at 12 pm | 1415 N. Argonne, Spokane Valley



The Spokane Valley brewery is going to host an "off-flavor training." Six different common off-flavors found in beer will be tasted at the class — lightstruck, dimethyl sulfides (DMS), diacetyl, trans-2-Nonenal, infection and acetaldehyde. While it's geared for people interested in the Certified Cicerone program, it's an opportunity for any craft beer enthusiasts to enhance their tasting knowledge.



Three Beer Releases at the Steel Barrel Taproom
Friday, May 18 at 5 pm | 154 S. Madison



Three unique beers will be released at the Steel Barrel. The brewery incubator and taproom is home to Young Buck Brewing, Little Spokane Brewing Company and TT's Old Iron Brewery. Young Buck will be releasing its first batch of From the Woods, a barrel-aged sour. Little Spokane is tapping Cuddle Puddle, a barrel-aged strong ale. And to top it off, all three breweries collaborated to brew a Belgian tripel, which will also be tapped during the event.



2nd Annual Firk-Off with Fremont Brewing at Perry Street Brewing
Friday, May 18 at 5 pm | 1025 S. Perry



Perry Street is bringing back the event they started last year with Seattle's Fremont Brewing. Both breweries will be releasing two experimental beers poured from firkins — a small keg used for cask conditioning. The beers will be available as taster flights or pints, and the last person to get a pour from each firkin will win a prize from Perry Street and Fremont. There will also be a surprise small-batch release from Fremont available on regular draft during the event.



Grubbin' Food Truck Festival at Mac Daddy's
Saturday, May 19 at 11 am | 415 W. Hastings



Mac Daddy's Pub and Grill is hosting the fourth annual Grubbin' with the Greater Spokane Food Truck Association. Tickets are $25 and allow you to sample food from all 18 participating trucks. From the Compass Breakfast Wagon to the Jamaican Jerk Pan, the event features a diverse range of food options. This year's festival is joining Craft Beer Week with a beer garden featuring No-Li, Iron Goat and One Tree Hard Cider. For a full list of participants and to purchase tickets, head to grubbinspokane.com.



Music on the Lawn at Big Barn Brewing Co.
Sunday, May 20 at 2 pm | 16004 N. Applewood, Mead To wind down the week, grab your friends and head out to Big Barn Brewing Co. in Green Bluff. The venue will host live music by Matt Mitchell, and Mac Daddy's Gourmet Grub will be on site serving its mac-and-cheese creations. You'll find Big Barn's staple beers on tap, as well as its collaboration brew with Newport's Top Frog Brewing — an American wheat ale with lemon and basil. ♦


---
OTHER BEER WEEK HAPPENINGS
Iron Goat Brewing now offers crowlers to-go. Head over to the taproom on Tuesday, May 15, for $2 off crowlers (the equivalent of two pints) all day.
Millwood Brewing is joining the festivities by offering specials to various groups each day of the week. You'll have a chance to contribute to beer funds for beer service industry workers, first responders, charitable organizations, teachers and coaches, military members and the Millwood community.
Hopped Up is releasing multiple beers throughout the week. Visit the taproom for some interesting creations like the Bloody Mary Pickled Jalapeno Ale and Bananas Foster Imperial Stout.
Check out spokanecraftbeerweek.com for a complete list of events.


---
THE HAZE CRAZE


More and more beers are popping up around town with the descriptors "hazy" or "New England style." These are pale ales or IPAs that pour as a cloudy, orange color. They boast strong citrus notes without the upfront bitterness of a standard IPA and are becoming quite popular nationwide.
To create hazy IPAs, brewers are changing up the traditional brewing process. According to Matt Hanson, Whistle Punk Brewing owner and head brewer, the style is the result of a combination of late-addition hops, different yeast profiles, flaked oats and other speciality grains.
"You're showcasing hop flavors and aromas and not just hop bitterness," Hanson says.
Hanson explains high-protein grains like flaked oats gives the beer a "pillowy mouthfeel."
Many regional breweries have picked up on the trend and are adding the style to core lineups. Locally, you can turn to Whistle Punk's Coast-to-Coast IPA, Perry Street Brewing's New England Style IPA and recently Ten Pin Brewing's Gutterball Hazy Pale Ale, among others.