It's your sister-in-law's birthday. Today. You need to walk into a birthday dinner in a few hours, gift in tow. Despite your lack of planning, you really do want to get her something great. When push comes to shove, here are the go-to shops we turn to for great gifts. We've organized our list by location, because we know you don't have a lot of time.
Downtown Spokane
You can cross a lot of people off your shopping list at the corner of Washington and Main in downtown Spokane. Start at DECORUM (126 N. Washington St.), where the store is conveniently merchandised with distinct themes — from displays for gifts for graduates to vignettes designed to appeal to lake lovers or wine aficionados. Is there a book lover on your list? Cross the street and stop in at AUNTIE'S (402 W. Main Ave.), Spokane's largest independent bookstore. This Spokane gem is staffed with passionate readers. Let their handwritten reviews guide you through the shelves, or better yet, ask a staffer to help you discover the perfect gift. UNCLE'S GAMES (404 W. Main Ave.) is conveniently located in the same building, and packed with games promising hours of irreverent entertainment to family-friendly play. POTTERY PLACE PLUS (203 N. Washington St.) is also inside the Liberty Building, with an eclectic assortment of items made by local artisans from jewelry and ceramics to small paintings and prints.
Venture to Spokane Falls and Main, and you'll find the dynamic duo of gift shops — BOO RADLEY'S (232 N. Howard St.) and ATTICUS COFFEE & GIFTS (222 N. Howard St.). Inlander readers consistently vote Boo Radley's their favorite gift shop year after year for its self-described "off the wall weird stuff." Look to nearby Atticus for clever and tasteful gifts that span from gurgle pots, to beautiful journals and Great PNW hoodies.
While you wouldn't typically think of a hotel gift shop as a shopping destination, THE DAVENPORT'S HOME STORE (10 S. Post St.) is definitely worthy of a stop. Yes, you can purchase their dreamy signature mattress here, but they also stock a beautiful selection of jewelry, linens, perfume, lotions and home goods, all with European flare. For those with more exotic taste, head to KIZURI (35 W. Main St.), which showcases fair trade goods from all over the globe. WONDERS OF THE WORLD (621 W. Mallon Ave.) in the historic Flour Mill also carries an exotic array of items as well, from an abundant selection of jewelry made with natural gemstones to candle holders made from beautiful pink Himalayan salt. You can never go wrong with jewelry or a Hobo wristlet from LOLO (319 W. Second Ave.), but make sure you also visit both sides of the boutique and check out their assortment of scarves, succulents, Corkcicle stemless wine glasses, and what we think is one of the most entertaining card selections in town.
West Spokane
If you can't find something at Northern Quest's WINDFALL (100 N. Hayford Rd., Airway Heights), you're just not trying hard enough. This expansive new gift shop is stocked with everything from classic Pendleton blankets to Hobo handbags, Lucky Brand apparel and much more. Unlike many gift shops that cater primarily to women, Windfall has a great selection for the outdoorsy man, as well as girly-girls. While you're at the casino, make sure you also check out the gift shop at LA RIVE SPA. In addition to a wonderful line of indulgent Ugg bathrobes and loungewear, you'll find a small, but well curated selection of clothing, jewelry and of course, ample beauty supplies. Added bonus — there's no sales tax here.
Love Joanna Gaines' and Magnolia Home's style? Then head to SHOP REJUV (1930 S. Inland Empire Way) and LUCKY VINTAGE AND PRETTY THINGS (1406 S. Inland Empire Way). The candles, housewares, even the apparel at these charming shops would all work on an episode of Fixer Upper.
East Spokane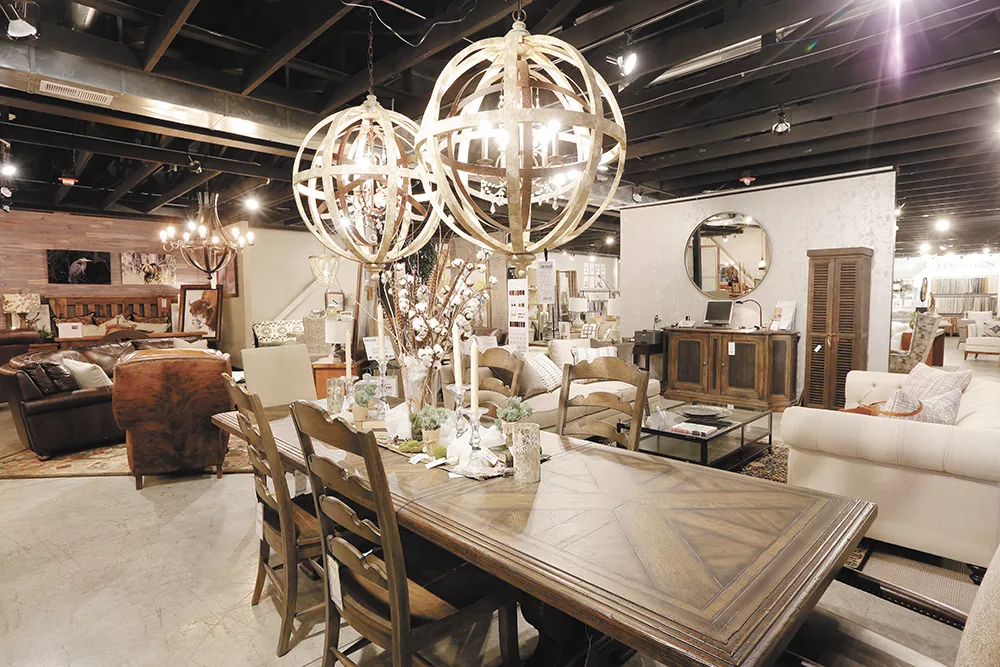 While the TIN ROOF (1727 E. Sprague Ave.) is beloved for its furniture and staff of talented designers, don't disregard it for smaller gift purchases, especially at Christmas when the store is full of artfully decorated Christmas trees and holiday decor. THE TRELLIS MARKETPLACE (4102 S. Bowdish Rd.) is a gift-givers paradise. Just don't be surprised when something for you sneaks into your basket. This charming shop is stocked with canvas totes, bar ware, candles, linens, hats, apparel, cook books and more — perfect for a hostess gift or for hosting a bachelorette party.
South Spokane
SOUTHERN SPECIALTIES (301 S. Grand Blvd.) brings some Southern-inspired charm to Spokane's South Hill. Its candles and gourmet goodies are perfect for birthdays, teacher or hostess gifts. They're prepared for weddings all year-round, and an in-house embroidery service makes the gift you select even more personal. For years, FERRANTE'S (4516 S. Regal St.) marketplace has been our South Hill go-to stop for girlfriend gifts, with their awesome selection of vibrant dish towels, clutches, artisan jewelry and wine.
North Spokane
MEL'S HOME & CLOSET (12501 N. Division St.) has been a bastion of good taste for northsiders for decades (formerly known as Mel's Nursery — but always stocked with exceptional home furnishings and gifts). Pop in here for Brighton purses and Alex & Ani bracelets, picture frames, home decor and decadent PJ Salvage pajamas made from freakishly soft cotton. RITTER'S GARDEN & GIFT (10120 N. Division St.) also offers an abundance of gift options, from succulents to home fragrances.
Coeur d'Alene
In our opinion, no visit to Coeur d'Alene is complete without a visit to MIX IT UP (513 E. Sherman Ave.). Stock up on great coffee table books, rubber ducky socks, and Allen Designs clocks. This is the perfect place to pick up hostess gifts, like a porcelain quiche plate which reads, "quiche me baby one more time" or nautical-themed gourmet cheese knives. Nearby, INTO THE WOODS (509 E. Sherman Ave.) also has an abundance of options for avid entertainers, along with all kinds of cabin and lake decor. Don't miss the Ronda Smith Designs exclusively carried at this Sherman Avenue shop. We're kind of obsessed.
So your sister-in-law is in two book clubs? Then head to THE WELL-READ MOOSE (Riverstone, 2048 N. Main St.), and let their well-read staff guide you to the book everyone is talking about. Pick up that present you need in time for the party, and maybe a beach read for yourself.