Have you ever heard the voice of a loved one speaking over you with unexpected kindness? In times of stress, that voice can be almost unbearably rare. I've been thinking about how the 24-hour news cycle is often far from gentle, not at all concerned with what might reduce fear, calm rage, or create sanctuary. Poets, on the other hand, at least the ones I know and love, tend to carry something intuitive, prophetic, and even magnanimous when the days are filled with chaos. Poets and their poems can be elusive, but they can also be approachable across distance and time, and some poems, like the poets who made them, can become as close as a good sister or brother.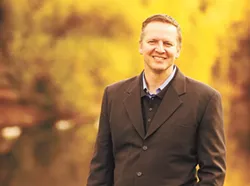 One such poet is Ross Gay, and one such poem is his beautiful ode "To the Fig Tree on the Corner of 9th and Christian."

Teaching at Gonzaga, our face-to-face moments with students have come to a halt and so I've decided it's time to enlist more poetry in our online interactions. Gay's poem has come close to us, taking us by the hand into a place of unforeseen gravity and a much-needed sense of peace. The poem is set in Philadelphia. Unmentioned below the poem's surface, like the refrain of a favorite song, we recognize the mundane and the historical: we hear "the sound of sweeping and yes a woman with a broom" and we see "a low hung branch," we recognize a city that has threatened those on the margins, a city that has sometimes killed its own, but deeper and more interwoven among the people who populate the poem, we see a city known as the city of brotherly love. The fig tree comes to embody that love. Above it, around it we hear the urban cacophony, the elevated train Philly lifers call the Blue Line producing "a racket in the lugwork" that accompanies the poet's nervous or self-condemning musings of "some stupid thing [he] said or did, some crime or other." The city, the poet says, "is a lonely place."
In our isolation that loneliness becomes more vivid.
But in Gay's poem, "eating from each other's hands" and blowing "a kiss to the tree" we go from the ordinary to the miraculous.
I ask the students how the poem changes them. One, a new scholar of leadership studies named Joe writes this, "Oh man, does this topic humble me. I feel like I'm not nearly experienced enough with poetry but it is something I'm trying to spend more time on. I feel so much fear in being too analytical with the construction of the poem, but perhaps that's simply a different mode of viewing the world too. The form of the poem felt frantic to me, but the content of the story felt calm and peaceful. The difference in pacing reminded me of longer walks to try to clear my mind which typically result in finding solace in the crisp weather, feeling isolated despite being surrounded by community, until I frantically walk back home because I got a new idea I don't want to lose. I'm amazed at how I felt like I was on that journey simply by sitting at home and reading the words."
Over dinner that night, my family reads Ross Gay's poem aloud. "How does this change you?" I ask again. Living in a home of three daughters (one post-college and married, the other two in high school), I've known the solace Joe mentioned. Before dinner the family walked along the Spokane River, the girls arm in arm with my wife and me, or with each other. Illumined at sunset the water moved with certainty and mystery, a revelation not unlike the poem.
At the dinner table, their faces too are alight.
"It makes me radiant," one daughter says, "I feel more alive."
"Only love matters," says another.
The oldest nods her head. "When we give to each other, we're not afraid anymore." ♦
American Book Award winner Shann Ray's work has been featured in Poetry, Esquire, McSweeney's, The Inlander, Poetry International, Narrative, Prairie Schooner, and Salon. He spent part of his childhood on the Northern Cheyenne reservation in southeast Montana and has served as a scholar of leadership and forgiveness studies in Africa, Asia, Europe, and the Americas. Ray is the author of Atomic Theory 7, Sweetclover, American Copper, Blood Fire Vapor Smoke, American Masculine, Balefire, and Forgiveness and Power in the Age of Atrocity. He teaches at Gonzaga University.
---
More poems, humorous, peaceful, or serious, for times of uncertainty:
"Perhaps the World Ends Here"
by Joy Harjo
The Peace of Wild Things by Wendell Berry

"Eve to her Daughters" by Judith Wright

"Fire and Ice" by Robert Frost

"The End of the World" by Dana Gioia