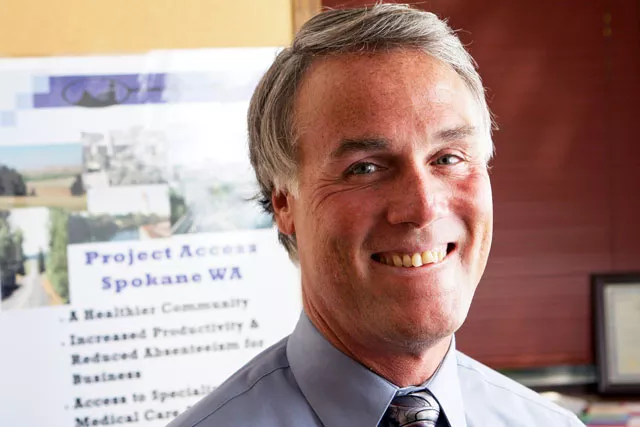 The clanging chatter of health care reform is nothing new to John Driscoll — it's always been there as he's navigated the choppy waters of the health care industry as a case manager, a health care administrator and in his current posts in the Washington State House of Representatives and as the executive director of Spokane's Project Access.
But it's now, more than any other time in his career, that Driscoll says something has started to feel a little different in his world. He thinks the American health care system is actually on the verge of major changes — changes he thinks are necessary and long overdue.
"We've come close to attempts at health care reform, and each time I've seen it happen there is strong opposition that ultimately has killed any progress," he says. "And because the change hasn't happened, the system has gotten worse."
After graduating from Washington State University with a degree in psychology, Driscoll launched into working as a case manager for people with mental health issues. That job not only gave him an instant immersion in the difficulties of treating mental illness, but it also opened his eyes to key flaws in the health system.
"It's obvious to everybody: If you have a good mental health delivery system, you have less crime," he says. "No one should be getting their health care in a jail. If you talk to the firemen and the cops, they'll tell you the same damn thing — I'm a firefighter, not a mental health care provider."
Since then, Driscoll has peered in every possible porthole of the health care system — from his job working with mentally ill patients to tracking people down to pay their bills. That vast knowledge of every flaw and tribulation of American health care gave him a leg up on his colleagues in Olympia during this, his freshman term, representing the 6th District as a Democrat.
So when the House had to trim $1 billion from the Washington health care budget this last term, Driscoll was commissioned to help.
"With this huge budget deficit we're faced with, what are our priorities? We know we're going to have to cut everything, so how deep do we cut some things and how shallow do we cut others?" he says. "Mental health is a perfect example, it's kind of a black hole. You can pour money into mental health, and you still are going to need more."
With the past legislative session behind him, Driscoll can focus on his position with Project Access — a nonprofit network of health care facilities and doctors willing to provide services to low-income, uninsured patients in the Spokane area. After working in various administrative roles, Driscoll sought out the position. Project Access, he says, encapsulates all of his beliefs about what health care should be.
"I realized I could really get back to the real world of dealing directly with people who are disadvantaged — people we can do something better for," he says, pointing out the vast differences between that job and some of his more administrative positions. "I was a bill collector. I was the money guy. That was one of my roles. With Project Access, I didn't have to worry about money all of a sudden. The things I take home from work every day are the stories from our patients and how grateful they are."
"Instead of focusing on 'You've got to pay your bill,' I can say 'I'm here to help y'all!'" he says.
Being able to understand everything from bill collecting to the plight of the uninsured is something that's valued now in Olympia, especially with the current discussion of completely overhauling the health care system.
"I think we're closer to health care reform than we've ever been in my life," he says. "The big players in health care — everybody is at the table, and everybody is willing to say it's broken and it's time to fix it.
"In the past they've been standing away from the table throwing rocks at all the ideas. This time they are all at the table."