NATHAN WEINBENDER, music editor
10. SLOWDIVE, Slowdive
The British shoegaze icons return from a two-decade hiatus, and it's as if they never missed a step. The sounds of a band reunited, reinvented and falling effortlessly back into its old tricks.
9. ALVVAYS, Antisocialites
Beguiling dream-pop from Toronto that gets deeper and catchier with each new listen, as the melodies wrap themselves around you and swim through your brain for days afterward.
8. LCD SOUNDSYSTEM, American Dream
James Murphy is perpetually in the throes of a midlife crisis, and on his recently reunited band's longest and slowest burning record, he eviscerates technology, drug culture and (no surprise) the idea of aging gracefully.
7. CHARLY BLISS, Guppy
Sounding like they were beamed straight from a Tower Records loudspeaker in 1996, this Brooklyn quartet cockily channels Veruca Salt by way of Juliana Hatfield on their contagious debut LP.
6. VINCE STAPLES, Big Fish Theory
If we're to follow Staples' aquatic metaphor to its most logical extreme, he's both trapped inside the fishbowl and tapping on the glass from outside. A sophomore LP that's smarter, funnier and more self-effacing than your typical fame's-a-bitch salvo.
5. THE WAR ON DRUGS, A Deeper Understanding
Me upon first hearing A Deeper Understanding: "Man, every War on Drugs record kind of sounds the same." Also me, upon re-listening for the fifth or sixth time: "My favorite track? Probably 'Holding On.' Or 'Nothing to Find.' Or maybe..."
4. SZA, Ctrl
For anyone unaware of this New Jersey R&B star-in-the-making, her debut LP seems like an out-of-nowhere work of brilliance. Her fans, meanwhile, weren't surprised one bit. Ctrl bristles with confidence and pulsates with heartbreak, each track revealing an emotional nakedness beneath the glossy production.
3. ST. VINCENT, Masseduction
Maybe it's a concept album about the monotony of excess, or maybe it's simply a break-up record about pining for a young ex-lover in a restless city. Either way, Annie Clark's latest is witty and kinky, dripping with passion and withering scorn.
2. LORDE, Melodrama
The mainstream pop record of the year, in which the New Zealand superstar gets ready for a night of blowing shit up on the dance floor and then picks up a bunch of empty champagne glasses the next morning. The party in between? Eh, it's not important.
1. KENDRICK LAMAR, DAMN.
With each new release, Kendrick Lamar re-cements his status as the most vital voice in hip-hop, and perhaps in all of contemporary music, the kind of artist who can imbue individual lines with more meaning than others manage in entire songs. That muscular minimalism is reflected in the very title of DAMN., his fourth studio LP, with that emphatic period suggesting the word is a sentence unto itself. The track titles follow suit ("PRIDE." "HUMBLE." "GOD."), a collection of screeds, celebrations and lamentations examining black identity and Trump-era anxieties. Lamar has also released DAMN. with its songs in reverse order, saying the album makes even more sense when played backward; that it's bookended by gunshots is a somber commentary on a cyclical system of violence targeting African-American men. "I'll probably die," one of Lamar's "characters" observes at one point, "because that's what you do when you're 17." Damn, indeed.
---
DAN NAILEN, staff writer
10. Filthy Friends, Invitation
9. Hiss Golden Messenger, Hallelujah Anyhow
8. Chris Shiflett, West Coast Town
7. Deer Tick, Deer Tick Vol. 1 & Vol. 2
6. St. Vincent, Masseduction
5. JD McPherson, Undivided Heart & Soul
4. Lorde, Melodrama
3. Lilly Hiatt, Trinity Lane
2. Jason Isbell and the 400 Unit, The Nashville Sound
1. MARGO PRICE, All American Made
If you think country music is all rah-rah patriotism and beer-bro party tunes, you need to meet Margo Price, a Nashville spitfire who knows the true meaning of populism and who isn't afraid to raise a middle finger to the mainstream country scene. Her killer debut, 2016's Midwest Farmer's Daughter, revealed an artist happy to go toe-to-toe with anyone who questioned her ability to deliver lacerating lyrics chased with a whiskey shot. On her sophomore set, Price surveys an America of bankrupt farmers and women treated like second-class citizens, and leans into a run of sharp songs that touch on R&B, soul, doo-wop and indie-rock without losing her honky-tonk roots, all the while focusing on protagonists who have been left behind by promises to "make America great again." It's a brilliant, timely set that will prove timeless.
---
CONNOR DINNISON, contributor
10. Pallbearer, Heartless
9. Bibio, Phantom Brickworks
8. Wiki, No Mountains in Manhattan
7. Kendrick Lamar, DAMN.
6. The Clientele, Music for the Age of Miracles
5. Ryan Driver, Careless Thoughts
4. Sam Gendel, 4444
3. Ariel Pink, Dedicated to Bobby Jameson
2. Avey Tare, Eucalyptus
1. MOUNT EERIE, A Crow Looked at Me
"Conceptual emptiness was cool to talk about," sings Phil Elverum (aka Mount Eerie) on his record A Crow Looked at Me, "back before I knew my way around these hospitals." His wife Geneviève, also an artist and musician, succumbed to pancreatic cancer in July 2016, shortly after the birth of their daughter. These 11 "songs" (Elverum has called the record "barely music") read like private diary entries (think Karl Ove Knausgaard) of a widower grappling with a grim reality ("death is real," he repeats over and over), entombed in the living grave of the past. It's a haunted work of art (Crow was recorded at home in Anacortes, Washington, in Geneviève's room with her instruments, mostly guitar and occasionally a sputtering drum machine), unapologetically sincere in its stark take on our common fate: obliteration. And yet the moral here is love. As Elverum explains in the liner notes, "I want it known."
---
BEN SALMON, contributor
10. Alvvays, Antisocialites
9. Julie Byrne, Not Even Happiness
8. Charly Bliss, Guppy
7. Elder, Reflections of a Floating World
6. Florist, If Blue Could Be Happiness
5. Jason Isbell and the 400 Unit, The Nashville Sound
4. Matt Jencik, Weird Times
3. Manchester Orchestra, A Black Mile to the Surface
2. The New Pornographers, Whiteout Conditions
1. RAPSODY, LAILA'S WISDOM
Rapsody (aka Marlanna Evans) has been a proficient and prolific presence in hip-hop for nearly a decade, with a slew of solid EPs, mixtapes and albums on her résumé. But in 2015, the North Carolina MC scored a coveted guest verse on Kendrick Lamar's masterpiece To Pimp a Butterfly, and her career has been stuck in overdrive ever since. Her post-Pimp peak (so far) is Laila's Wisdom, a potent amalgam of boom-bap roots, dizzyingly intricate rhymes, vintage funk 'n' soul sounds, elegant lyricism and unmistakably modern vibes. It's an album that's as stirring as it is sturdy, and as dynamic as it is efficient. Released via Jay-Z's label Roc Nation, Laila's Wisdom is also a Grammy nominee for Best Rap Album, and the best non-Kendrick hip-hop release of 2017. The woman's career is on a steep upward trajectory. She deserves nothing less.
---
JORDAN SATTERFIELD, contributor
10. Slowdive, Slowdive
9. Japanese Breakfast, Soft Sounds from Another Planet
8. Jlin, Black Origami
7. Björk, Utopia
6. Kendrick Lamar, DAMN.
5. Fever Ray, Plunge
4. SZA, Ctrl
3. Kelela, Take Me Apart
2. King Krule, The OOZ
1. GAS, Narkopop
Narkopop is the first album from German producer Wolfgang Voigt's legendary GAS project in 17 years, and though the timing seems random, it couldn't have been better. Voigt is arguably the biggest pioneer of ambient music since Brian Eno before him, and his return here is a gorgeous reminder of how he has earned that reputation. This is probably the most immediate of his records under the GAS moniker, and Voigt only needs the first 10 seconds of the opening piece to get you on his level, swathed in his melting, wheezing world of blissed-out tones. Narkopop is by turns fittingly dark and hauntingly comforting, a warm embrace that comes with the understanding that things are most certainly not alright, but it's not time to give up.
---
SETH SOMMERFELD, contributor
10. Cayetana, New Kind of Normal
9. Diet Cig, Swear I'm Good at This
8. Julien Baker, Turn Out the Lights
7. Mount Eerie, A Crow Looked at Me
6. Charly Bliss, Guppy
5. Dude York, Sincerely
4. Lorde, Melodrama
3. Phoebe Bridgers, Stranger in the Alps
2. Alvvays, Antisocialites
1. DADDY ISSUES, Deep Dream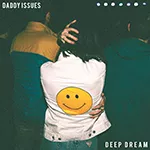 In a year partially defined by women calling out dudes on their B.S., no one did it musically better than Daddy Issues. With a beautiful slow-moving haze of fuzzed out guitars and sweet voices spitting sour words, the Nashville trio's Deep Dream manages to be both emotionally vulnerable and bluntly dismissive. It's an album-length side-eye at toxic masculinity. Backed by a bubblegum grunge sound played with a straightforward musical ease, frontwoman Jenna Moynihan sings with cutting zeal about a delusional exes ("In Your Head") and societal forces that place blame and guilt on women for being sexually assaulted ("I'm Not"). You can practically hear her sharpening her lyrical fangs with each distorted guitar wail — as bassist Jenna Mitchell and drummer Emily Maxwell plod along — on the dark slow burn of "Dog Years." Daddy Issues delivers a dreamy, melodic mess of Hayao Miyazaki films, unhealthy relationships, Don Henley covers and self-empowerment that's heavy like the weight of oppressive humidity on an aimless Southern summer afternoon. ♦
---
A PLAYLIST OF SOME OF OUR WRITERS' FAVORITE SONGS OF 2017: