It was the year of Lizzo breaking into the mainstream, of Billie Eilish becoming the latest goth-pop sensation, of Lil Nas X's "Old Town Road" smashing Billboard records and Lady Gaga winning her Oscar.
But there was more — a whole lot more — and our annual assemblage of the year's best albums is proof of that. By my count, only eight artists appear on multiple lists, which means we found plenty from the last 12 months to be top-10 worthy. We've got hip-hop, garage rock, country, pop, R&B, a few reissues and even a symphonic recording. Enjoy.
NATHAN WEINBENDER music editor
10.
MEGAN THEE STALLION,
Fever
The creator of Hot Girl Summer drops a fiery, X-rated celebration of insatiability as lifestyle. It's filthy, but
fun
filthy.
9.
CARLY RAE JEPSEN,
Dedicated
The best pure pop album of the year, a sugar rush of come-hither melodies and club beats, with one undeniable shoulda-been-a-single after another.
8.
MIKE KROL,
Power Chords
This great, unsung hook writer's most aptly titled album yet. Scrape off an inch of its lovingly applied sonic sludge and you'd have straight-up bubblegum.
7.
ANGEL OLSEN,
All Mirrors
Few vocalists have the range of Angel Olsen: airy and ethereal one moment, pummeling and bruising the next. This is her best album, harrowing and cathartic in equal measure.
6.
FKA TWIGS,
Magdalene
Her proposal to be this generation's Kate Bush, an album that seems to breathe and pulsate on its own. She may be a fallen alien, but she ultimately finds transcendence on earth.
5.
PURPLE MOUNTAINS,
Purple Mountains
In more ways than one, the specter of death hangs over David Berman's final solo album. It's also droll, perceptive and darkly funny, a self-penned memoriam to a vital voice gone too soon.
4.
SHARON VAN ETTEN,
Remind Me Tomorrow
The singer-songwriter's first album in five years feels like a sonic rebirth and an act of therapeutic reflection, a bittersweet embrace of teenage abandon seen through the rearview mirror.
3.
TYLER, THE CREATOR,
Igor
Like a mad scientist's assistant pulling levers and reanimating R&B samples with lightning, Tyler's loose concept album about a bisexual love triangle is so much more grownup than his perverse, Adult Swim-approved horrorcore of yore.
2.
WEYES BLOOD,
Titanic Rising
It's rare you find a brand new record that already sounds like a lived-in classic, but Natalie Mering did it. Like a long-lost singer-songwriter album found at the bottom of the ocean, every listen is an excavation of more riches and complexities.
1.
JENNY LEWIS,
On the Line
Jenny Lewis' professional trajectory has the arc of a great story: A retired child actor becomes a celebrated folk-pop frontwoman, then overcomes heartbreak and creative roadblocks en route to alt-country accolades.
On the Line
similarly unfolds like a picaresque novel, each chapter introducing a new character who pirouettes into the frame, makes an impression and exits, never to be heard from again. We get cameos from opium addicts, groupies, amorous hitchhikers, a hookup who skips town with our heroine's nudes, and possibly the devil himself, all amidst tableaus of sticky summer nights and fumbling adolescent lust. Lewis has assembled a traveling band of virtuosos to match — Ringo Starr, Don Was, Beck, pre-scandal Ryan Adams — and the result is a rich, resonant studio sound that further underlines just how good her sense of songcraft is.
DAN NAILEN managing editor
10.
The Bangles, the Three O'Clock, the Dream Syndicate and Rain Parade,
3X4
9.
Girlpool,
What Chaos Is Imaginary
8.
Meat Puppets,
Dusty Notes
7.
Sleater-Kinney,
The Center Won't Hold
6.
Justin Townes Earle,
The Saint of Lost Causes
5.
Lizzo,
Cuz I Love You
4.
Bob Mould,
Sunshine Rock
3.
Jenny Lewis,
On the Line
2.
The Highwomen,
Highwomen
1.
PURPLE MOUNTAINS,
Purple Mountains
Did I listen to this album more than I would have because David Berman committed suicide just weeks after its release, and a month before I was slated to see him perform on a farm outside Walla Walla? Definitely. But the repeated listens did nothing but reward me with the best album of the year. It's easy now to view the former Silver Jews frontman's lyrics through the lens of his untimely end, and the songs do turn an uncomfortable spotlight on Berman's difficult life in the 10 years since he last made an album. But there's joy, too, that comes through hearing Berman's poetry set to jaunty, rumbling roots-rock. Every line offers a lesson in efficiently killer songwriting, and the feeling after listening to
Purple Mountains
' 10 songs is anything but morose.
C.A. COYLE contributor
10.
The Uncalled 4,
Cotton Fields
9.
Knights of Trash,
Train Wreck
8.
Coloured Balls,
Heavy Metal Kid
7.
The Victims,
Horror Smash
6.
Belly Jelly,
Belly Jelly
5.
Perfect Buzz,
In Your Face
4.
The
5.6.7.8
's & Bloodshot Bill,
My Little Muck Muck
3.
King Salami and the Cumberland Three,
The Pulpo Dance
2.
Warm Leather,
Manic Static
1.
POWERSOLO,
Transfixing Motherf—-er
A perfect storm at the end of 2018 led me to pre-order POWERSOLO's
Transfixing Motherf—-er
EP. 1) Slovenly Records was having a sale, and 2) though I knew nothing about them, I recognized the name POWERSOLO as a headliner for an upcoming show with one of my favorite regional acts, the F—-king Eagles. Thus, one could conclude the purchase was on a
semi-educated
whim. Eleven months after landing it, I can confidently say I've spun — physically
and
digitally — the A-side's "Backstab" well over 200 times in 2019. Describing its brilliance would cost me too many words, so I'll just say that every time a Quentin Tarantino movie is made without this song soundtracking a fight scene, god kills a kitten. Your move, Q.T.
CONNOR DINNISON contributor
10.
Kazu,
Adult Baby
9.
Chris Cohen,
Chris Cohen
8.
Avey Tare,
Conference of Birds / Birds in Disguise
7.
Mac DeMarco,
Here Comes the Cowboy
6.
Floating Points,
Crush
5.
Devon Welsh,
True Love
4.
Galcher Lustwerk,
Information
3.
Xiu Xiu,
Girl with Basket of Fruit
2.
The Replacements,
Dead Man's Pop
1.
BETH GIBBONS & THE POLISH NATIONAL RADIO SYMPHONY ORCHESTRA,
Henryk Górecki: Symphony No. 3 (Symphony of Sorrowful Songs)
If ever a piece of art could encapsulate the ineluctable cocktail of horror, hope and sorrow
de profundis
that was the aftermath of World War II and the Holocaust, Polish composer Henryk Górecki's 1976 masterpiece, Symphony No. 3 ("Symphony of Sorrowful Songs"), comes close. Krzysztof Penderecki's take here — with Beth Gibbons of the experimental English pop group Portishead singing soprano across its three movements — is, in its sobering bleakness,
transcendent
, a revelatory concomitant of Shoah survivor Viktor Frankl's observation: "Man is that being who invented the gas chambers of Auschwitz; however, he is also that being who entered those chambers upright, with the Lord's Prayer or the Shema Yisrael on his lips."
HOWARD HARDEE contributor
10.
Big Thief,
U.F.O.F.
9.
DJ Shadow,
Our Pathetic Age
8.
Tool,
Fear Inoculum
7.
Whitney,
Forever Turned Around
6.
Twyn,
ii
and
ii (b)
5.
Vampire Weekend,
Father of the Bride
4.
Gang Starr,
One of the Best Yet
3.
Claypool Lennon Delirium,
South of Reality
2.
Weyes Blood,
Titanic Rising
1.
YEASAYER,
Erotic Reruns
Erotic Reruns
is by no means the most artistically substantial or culturally relevant album of 2019, but it's the one I enjoyed listening to the most. The recently disbanded Brooklyn trio were guided by a delightfully strange sensibility since debuting with the 2007 LP
All Hour Cymbals
, smashing together elements of indie-rock, worldbeat and electronic music in the manner of Animal Collective. When these dudes made a record, they were liable to go absolutely bonkers — and that's why it's surprising for Yeasayer to put out such a conventional album with falsetto-heavy funk songs like "Ecstatic Baby" and "People I Loved." And about that falsetto singing: At its best, it sounds like
Midnite Vultures
-era Beck, which is as high as my praise goes for goofy whiteboy funk.
BEN SALMON contributor
10.
(tie) Clairo,
Immunity
/ Dylan LeBlanc,
Renegade
9.
Business of Dreams,
Ripe for Anarchy
8.
The New Pornographers,
In the Morse Code of Brake Lights
7.
Great Grandpa,
Four of Arrows
6.
Jamila Woods,
LEGACY! LEGACY!
5.
Cabana Wear,
Cabana Wear
4.
Florist,
Emily Alone
3.
Oso Oso,
Basking in the Glow
2.
Weyes Blood,
Titanic Rising
1.
BRUTUS,
Nest
Lots of bands claim to deftly blend different genres into one unique sound. Few do it as well as Brutus, a bracing Belgian trio that expertly walks the imaginary lines between post-rock, pop, punk and metal. Each member plays an important role: Bassist Peter Mulders and drummer Stefanie Mannaerts are a pounding rhythm section that pushes Brutus along at the pace of hardcore and thrash. And Stijn Vanhoegaerden drapes the songs in barbed arcs of electric guitar worthy of an Explosions in the Sky crescendo. But it's Mannaerts' voice — sharp, clear, quivering with intensity — that makes Brutus truly special. Her melodies on
Nest
are grand and deceptively catchy, which transforms Brutus from just another heavy band to the kind of heavy band anyone can love.
JORDAN SATTERFIELD contributor
10.
Tyler, the Creator,
Igor
9.
Young Guv,
Guv I & II
8.
Moodymann,
Sinner
7.
Full of Hell,
Weeping Choir
6.
Weyes Blood,
Titanic Rising
5.
Fennesz,
Agora
4.
Angel Olsen,
All Mirrors
3.
FKA Twigs,
Magdalene
2.
Sunn O))),
Life Metal
1.
NICK CAVE AND THE BAD SEEDS,
Ghosteen
In the surreal and heavenly world of
Ghosteen
, everything moves in slow motion. Every melodic detail is respected equally, from heartbreaking whispers to soaring choral verses. Cave has a big heart, and here he showcases a perfected ability to balance tragedy with euphoria.
Ghosteen
is an absolute sonic original through and through, managing to make a sincere human connection while wringing melodrama from its synthetic shimmer. Cave has left the grieving pessimism from his past behind him, making way for something far more enthralling — a salvation of sorts, and eventually a remarkable inner peace. We are lucky to hear it all happening in real time.
SETH SOMMERFELD contributor
10.
PAWS,
Your Church on My Bonfire
9.
Jay Som,
Anak Ko
8.
Pup,
Morbid Stuff
7.
Said the Whale,
Cascadia
6.
Great Grandpa,
Four of Arrows
5.
Lizzo,
Cuz I Love You
4.
Vagabon,
Vagabon
3.
An Horse,
Modern Air
2.
Charly Bliss,
Young Enough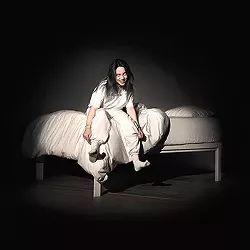 1.
BILLIE EILISH,
When We All Fall Asleep, Where Do We Go?
When We All Fall Asleep, Where Do We Go?
is essentially what you get when you filter Lorde's
Pure Heroine
through the vessel of a neon Wednesday Addams. It's a superstar pop debut record from a teen prodigy whose musical canny belies her age, but this one's more overtly, intentionally weird (hello, song centered around
The Office
samples) and dark (the knife sharpening beat of "You Should See Me in a Crown"). Amidst the barrage of undeniable choruses ("Bad Guy" is a megahit for a reason), don't sleep on the emotiveness of Eilish's voice, or the wild sonic diversity that she and her producer brother Finneas craft, from the soft piano bar ballad "Listen Before I Go" to the melancholy hymnal vibes of "When the Party's Over." ♦