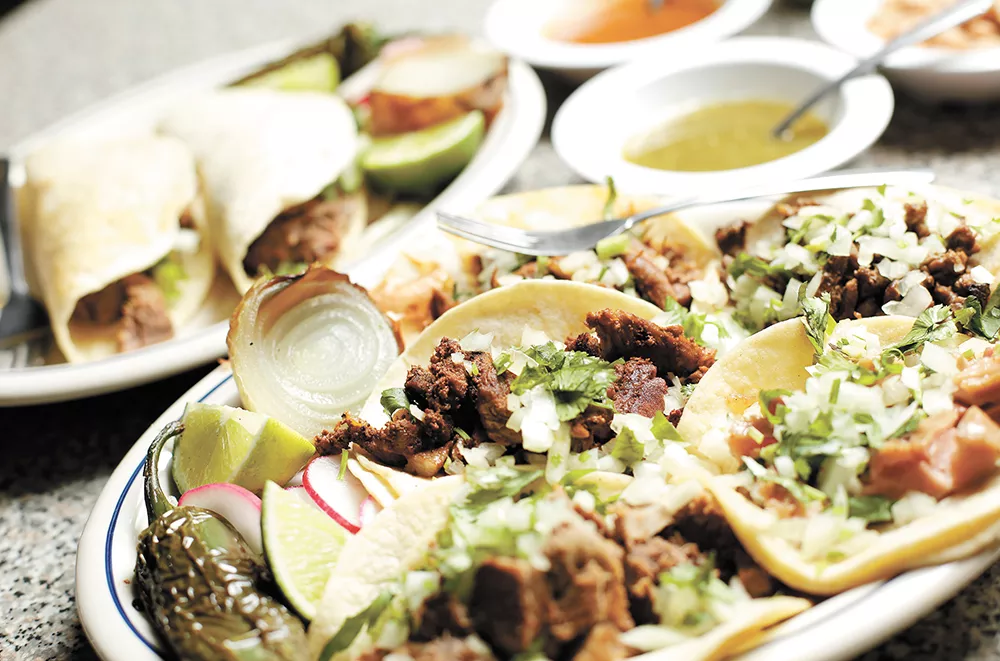 Though its origin has been widely disputed — and its moniker even trademarked by a national fast food chain — one thing's for sure: Taco Tuesday is one of the tastiest nights of the week and one of the best dine-out bargains around. We sent five Inlander writers to check out some local Taco Tuesday specials recommended to us and this is what we found: a highly regarded, authentic Mexican spot in the Valley, a collegiate favorite downtown bar, a brewery and more.
La Michoacana Mini Market
9907 E. Sprague, Spokane Valley
The special: $1.50 or $2.50 street tacos
What we got: one each of the adobada (marinated pork), carnitas (pork), carne asada (beef), pollo asado (chicken) and pescado (fish)
Don't let the "Mini Market" part of the name fool you; when you walk in La Michoacana, you're entering a massive space that houses a bakery, a butcher, a bar, a market full of Mexican cooking and household products and, best of all, a sprawling restaurant that knows how to do Taco Tuesday right.
The deal is a sweet one — you can buy tacos in two sizes, either $1.50 or $2.50 each, delivered on tortillas made in-house — and includes no less than 12 different types of tacos to choose from, made from pork, beef, fish, chicken or goat. The buche (pork stomach) or tripa (cow intestine) might not be your thing, but I can vouch for the carnitas (pork), carne asada (beef), chicken and fish tacos. I ordered five of the $1.50 tacos and there's no way I could finish that $7.50 plate of goodness — these are no meek little two-bite tacos, but legit, double-tortilla'd street snacks with plenty of meat, topped by onions and cilantro and delivered with some nice salsa verde and a side of white beans. Throw in the chips, salsa and bean dip presented before the meal and one of La Michoacana's $1.50 draft beer specials and you might find yourself a Tuesday regular in no time. (DAN NAILEN)
Zona Blanca
154 S. Madison
The special: $2 featured tacos; minimum order of three
What we got: three octopus and Spanish chorizo; three rockfish, a bowl of guacamole
It takes a different kind of taco to really impress me. No, I'm not picky, or even a well-versed food critic, but I go with my gut (literally), and I know a good taco when I taste one. Zona Blanca's "tako tacos" combine chorizo and octopus (tako in Japanese) with cooked cabbage, salsa verde and cilantro to create an explosion of taste and texture wrapped up in 4-inch corn tortillas. They're juicy, meaty and have just enough spice to remind you that this is, in fact, Taco Tuesday at a ceviche bar.
Yet, these tacos are somewhat of an aberration. Each Taco Tuesday, Zona Blanca comes up with a new recipe. You can expect beef barbacoa tacos, kimchi tacos and smoked jackfruit tacos in the future. If you're looking for something more reliable, and maybe less adventurous, try the rockfish tacos. It's simple, straightforward and delicious. Top it all off with a fat bowl of tortilla chips and zesty lime guacamole ($15). Wash your meal down with a beer in the restaurant's casual dining setting — shared with the Steel Barrel Taproom — while people-watching from from the big open windows. (QUINN WELSCH)
Borracho Tacos & Tequileria
211 N. Division
The special: $1 house tacos (al pastor, pollo, chorizo, beef, veggie)
What we got: one each of the pollo, beef and veggie
Stepping inside this hip and happening downtown spot on a warm spring afternoon made me feel like I'd been transported to Austin, Texas — a place I've visited several times, and that's dotted with trendy, Mexican-influenced bars featuring huge patios. Though the crowd at Borracho leans heavily toward college coeds, don't let that keep you from hitting up its insane Taco Tuesday. Based on the lack of available patio tables at the peak time of 5:30, plenty of locals know this is the place to be for "TT."
Despite the venue's popularity, a fellow Inlander staffer and I get a table right away. We immediately decide we're taking advantage of the Taco Tuesday drink specials: $5 house margaritas (add a flavor for $1) and $3 Mexican bottled beers. Choosing what to order is a breeze and a bargain: all five of Borracho's house tacos, served on double-layer, 2-inch flour tortillas, are on special for $1 each. I go with the chicken, beef and the veggie, the latter of which is a hearty mix of zucchini, yellow squash, red bell peppers and onions sauteed in the house-made sofrito sauce. I'm obviously not a vegetarian, but those who are won't be disappointed by this rare option (at least based on our observations of the mostly meat-focused special) for Taco Tuesday enjoyment. Three tacos per person, depending on your appetite, seems to be a perfect amount of food. I add a side of small guacamole for $2, which is more than enough to add a little extra flavor to each taco. As an added bonus, if you get there between 3-6 pm, the bar also serves $2 Modelos and $3 chips and queso. At the end of the meal, we walk away with full bellies and tabs under $10. (CHEY SCOTT)
Perry Street Brewing
1025 S. Perry St.
The special: two tacos for $5 (fillings vary, some options include grilled chicken, beef barbacoa, pork banh mi, chipotle chicken, chili lime pinto bean and smoky adobo lentil)
What we got: two each of the grilled chicken and beef barbacoa
Just as I'm walking up to Perry Street Brewing on a recent Tuesday after work, packs of joggers in bright clothing come whooshing past. They're with the Lantern Taphouse Run Club (located just across the street), a friend tells me. I briefly consider my own failure to exert any strenuous physical effort that day, and a wave of shame and regret washes over. Then I see the taco options.
Each Taco Tuesday at PSB is a little different. Today's three options are grilled chicken, beef barbacoa and adobo lentil. Tacos come in pairs for $5, but you can't mix and match, so I get two each of the chicken and barbacoa. Each come double wrapped and brimming with meat and veggies. The spicy honeydew salsa and green cabbage crema balances well with the chicken, and the salty barbacoa with pineapples and pickled onion is a perfect combo of sweet, salty and tangy. I wash each pair down with an ice cold pint. If you get there early enough, Perry Street's happy hour includes $1.50 off pints between 2-5 pm. (MITCH RYALS)
Poole's Public House
5620 S. Regal St.
The special: $1.25 beef tacos, $2.75 chicken or steak tacos
What we got: two beef, one chicken and one steak taco
Residents of Spokane's South Hill neighborhoods love Poole's, judging by how busy it is every weeknight, and Taco Tuesday is no different. At Poole's, the tacos stay true to the neighborly feel of the place. These aren't street tacos; they're more like what you might make at home. The meat rests on top of melted cheese in a chewy shell, topped with lettuce and tomato. There's nothing fancy going on here. Nobody's trying to do too much. But three tasty tacos will be sure to fill you up.
The chicken and steak tacos are good, but I'm not sure if it's worth the extra $1.50 in price. Guacamole is going to cost you extra. But the Taco Tuesday deals don't end with food at Poole's: Mexican beers are just $3, margaritas are $6 and beef nachos are just $5.50. (WILSON CRISCIONE) ♦
---
MORE TASTY TACO SPOTS FOR ANY DAY OF THE WEEK:

Tacos El Sol
Find this sunshine yellow food truck open regularly on the edge of a parking lot at 401 W. Sprague.
Cochinito Taqueria
This new Latin and Mexican eatery in downtown Spokane from chef Travis Dickinson focuses on a higher-end preparation of traditional street food dishes.
Taco Works CdA
This Coeur d'Alene food truck, with two mobile units, recognizes Taco Tuesday with $1 street tacos, along with "Burrito Thursday" offering two burritos for $8.
Freedom Burrito
This Mexican quick-serve spot in Post Falls offers $1 street tacos all day on Tuesdays and serves a full menu of southern goodies from burritos to tortas and ceviche.
De Leon's Taco & Bar
Owned by the family behind local favorite De Leon Foods Mexican grocery, this North Spokane spot serves fresh, south-of-the-border flavors in all forms — tacos included. A second location near Gonzaga is set to open later this year.