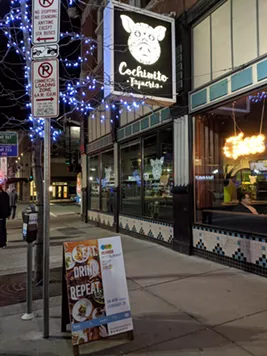 I
started off day one of Inlander Restaurant Week
with a bang, visiting first-time participant
Cochinito Taqueria
for a filling and tasty three-course meal ($22).
As soon as the counter-service spot was announced as a participant in 2020, I knew it would land on my list. Now with nine days of IRW left, it should be on yours, too.
Cochinito opened two years ago in a central downtown spot near the STA Plaza, serving tacos and other Mexican/Latin fare made using fine-dining techniques by chef Travis Dickinson and team.
For Restaurant Week, Cochinito offers its
three-course menu
all day (Monday-Thursday from 11 am-9 pm and Friday-Saturday from 11 am-10 pm). Order food and drinks (I definitely recommend the house margarita) at the counter as usual; grab a number and find a table.
My partner and I met after work on Thursday night around 5:30 and were surprised that the place wasn't as packed as we expected it to be, though the night was still young. We had our choice of tables, and our food came out in quick course succession. In total, I think we were there for less than an hour. Staff were also quick to bus newly emptied tables. All of these observations seemed to indicate a careful plan of attack for efficient and thoughtful service from this
IRW first-timer
.
From the menu, we strategically ordered a few dishes to share, including two options for course one: the
elote bowl
(roasted corn, crema, scallion, jalapeno, shishito peppers and crispy pickled onion) and the
queso fundido
, a creamy cheese dip with chorizo sausage, tomato salsa and house-made tortilla chips. It was a nice touch that the elote, without a specific request, came out with two spoons. We quickly scarfed down this flavorful take on the Mexican street food staple.
For course two, we each chose
three tacos
off Cochinito's
regular menu
, an option that is almost infinitely customizable. Our favorite, and the only taco we both ordered, was the
20-hour carne asada
, with sous-vide cooked tri-tip, grilled corn, onions, peppers, chile-garlic oil and asadero cheese.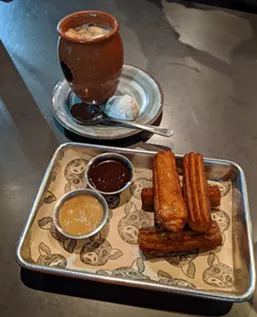 For dessert, we opted for
churros
and
chile chocolate atole
, or Mexican drinking chocolate. Four churros come with chocolate or caramel dipping sauce (pro tip: order both for only 25 cents extra!), and are perfect for sharing. The drinking chocolate includes a crumbly hazelnut cookie and is topped with Mezcal whipped cream. It was perfectly warm both in temperature and from the subtle spices that make this hot chocolate beverage unique.
At a glance, Cochinito's offerings for IRW may not seem like a lot of food, but we both headed home
very
full and completely satisfied with every menu choice.