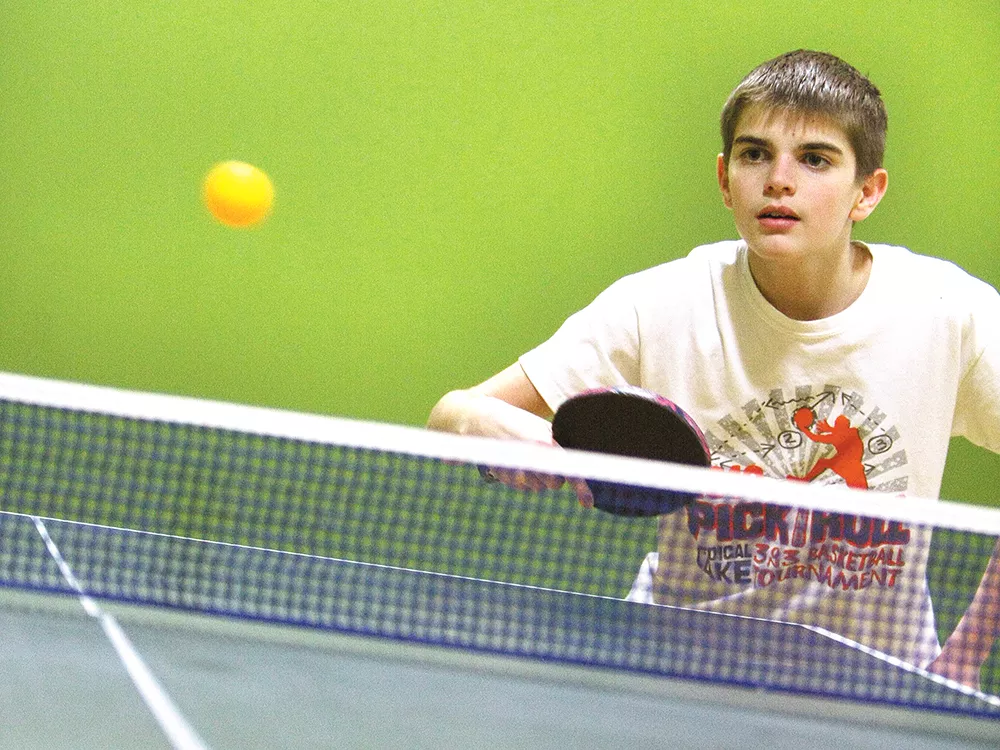 It's a typical Wednesday night at North Park Racquet Club, and a dozen men are facing off across green tables set up in the high-ceilinged gym. There's not a lot of talking, but the rapid whack-ping-whack speaks for itself: This is not your typical basement ping pong.
"Sometimes people show up and, unfortunately, they're intimidated," says John Trevethan, the president of Spokane Table Tennis and longtime leader in the local table tennis community.
He first picked up a paddle, like many kids do, to challenge his brothers and sisters in the basement.
"Looking back on it," he says, "That was really just ping pong — the slow dink, dink, let's see if we can keeping it going. And you think you're pretty good."
Table tennis is a game of many levels, and this new club has ambitious plans to elevate the sport out of Spokane's garages and bars. They've held monthly tournaments since October, and open practice sessions three times a week. Basement-level players who show up to play will probably get crushed — but then, hopefully, they'll come back.
New faces peer tentatively into the gym, and greeting them is Lisa Hagel, the club manager and tireless force behind the new club. Her 14-year-old son, Cody, is the youngest player in the gym and also one of the best, and they've traveled all over the country for tournaments and training. Along the way, Hagel fell in love with the growing sport.
"It's so much fun when you go into these different towns and you meet all these different people from all over the world," she says. "It's just not like any other sport that I've ever seen."
She also saw how much Spokane didn't have: In Seattle and Portland, where the sport is becoming huge, kids are coached at full-time facilities. In Texas, clubs travel to tournaments with hundreds of kids.
"They just line up — they do these drills, and they're just lined up miles long," Hagel says.
Most of the dedicated players in Spokane are older, but that kind of generation gap in table tennis is not unusual nationwide. What Spokane is missing is the kids.
"My goal," Hagel says, "was to really bring the older generation that plays competitively with the younger kids that want to learn."
Before she organized their first tournament sanctioned by USA Table Tennis last October, no one knew if players would travel to Spokane from around the Northwest. The tournament was a success, and now, with bigger plans in the works, the main question for the club is how much the hometown community will get on board.
Spokane Table Tennis is new, but table tennis players have met as a club in Spokane for at least four decades. Trevethan joined that group when he moved here from Michigan in 1979, and for most of the weeks since then the club met at Mountain View Middle School.
"By being in one spot for so many years, it really built up our membership'" Trevethan says.
When the middle school shut down for good in June 2011, the club found itself at a crossroads — some wanted to use the opportunity to expand the club with tournaments and training, and others felt the club was better without changes.
The split was formalized after the regional tournament held this past October, and there are now two clubs. The similarity of their names — Spokane Table Tennis and Spokane Table Tennis Club — has been a point of lingering contention, as well as confusion. (The original club is still meeting, but its officers declined to comment further.) The split was difficult for Trevethan, who had been president of the original club for more than 30 years.
"I'd run that one forever and ever and I said, 'been there, done that.' There are guys who can run that," he says. "The chance to start something new and build it all up again — that sounds like more fun."
Last week, Hagel waited for the call from the Spokane Sports Commission, and then eagerly passed on the good news to the rest of the club: Spokane will host its first-ever four-star table tennis tournament next fall. It's a Joola national tour stop, which is a big deal — no other city in the Northwest has ever hosted one, and it's expected to draw more than 250 high-caliber table tennis players from around North America.
"It's more than what I wanted," she says. "It's just amazing."
She welcomes players from any background — the best player from Rick's Ringside Pub stopped by recently, and got destroyed. But he came back. Tennis players at North Park Racquet Club have seen the practices and stopped by try and are almost always surprised by the sport's difficulty.
"It's a deceptive game," Trevethan says. "I always tell people that, for me, what makes it the most fun is this incredible combination of both speed and spin."
From what he's seen, Trevethan thinks getting table tennis into schools is essential to grow the sport.
Locals schools haven't shown much interest, despite Hagel's lobbying — the tables are expensive and bulky to store, and there's still the idea that it's more standing around than real exercise.
But Hagel has seen skeptical parents won over once the little orange balls start zipping back and forth, and she's hopeful that people in Spokane will be inspired by the international-level play at the tournament this fall.
"Until you've seen that," she says, "you don't even know what's possible with this sport."
February Frenzy Table Tennis Tournament • Sat, Feb. 23 at noon • $10 to compete • North Park Racquet Club • 8121 N. Division • More details visit spokanetabletennis.com