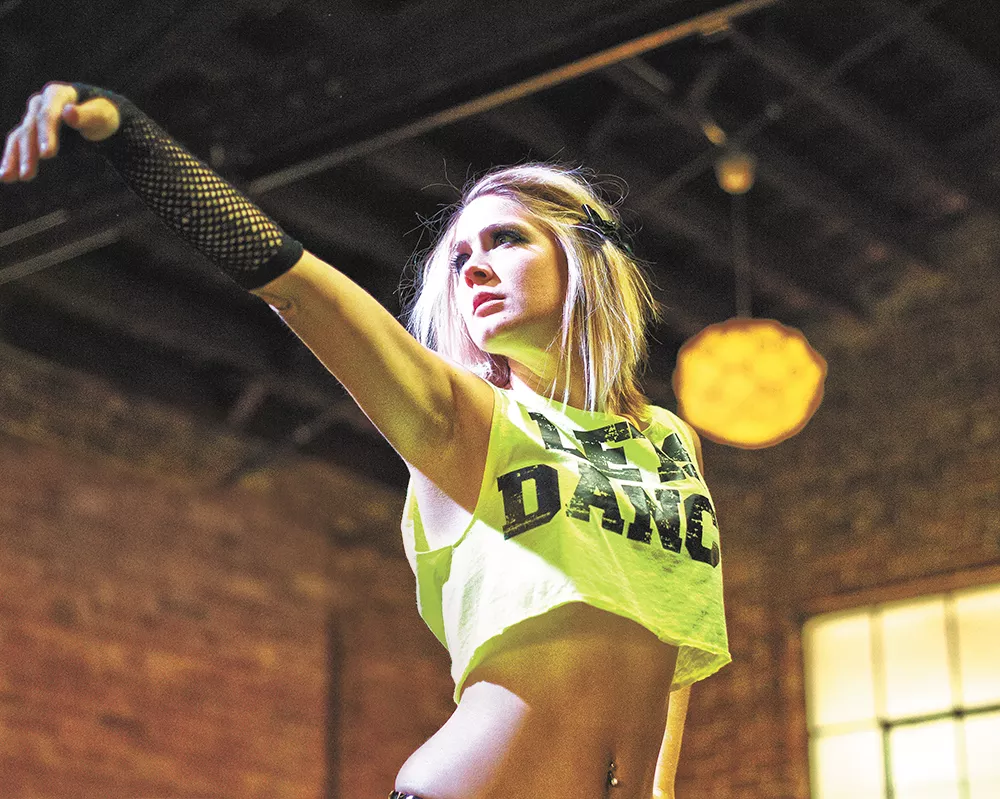 The words "Let's Dance" are printed boldly on Whitney Jones' lime-green top. She flips her short blonde hair with a flirtatious glance as she moves confidently across the stage at a downtown bar where the media has assembled, hoping to learn a thing or two about burlesque shows in advance of the upcoming Burleskival event.
Jones is a freestyle go-go dancer, whose 18 years of broad dance experience have prepared her for the disciplined practice schedule necessary for this type of performance.
"I am a very versatile dancer," she says. "I can dance to anything you throw at me. It's the beats; it's the feeling of a song."
Themes of self-appreciation and positive sexuality run through the prepared acts featured in Burleskival, a first-annual burlesque variety show at the Bing Crosby Theater. Along with go-go dancing and burlesque performers, Burleskival is set to feature live music from Seattle band Dionvox and local opera singer Madeline McNeill. Also, six local models will showcase the sultry fashion designs of Desirae Start.
"There's a misperception about go-go dancing," says Dale Strom, the event's creator. "It only appears in nightclubs and stuff like that; it's never been on stage and regarded as an art form."
He feels that the setting of the Bing Crosby Theater will allow for artistic appreciation of an expressive form that has not been given a fair chance yet in higher-brow circles. The Bing "raises the level of presentation, so it's classy, but still human, visceral and beautiful," he says.
Dancers, both male and female, auditioned in July, and 16 are on the bill for Burleskival. Audience members can vote for their favorite acts via cellphones through a live software program. The first-place winner is set to win $500 and the next four also will receive cash prizes.
Strom believes that eccentric events like this are crucial to Spokane's economic development.
"When Spokane is viewed as an exciting, creative place that's fun to live in, but you can also afford to live here, we think we can get a lot of young people in Seattle and Portland who are struggling to pay the rent to move over here and apply their art [in Spokane]," Strom says. As a former city planner and concert promoter, he believes strongly in the importance of young creativity.
Start, Burleskival's fashion designer, also had a modest start to her artistic career. Beginning with simple quilting after having her first child, her love for patterns and design grew over time into a competitive, intricate talent. All of her pieces are designed with the specific model and her personality in mind.
"It's all about the person who's wearing it. If they feel sexy and beautiful, that's what counts," Start says. "I try to accentuate the beautiful part of that woman, which I think is the face first. If you can get that person to project beauty through their face by what they're wearing, then I think I've accomplished my goal."
The models' seductive power is multidimensional and is not as simple as showing off some skin, says Start.
Burlesque has a long history and remains true to its satirical roots.
"Burlesque is a parody on everyday happenings," says Gigi Spott, a performer who has been intrigued by the art form since eighth grade. Her interpretation of burlesque is more old-fashioned, with some modern twists. She started working backstage for the local troupe Pasties and Paddles, helping out simply to learn. Eventually, she worked her way up to performing in 2011. The main point, she says, is to avoid taking yourself too seriously.
"In one act, for instance, I'm a banana. And I do a banana split strip, and I have a sundae dish. It's silly, but it's still sexy," says Spott. "Burlesque encompasses so many things, and it's ever transforming ... I'm excited to have all the performers show their own little unique twist and show it to Spokane." ♦
— Burleskival • Fri, Sept. 12, 7-11 pm • $22 advance/$30 day of • Bing Crosby Theater • 901 W. Sprague • 998-9767