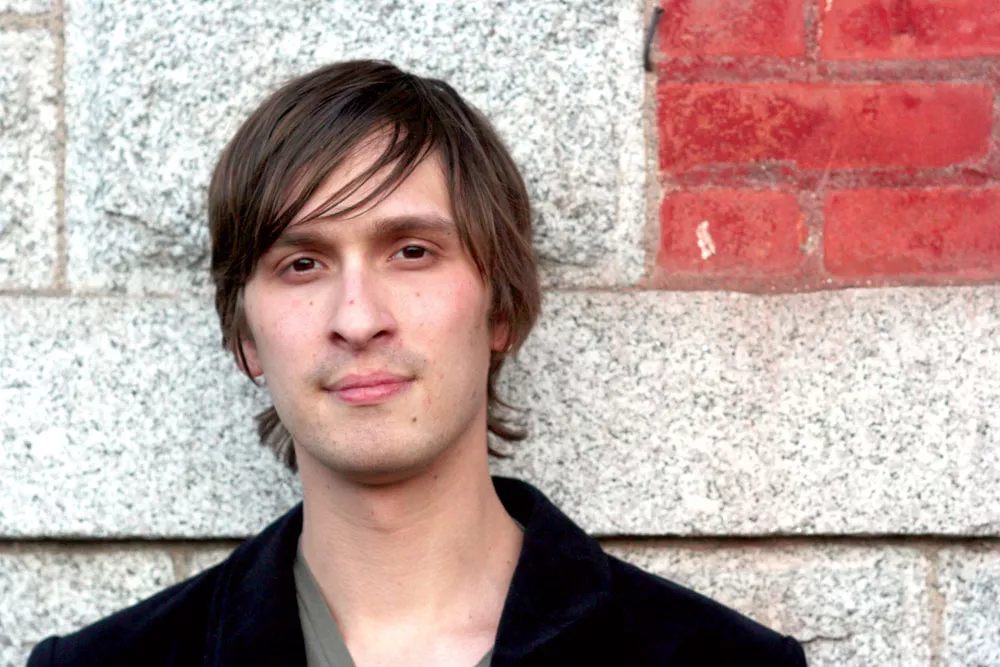 "I don't have any CDs for sale. But I should have some soon," Kevin Long says from the stage at Egan's Jam House in the Ballard neighborhood of Seattle. Those are words the Spokane-raised songwriter has spoken countless times over the past six years. But tonight it's finally true — this week, a box of 1,000 CDs will arrive on his doorstep.
Called Small Town Talk, Long's debut album was recorded over the course of 11 marathon days at the home studio of Grammy-winning producer Kory Kruckenberg. Over the course of the album, Small Town Talk highlights Long's butter-smooth vocals, intricate guitar work and diverse instrumentation. The only guest musicians on the record are his 22-year-old twin brothers.
The cover art, drawn by Long's friend Karli Ingersoll, a Spokane singer-songwriter, features imagery of Spokane, the city where he grew up and where he spent a good part of his musical career (he moved to Seattle last year).
So yes, he can describe the album for you in detail. But he hasn't yet held a physical copy of it. "I'm pretty nervous and excited for when six boxes of CDs show up at my door this week," he admits.
INLANDER: You have a lot of fans who have been looking forward to your CD for the past six years. What took you so long to make your album?

LONG: Part of it is being a perfectionist, and being self-conscious about my voice, and not always having the resources to really do it right. I was really discouraged for a long time about recording. I'd invested in all kinds of home-recording setups, and made all kinds of demos and whatnot, most of which I'd throw away and not show very many people. I think when I moved back to Seattle I realized that I'm getting older … it's never too late to pursue your dreams, but it's a good thing to do while you're still in your 20s.
How do you feel about it now that it's done?
Like a lot of musicians or any kind of artist, I have a lot of feelings that are cyclical. Sometimes I think it's amazing and I'm really proud of myself, and then other times I'm really doubtful of it. The fact that I have a thousand CDs coming in the mail in a couple days is really a little bit overwhelming to me.
What are some of the big influences on this album?
The tone of this record is pretty dark. I spent a long time being an alcoholic, and being a drug addict, and I'm not anymore. I mean, I still am at my core, but I've been sober for almost two years. And that's the only reason why I got a record done, really. Going back to your question, "Why did it take you so long?" — it's because I was a mess. So a lot of the record is about dependence. It's pretty journalistic, pretty autobiographical about my experience living in that world, which is a pretty dark place to be. It's not all about that, but a lot of it is. I'm really excited to make another record that's not about that. So I think that it's not going to take me another six years to make one. I'll probably have another record done in the next year.
What can you tell me about the title song, "Small Town Talk?"
That is one of the songs that's inspired by Spokane. There's a theme that runs throughout the record about things holding people back from what they're capable of, which is something that you could see anywhere, but I especially see it in Spokane. The first song, "Home Town Remedy" is about that, and "Small Town Talk" is about that. Basically it has to do with dependence on people, having a sort of narrow worldview that you feel you can't get out of your situation. That goes back to how I've changed and how I think that the next record that I do will be not only more optimistic but cover a wider variety of the spectrum of life, not just be about the things holding you back.

Kevin Long CD Release Party, with Cathedral Pearls • Tues, July 12, at 7 pm • A Club • $5-$7 • All-ages • www.holdmyticket.com • 624-3629