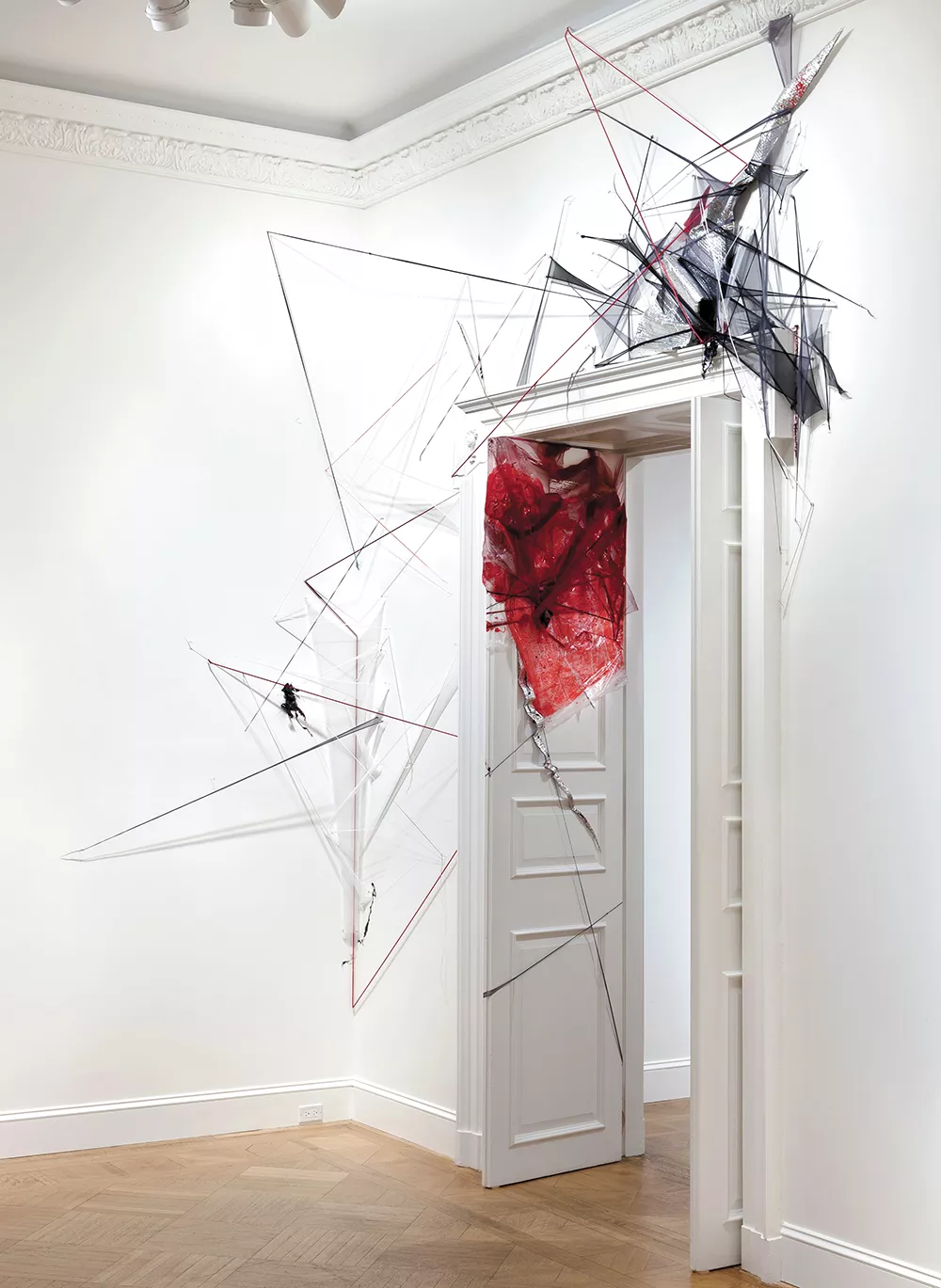 While sports seem easily digested by mainstream audiences — hit, throw, shoot, score — the visual arts often benefit from a little explanation. One doesn't have to know the history of basketball, for example, to appreciate the satisfying swish of a deep three-pointer. The work of contemporary artists, on the other hand?
That's what makes the Visiting Artist Lecture Series such a gem. Every year, late fall to early spring, VALS presents three artists whose work provides plenty to chew on, such as artist Gelah Penn, first up in the series held at Spokane Falls Community College, Eastern Washington University and the MAC.
"I'm most comfortable working in the interstices of drawing, painting and sculpture," said Penn in an email interview from her New York City home.
Working with synthetic materials like netting, fishing line, and plastic tubing, Penn employs conventional artists' practices in unconventional ways.
"I generally begin with a site visit or, if necessary, photographs of the space. Then I do very rudimentary, ruminative sketches," she says. She is especially drawn to such "architectural curve balls" as columns, arches, and ductwork, responding to spatial challenges with line, shape, and sometimes color as she creates site-specific installations that climb up walls, wrap around corners, and tumble down from ceilings.
"I plan the areas where I want a concentration of 'marks,' but I don't like to work things out in too much detail," she says. "I prefer to do much of the decision-making on site. Then I bring all my materials to the space in giant Ziploc bags. The process is somewhat like taking one's studio practice out into the world, and in that way, there's a risky, performative aspect to it."
The result is work that embodies both two-dimensional and three-dimensional qualities, changing with the viewer's vantage point as light and shadow and material play off each other. It's reminiscent of a photography technique called painting with light, where the aperture is deliberately left open to capture the essence of the light source — fire, a moving glowstick, a flashlight — as it moves through the frame. That is the feeling of her work: a shadow of its former self, a meditation on something already beyond our frame of reference.
The connection to photography, at least to film, is apropos. Many of her titles — pieces like "Niagara," "Shadow of a Doubt," "Reckless Moment" — are influenced by film noir and echo the stark, graphic quality of 1940s and '50s-era movies.
Penn eschews color, except where it might provide visual punch, such as the red exclamations in "The Big Red One" and more recent inclusions of painted plastic tarps in her work to "provide an ambiguous, provocative undercurrent."
It's something you might ask her to explain further at any of the VALS three presentation locations. ♦
Gelah Penn • Wed, Nov. 13, at 11:30 am • SFCC sn-w'ey'-mn Building, Room 110 • 3410 W. Fort George Wright Dr. • Wed, Nov. 13 at 6:30 pm • The MAC • 2316 W. First Ave. • Thu, Nov. 14 at noon • EWU Art Auditorium • 526 5th St., Cheney • Free • sfccfinearts.org • 533-3746