FOR STARTERS
Explore The Bluff
The South Hill Bluff is one of those Spokane institutions that everyone needs to experience at some point — and on their own time. The network of trails off of Spokane's High Drive offers outstanding views of the Latah Valley and Highway 195, catering to all kinds of users — hikers, trail runners, mountain bikers, dog walkers and, occasionally, illegal road building that's later "fixed" (GAH!).
While the Friends of the Bluff group helps maintain a sense of order and cleanliness, the network of trails (without signage) is the result of people using (hopefully not abusing) our natural environment near our homes. Experience it, but don't ruin the experience for others by being a jerk. Share the narrow trails. Don't litter. And for crying out loud, pick up your dog's poop!
A Walk in the (Palisades) Park
If there's an underappreciated gem in the Spokane parks system, it's Palisades Park. Like not telling Seattleites that "Spokane Doesn't Suck" for fear of too many of them moving here and bringing their traffic and housing prices, we're reluctant to tell too many people about Palisades. But good news is worth spreading.
On the west edge of the city, nestled across from Indian Canyon Golf Course, is a 700-acre diamond in the natural-pine-forest rough. It features wide paths for hiking and biking, and a cool waterfall for those adventurous enough to find it. The nonprofit Palisades group works with the city to maintain and protect the area. For more insight, check out the Palisades Geology Walk on June 15 from 5-7 pm. Info, history and trail maps at palisadesnw.com.
Find Your Thrill on Tubbs Hill
No one can say they've experienced Coeur d'Alene without having first spelled it wrong 10 times or ventured around Tubbs Hill. The 2.2-mile loop, circling a peninsula jutting out into the city's and tribe's namesake lake, is to North Idaho visitor experiences what the Space Needle is to Seattle: You have to do it at some point. But unlike the Space Needle, you won't be charged ridiculous amounts to experience it — nor is there an elevator.
It's crowded in the heat of summer, with lots of hustling and bustling from the adjacent Coeur d'Alene Resort, so perhaps find a pleasant weekday evening to take a stroll. Be on the lookout for trail runners and dude bros in tank tops and aviators scouting their ideal beach access and Instagram selfies. Start east of the CdA Resort boat launch in McEuen Park — where, yes, you'll be charged to park (unless you find hard-to-come-by street parking downtown). Info, history and trail maps at tubbshill.org.
Wednesdays in the Woods
Sure, you know Riverside State Park and the (sometimes crowded) Bowl and Pitcher — but do you like learning about outdoor activities there? But wait, you say: Summer is supposed to be when there's no school. Yeah, but these lessons can help you be a better and smarter outdoorsperson.
Join your friendly neighborhood REI store teachers Wednesdays throughout the summer at the Bowl and Pitcher campground amphitheater for classes on camping skills 101 (June 21); hiking with kids (June 28); dealing with wild animals (July 5); Pacific Crest Trail hiking tips (July 12); dog first aid (July 19); women's backpacking basics (July 26); birds of prey (Aug. 2); Leave No Trace camping (Aug.9); women in the wilderness (Aug. 16); and gourmet camp cooking (Aug. 23).
The season wraps up with a free music concert on Aug. 30. Events (all free) begin at 6:30 pm. A Discover Pass is required to park at the Bowl and Pitcher campground. Info and register at rei.com/stores/Spokane.html.
THE NEXT LEVEL
Experience The Forest Experiment
College is a time for experimenting, we're told, and the University of Idaho is no exception. But what about experimenting with... trees? (Hey, we don't judge.) All right, not that kind of experimenting. Rather, the science-y kind. The Idaho Experimental Forest is literally a living outdoor classroom where University of Idaho students in natural resource management, forestry and related majors get practical field education. And since the U of I is a public land grant institution, we all benefit — and can recreate in the forest.
Made up of eight separate units throughout the state, the Experimental Forest is open to recreational uses for hiking, hunting, biking and horseback riding. The East and West Hatter Creek units, Hemlock Natural Area and Big Meadow Creek areas are particularly well suited for families out exploring in the woods. Before you go, check out specific locations, regulations and more info on each unit at tinyurl.com/IdahoExperimentalForest.
Wild Montana Skies
Glacier National Park is named just as much for what's in it — yeah, a bunch of glaciers — as how its carved valleys and knife-edge peaks formed (again, glaciers). And at the rate the glaciers are receding (hello! climate change, anyone?), you may not have too many decades left to see them.
Long story short: Get to Glacier now. It's among the most popular (and in the peak tourist season of July and August, crowded) national parks. When you get there, you'll see why. But there's no need to get stuck in the big crowds on just the most popular and quickly accessible trails. Consider lesser-visited but still as beautiful areas like Bowman or Kintla lakes on the northwest side, or Two Medicine and Dawson Pass on the east. A weekday trip will also reward you with lighter crowds.
Bonus: Take your passport or enhanced driver's license and check out the Canadian side of the border, called Waterton Lakes National Park. With the exchange rate, your U.S. dollars will go much further. Win, eh?! Extra bonus: Take Amtrak from Spokane to West Glacier for an all-around summer getaway experience.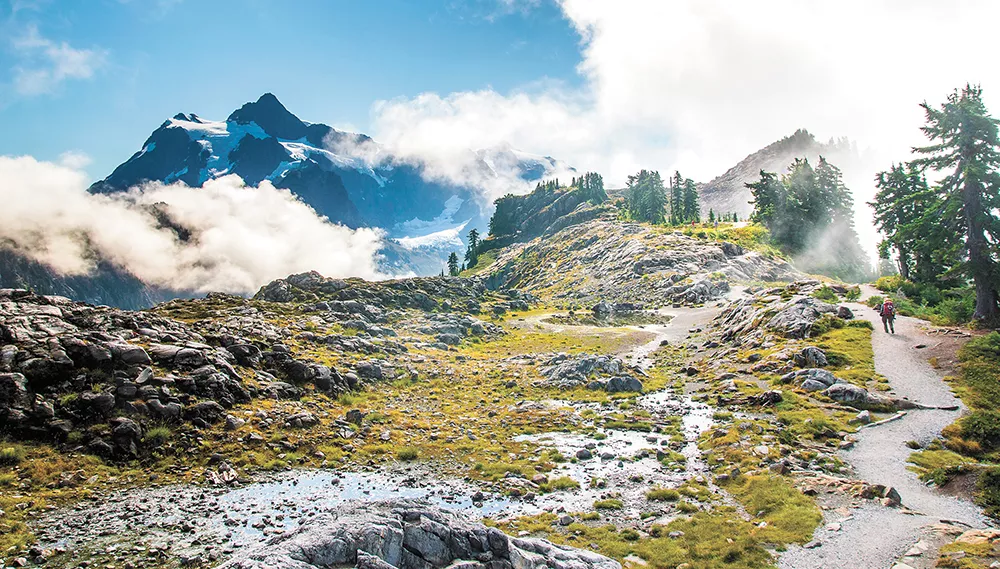 Our Backyard Big Trail
Sure, you've heard of the Pacific Crest Trail, maybe read a book or watched a Reese Witherspoon movie about hiking it. And you have a lifelong goal of taking a year off of work (and life) and doing the Mexico-to-Canada trip of a lifetime. Before you tackle that — or another 2,000-plus-mile trek — consider the Pacific Northwest Trail running through our own backyard.
Beginning in northwest Montana, stretching across North Idaho, and continuing across northeastern Washington to the North Cascades, Puget Sound and the Olympic Peninsula, the PNW Trail is among the newest — and most rugged — national trail destinations in the country. It uses existing forest trails and roads and is still coming together from end-to-end. For now, check out the numerous sections as day excursions or multi-day backpacks if you can't commit to the entire trail at once. And, really, very few people have the luxury of doing that.
The nonprofit Pacific Northwest Trail Association can help you with info, maps and trip planning: pnt.org.
Wander in Wenaha
Tucked away unassumingly in southeastern Washington — south of the Palouse's rolling wheat fields and east of Walla Walla's endless vineyards — is the Wenaha-Tucannon Wilderness. Wait, what? Yeah, southeastern Washington isn't just farms and Cougars. Part of the much larger Umatilla National Forest on the edge of the Blue Mountains of Washington and Oregon, the Wenaha-Tucannon Wilderness encompasses 176,557 acres of sheer cliffs, incredible three-state vistas, deep canyons and steep forested river valleys.
Try the Tucannon River trail for a particularly fun, yet challenging, hike that starts high and descends to the river. Being a wilderness area, the trails may not be as well maintained, or free of downed trees, so plan your time commitment — and skill level — accordingly. But since you're in the wilderness, you shouldn't care about time. Put your phone away and take a deep breath. More info and trail suggestions at tinyurl.com/WenahaTucannon. ♦