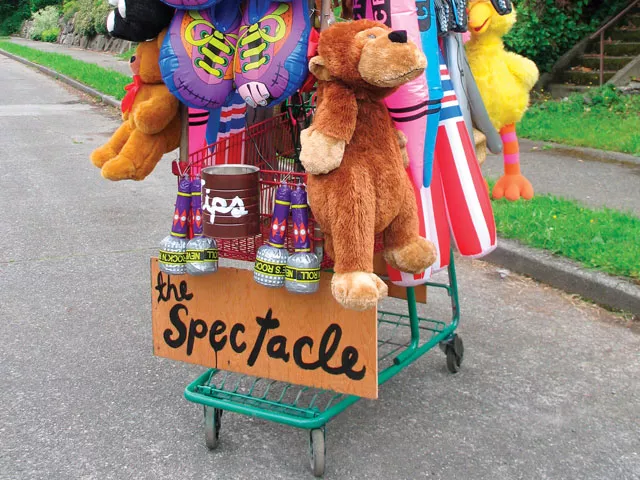 Alongside a parade route, vendors are roaming the crowd, selling balloons. For most of us, this is a mundane sight.
For Garric Simonsen, it's a spectacle worth transmuting into an art exhibit. This month at Saranac Art Projects, he's displaying inflatable novelty toys — huge crayons, moose, monkeys, all mounted on a rolling cart — that he calls The Spectacle.
During a recent residency at an art foundation, Simonsen piled oversized sunglasses and beer mug balloons on his cart, then rolled through downtown Seattle, giving stuff away. (The resulting documentation and a duplicate cart will be part of the Saranac display, as will a similar Spokane performance.)
With his Spectacle, Simonsen is investigating several questions: Why and how do artists self-promote? Should they resist or welcome public scrutiny? And to what extent do viewers regard art as a commodity?
Simonsen's premise is odd yet compelling. Visual artists often reinterpret their (our) world in fascinating ways, and it's something Simonsen is increasingly more adept at. A Spokane native and Evergreen State College graduate, Simonsen returned to Spokane in 2006 with Pigeon Hole Gallery, an alternative art venue, and community-based art events like the Oil Barrel Project, a clever spin on the plethora of artist-painted moose, deer, horses, etc.
His early abstract watercolors, often filled with graffiti or scribbling, were giving way to increasingly abstract pieces, sometimes punctuated with collaged objects or drawings. The process intensified in 2009, when Simonsen entered Washington State University's Masters of Fine Arts program, which, he says, was "really intent at getting the grads to be more experimentally conceptual."
Simonsen continues to work with cross-disciplinary ideas and alternative venues, including New York's recent Brucennial — a bring-your-own alternative to the revered Whitney Biennial, commended for its arts-and artist-centered approach to curating — and a recent Los Angeles anti-art exhibition entitled "Trashed."
It's the evolution of Simonsen's anti-painter persona (at antipainter.com), full of irony and intellect and intrigue — the continuing riddle that is Garric Simonsen.
Sharing the space at Saranac with Simonsen is the equally intriguing Patricia Thornton. Her work is inspired by "raw" art (or what early French modernist Jean Dubuffet called art brut), which includes what we might call outsider or folk art, along with the intuitive mark-making of artists like Paul Klee.
"While working and creating iconography," writes Thornton, "I enjoy scribbling, scratching and erasing as well as delicately rendered lines and shapes." Her work at Saranac includes pieces recently shown at Missoula's Brink Gallery in a collection called "Misfits, Monsters and Pretty Things."
Like Simonsen, Thornton's art at first appears unschooled, and yet it's acutely conscious of and conscientious about art history, aesthetics and contemporary culture.
With its pastel and candy-color schemes, cutout shapes and often bare-wood backdrops, it's neo-minimalist pop surreal.
When Thornton presents doll cutouts or a puppet show, flattened and artificially sugar-coating the darker side of life, the faint storytelling quality of her work is reminiscent of Amy Sol or Audrey Kawasaki. There is sheer beauty in her stripped-down, ironic approach that makes for work simultaneously cute and a little disturbing.
Combined, this is an exhibition that — true to the mission of Saranac — challenges the audience with contemporary work and continues to breathe new life into the Spokane art scene.
"Garric Simonsen and Patricia Thornton" runs through Saturday, July 31, at Saranac Art Projects, 25 W. Main Ave. Gallery hours: Thursdays and Saturdays from noon-5 pm; Fridays from noon-8 pm. Artist reception: Friday, July 2, from 5-8 pm. Free. Visit washingtonart. blogspot.com and saranacartprojects.org or call 209-2870.