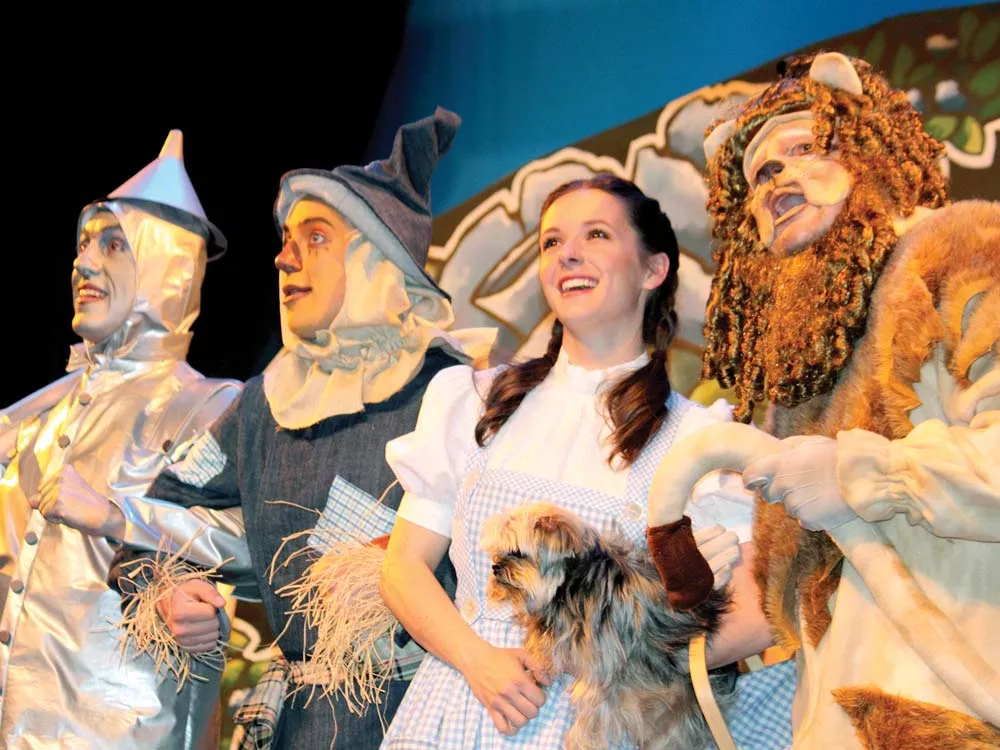 It can't be just like the movie, can it? They'll have to change some stuff. And how will they pull off all those special effects? Some highlights from Coeur d'Alene Summer Theatre's The Wizard of Oz:
Which parts recall the classic film? Well, the brief video projections — they're just like the movie. Even better, when Mallory King as Dorothy clutches Toto and steps into the spotlight to sing "Somewhere Over the Rainbow," it was a moviemagic moment with no traces of Judy Garland sentimentality. By the end of King's rendition, simple but heartfelt, you'll be mentally joining the happy little bluebirds in their flight.
The Munch-kids: The giggling just before "Ding Dong! The Witch Is Dead" comes not from little people but small schoolchildren, some of whom probably live right down your street and attend third grade. And nothing says "cute and innocent" like 30 Idaho schoolchildren.
Unwise addition: This particular stage version, from 1942, adds back in what the movie deleted: "Jitterbug," which is just an excuse for a dance break and which, from a kid's point of view, slows down the narrative (along with a couple of other early-Act Two numbers). Let's get back instead to those flame pots that spew real fire whenever the Great Oz speaks! (You can actually feel the heat.) And how did they pull off that animated Oz face, anyway?
Riffing on the farm hands: All three — Cameron Lewis as the Scarecrow (loose-limbed), Christopher Moll as the (earnest) Tin Man, and Roger Welch as the (abashed) Cowardly Lion — hint at the movie's characterizations without being slavish about it.
Not so scary: Somersaulting in midair and smiling, the flying monkeys come off like clean-cut gymnasts. And while Ellen Travolta, as the Wicked Witch, deserves credit for flying like a trapeze artist, she relies on comic mannerisms more than menace. The journey's more satisfying if, sometimes, you were genuinely frightened.
Acting with kids (and dogs): Actors worry about being upstaged by fresh-faced cherubs — and audiences will always go awww whenever a little terrier appears. On opening night, Toto increased his adorability by hesitating on his last entrance, taking one look at all those bright lights and turning right around.
Just like viewers, Toto had been through some scary experiences, what with the fireballs and marching guards and the tornado.
Soon, though, he settled into Dorothy's arms, agreeing that after all the trials and tribulations of a comfort-nostalgia production like CdA's Wizard of Oz, there is indeed no place like home.

Coeur d'Alene Summer Theatre presents The Wizard of Oz • Thurs-Sat, June 16-18, at 7:30 pm; Sun, June 19, at 2 pm • $43; $39, seniors; $29, children • NIC, Boswell Hall, 1320 E. Garden Ave., Coeur d'Alene • cdasummertheatre.com • (208) 769-7780