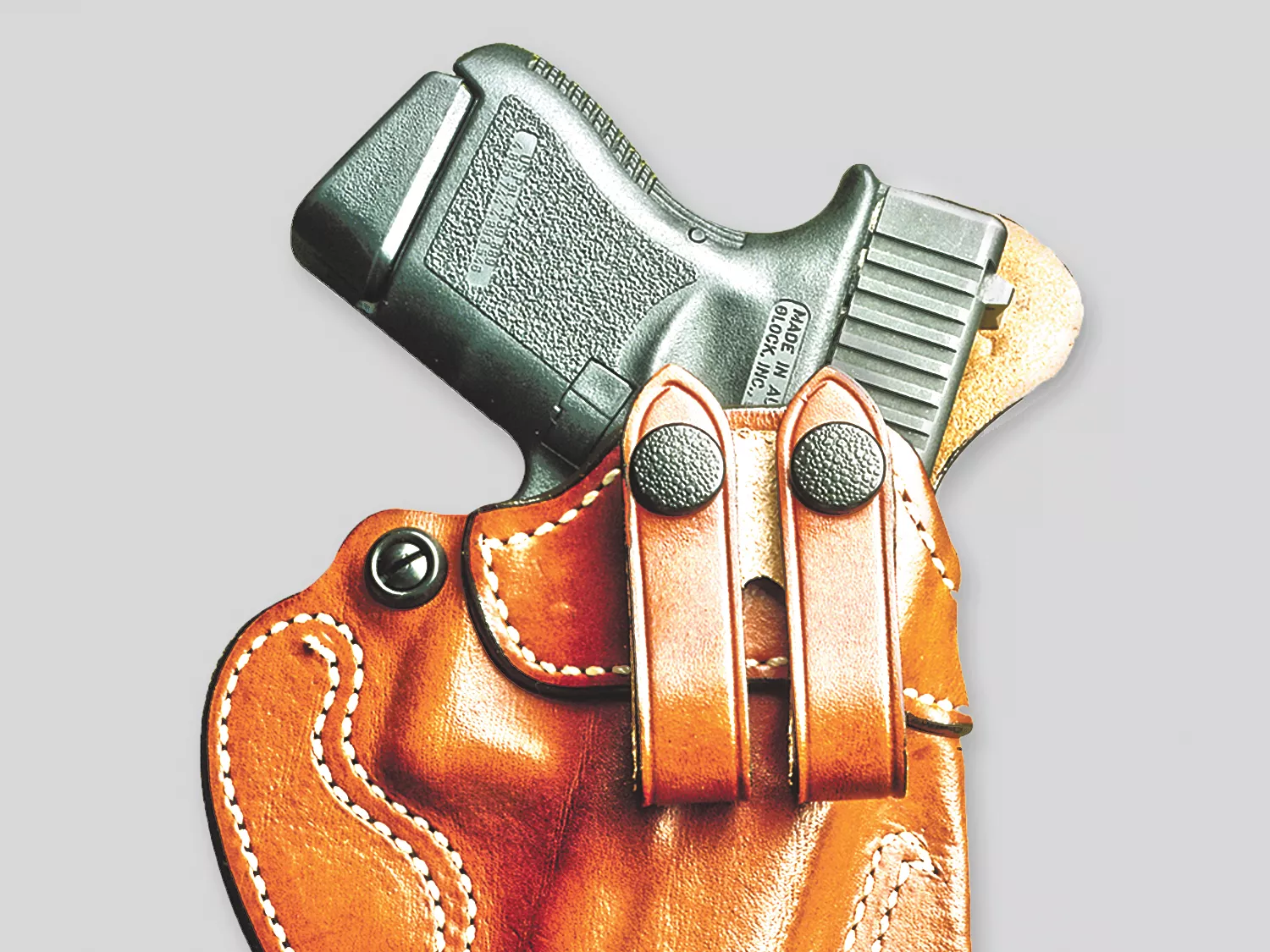 In recent weeks, the line has sometimes stretched out the front door of the Kootenai County Sheriff's Office in Coeur d'Alene. Just a few wait this afternoon, scribbling away at paperwork. When it's his turn, Mike Schmutz steps forward and obediently offers up his hands.
"We'll start with your right hand," a clerk tells him.
Wearing latex gloves, the clerk guides Schmutz's right hand to a black ink pad. One-by-one, she presses his fingertips to the pad, then stamps his prints onto the background check form.
Assuming the Hayden Lake resident does not have any criminal or mental health issues in his record, which Schmutz says he doesn't, he can expect to receive his new concealed weapons permit within two months.
"There's really nothing to it," he says.
Compared to many states, both Idaho and Washington make owning a gun relatively easy. One Idaho state lawmaker has proudly claimed the title of the most "Second Amendment-friendly state" in the country.
Neither Idaho nor Washington requires owners to register their firearms. Neither state imposes complicated rules or steep fees for permits. Neither has any state-level assault weapons ban.
But the Dec. 14 shooting in Newtown, Conn., has changed the conversation, upping the stakes for both gun owners and gun control advocates, as legislators weigh potential firearm regulations.
While law enforcement agencies scramble to process skyrocketing concealed weapons permits, lawmakers in both states have split on how to address newly ignited concerns regarding gun violence.
In his first gubernatorial news conference last week, Washington Gov. Jay Inslee argued for a "common sense" approach to gun regulation. The governor reaffirmed his support for stronger background checks as well as a state-level ban on assault weapons and high-capacity magazines.
"I have long believed that it did not make common sense to say that we were going to allow people to buy weapons that can hold 100 rounds like has been used … in some of these multiple horrific acts of violence," Inslee said. "The reason it's not common sense is that no one can articulate a justifiable reason to really need them for hunting or self-protection."
Washington legislators have recently introduced bills to toughen juvenile gun possession punishments, increase sentences for crimes committed with the use of body armor and protect the existence of shooting ranges. But no proposals have yet moved forward on tightening background checks or outlawing certain weapons.
Democratic state Rep. Andy Billig, of Spokane, says local lawmakers want to preserve gun rights while increasing public safety. Officials hope to build a coalition of support around some potential legislation, but that work will take time.
"We have a number of proposals floating around," he says. "I think it's too early to tell what might get traction."
Meanwhile, Idaho legislators have called for rolling back standing gun limitations to allow school employees to carry firearms and reinforce protections for common gun owners. Idaho state Rep. Judy Boyle, R-Midvale, a former NRA lobbyist, has been put in charge of consolidating proposals on new gun regulations in the current session.
"All of us have been hearing from parents and teachers and coaches that want to have the ability to protect their kids in school," she says.
Allowing school employees to complete additional training to allow them to carry firearms on campus is just one of many ideas, Boyle says. Legislators plan to meet with law enforcement officials, school administrators, NRA representatives and others in the coming weeks to discuss a variety of options.
"[But] we are not going to pass any law further restricting the Second Amendment," Boyle says. "We are a very Second Amendment-friendly state, probably the most friendly state."
The Washington State Department of Licensing reports 2012 ended with more than 367,800 active concealed weapons permits on the books. The Idaho State Police currently lists 87, 248 active permits.
Linda Mattos, records supervisor for the Kootenai County Sheriff's Office, says the daily rate of new concealed weapon permit applications has more than doubled since the Newtown shooting.
"Quite a few people can be stacked up waiting," she says as a few more people file into the office. "We try to get them through as quickly as we can."
An Idaho permit costs $59 for processing, fingerprinting, a background check and a photo for the license card. But unlike some states, those applying in Kootenai County must also prove some previous weapons training.
Mattos says applicants can provide proof of a hunter's safety education class, previous military service or certification through a private course. The office files local background checks and then sends the fingerprints to the state for additional checking.
Theresa Giannetto, the records manager handling weapons permits in Spokane County, says the office handles dozens of applications in a single morning.
"You're going to see a big old line of people," she says. "We've been opening our doors daily to approximately 50 people in line."
Despite what you might expect, unlike some Idaho counties, Washington state does not require proof of any weapons training for a concealed weapons permit. The permit costs $52 and does not include a photo ID.
"Our background checking process is incredibly comprehensive," Giannetto notes. "We do a local check. We do a statewide check. We do a federal check and we do a mental health check."
Any red flags get a thorough follow-up, she says, but with the number of applications nearly tripling in recent weeks, her office has been somewhat overwhelmed with a backlog of permit requests.
Boyle says Idaho legislators and their constituents have expressed near panic over newly proposed limitations on gun ownership. She says President Obama's recently announced executive actions and other gun control efforts have shaken the state.
"Many of them are scared," she says of Idaho gun owners.
Boyle says federal firearm proposals tend to address gun issues that affect large cities. Local officials want solutions that fit Idaho, not Chicago. She hopes the state can open a dialogue with Washington, D.C., to develop a plan for improving gun laws as well as evaluating the state's mental health services.
"We want to take a measured approach," she says. "When you pass a bill in a panic, you get a terrible law."
While few, if any, Idaho lawmakers have discussed tightening gun regulations, Washington state legislators have started holding meetings on the issue. A spokesman for the state Senate Democrats says several officials met Monday to discuss potential measures. No one was available after the meeting to discuss details, but the spokesman acknowledged "pressure" to introduce some improved restrictions on gun access.
Billig says both sides have brought "a lot of passion" to the debate in Olympia, but he also believes both parties should be able to rally around some joint proposals to provide extra safeguards against gun violence.
"I think that there is a path," he says. "I think we can get there."