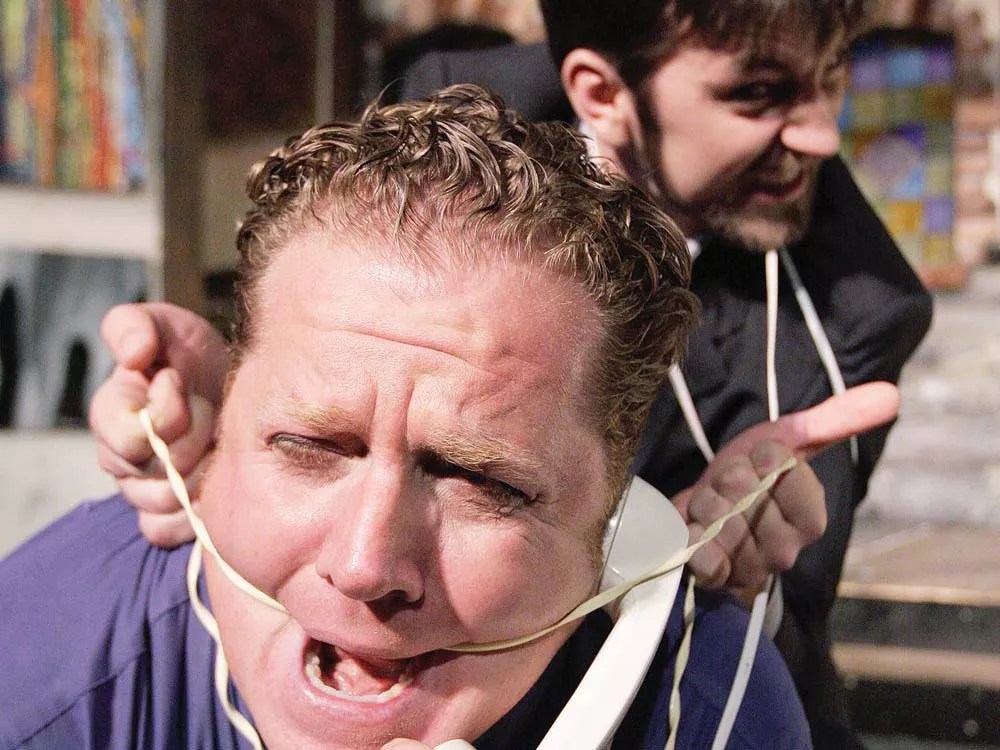 Hubby wants to shag his mistress, needs to get Wifey out of the house. Wifey discovers that a Cute Young Thing is coming over to cook dinner (suspicious, that). Then Wifey learns that her own lover — conveniently enough for our plot, he's Hubby's Best Pal — will also soon be arriving.
The name of the game in Don't Dress for Dinner, then, is Mutual Deception: Wifey and Hubby are each trying to get some quick nookie before the other finds out.
But they don't get much nookie. And what they do get isn't quick in, er, coming.
But that's in the nature of farce: frustrations, complications, recriminations, all in good fun.
Soon both spouses are aware that the other is fooling around, right here in this house, right now. (Sounds like swinging to me — interesting, given how the Civic recently terminated husband-and-wife employees after they were anonymously outed as swingers.)
Playwright Marc Camoletti's character manipulation is almost algebraic: A matched with C is much naughtier than A matched with B, especially if D takes an interest in both B and C.
Once the cook goes through pretending to be not the cook but an actress, or else someone's niece, or else somebody's mistress — and just before she goes back, drunkenly, to being a cook again — playgoers are going to find their intellects disengaged, unhinged. When plots and counterplots are this convoluted, you can't figure them out, at least not in the moment. So turn off your brain: You're just along for the ride.
It's like playtime for adults who may once have had a lascivious thought or two (which is to say, all of us).
As Bernard the Hubby — who's always thisclosetogettingcaught — Scott Miller is particularly good at quicksilver changes from pretend-contentment to anguish: "Oh, good," he smiles, brightly; "Oh, God," he moans, miserably.
As Jacqueline the Wifey — sometimes scorned, so beware the hell of her fury — Leigh Sandness snakes an arm up a column, strikes poses and gets all raspy-voiced in indignation. But she doesn't usually overdo it, which is important.
Comedy's funniest when the actors play it seriously. For the characters, the stakes are high, and mugging for comedic effect just won't do. So when Hubby and Wifey are making their separate tryst arrangements, their guilty grimaces and anxious finger-chewing drain out the humor.
It's like the difference between being ordered to laugh at something and figuring out for yourself that it's funny.
In the meantime, someone (like director Thomas Heppler) needs to tell Shawna Nordman (as the cook) that mincing hands and continual eyeglass-adjustment convey anxiety, and that while mincing hands and continual eyeglass-adjustment may be funny the first three times, they stop making sense once the cook gains leverage on the men and a position of relative power.
At its two-and-a-quarter-hour length (including intermission), Don't Dress could use a trim: Nobody can keep laughing that long, and a comedy with so much extended and multiple role-playing requires a lot of time for explaining who's playing which role now. And you know what they say about explaining jokes.
The finale of Don't Dress for Dinner, though, is clear enough. The husband has been sleeping around, and the wife knows it; the wife has been sleeping around, and the husband knows it; and at play's end, they come to an understanding that in the midst of all this philandering, their marriage will go on.
The play's final image suggests that the cycle will go on: men keeping mistresses, women allowing themselves to be kept. It turns out that farces — which acknowledge that we're sexual beings while asking for reasonable restraint — may have more than just entertainment value.
Don't Dress for Dinner • Thurs-Sat 7:30 pm, Sun 2 pm, through Jan. 30 • $21; $19, seniors; $16, students; $8, student rush • The Civic • 1020 N. Howard St. • spokanecivictheatre.com • 325- 2507 or (800) 325-SEAT