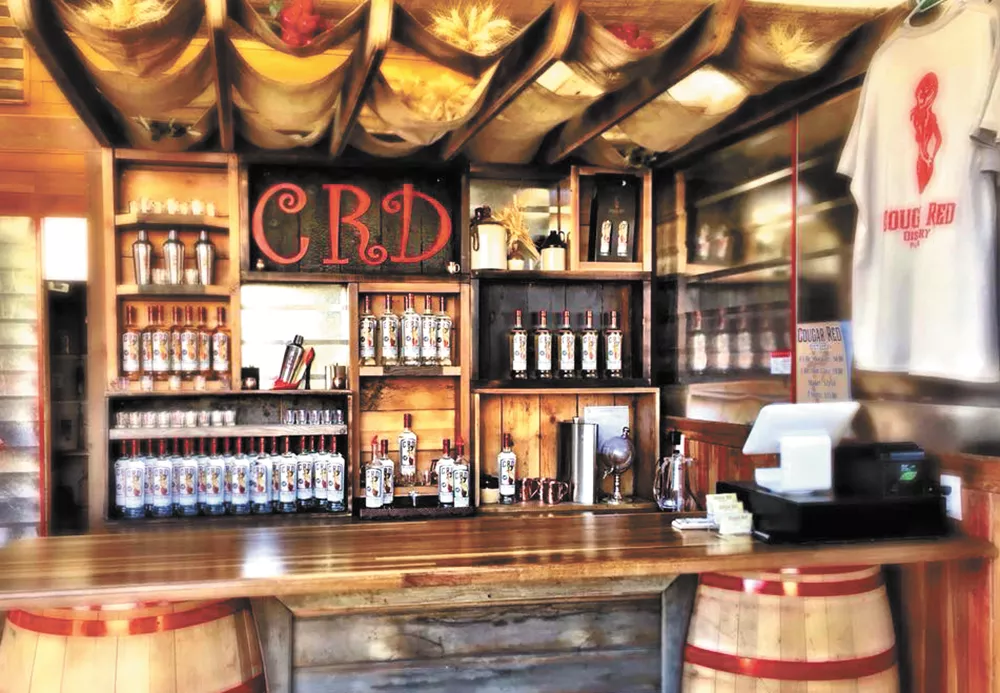 The 20 acres of wheat surrounding Cougar Red Distillery will go to good use eventually, but so far Allen Paton relies on Washington's apples to make vodka and gin at Pullman's first distillery.
"I wanted to get into whiskey, but it takes so long," he says. "First you want to know if you're good at distillation."
Paton owns a refrigeration company in Pullman. Before coming here, he helped at wineries in Arizona and Washington. When he decided to enter the industry for himself, he followed his love for bourbon and Canadian blends. He started with apples because he likes the flavor from a sugar base; it helps that he lives down the road from local cider producers.
The distillery and tasting room are tucked into the hills opposite the Pullman-Moscow Regional Airport. They sell bottles of gin ($50) and vodka ($35) adorned with a modern version of a pin-up girl wearing a red dress slung low in the back. Get it? She's a cougar. Their vodka and gin are available across Pullman, including at Zeppoz, South Fork, Dissmore's, Sunset Mart and Birch & Barley, among others.
To make vodka, Paton starts with apples pressed by Pullman's Whiskey Barrel Cider Company. He orders about 1,000 gallons of juice each month, says the cider company's owner Trent Maier.
"I think that was a good fit for them in terms of a good base product," Maier says. "It helps us, too. It keeps us busy making more juice than we usually do."
At the distillery, the juice ferments for five days before enjoying two runs through Paton's 100-gallon still. The resulting drink is smooth with an apple aftertaste.
The gin soaks for about a week in juniper berries and other botanicals, including lavender, cinnamon, orange peels and cloves. The classic taste is overpowered by the other flavors, but Paton says mixing it with Cougar Red vodka draws it out again.
After only five weeks, he's heard good reviews from the crowds visiting the tasting room.
"More than 80 percent are raving about a product they usually don't care about because they're mixing it," Paton says. ♦
Cougar Red Distillery • 1252 Orville Boyd Rd., Pullman • Open Wed-Thu, 4-7 pm; Fri-Sat, 11 am-7 pm • cougarreddistillery.com • 332-2635