UPDATED JUNE 1
: Two more Spokane
restaurants have closed
due to the pandemic:
Paper & Cup
cafe in Kendall Yards and
Fleur de Sel Artisan Creperie
on the lower South Hill.


Even though today brought long-awaited good news
to countless business owners across the region when Spokane County was approved to move into phase 2 of Washington's plan to reopen the economy after two difficult months of pandemic shutdown, we've lost several local restaurants along the way.
The following list is also likely to grow as the weeks pass, and other local restaurants continue to struggle making up for those lost sales at half-occupancy, and amid a still uncertain economic future in which the threat of COVID-19 still looms.
River Rock Taphouse
It was
a short run
for this downtown craft beer pub, which opened during Hoopfest weekend last June on the first floor of the Chronicle Building, at 926 W. Sprague Ave. Yesterday, owners Denise and Mike Magee
took to social media
to announce the restaurant's fate:
"Dear family, friends, and customers,

We regret to inform you that we are closing River Rock Taphouse. The decision to close was extremely difficult to make. Denise and I, and our staff, worked very hard to make River Rock a success. Various factors played a part in our decision, including the extended closure due to COVID-19.

We want to thank our family and friends that helped us open the doors; it would not have been possible without your support! It was our goal to offer quality products and great customer service, and we hope we were successful in our endeavors.

Unfortunately, if you scheduled an event with us, you will need to find another location. We sincerely apologize for any inconvenience. We wish everyone good health and wellness through these trying times.

Cheers! Mike and Denise Magee"


MacKenzie River Pizza, Grill & Pub (North Spokane)
The 25-year-old regional chain based in Bozeman, Montana,
shared on Facebook today
that its North Spokane location, at 9225 N. Nevada St., is permanently closing:
"It is with a heavy heart that we bring you this news. Our MacKenzie River location in North Spokane will not be re-opening after the temporary closure due to COVID-19.

So, first things first, thank you for the laughs and thank you for the unforgettable good times and memories you've given us. We've had some truly amazing guests over the years, and we're sincerely disappointed to see this day come.

With that said, we do encourage you to visit our team over in South Hill. They're excited to keep the MacKenzie River dishes coming your way."


Tomato Street (River Park Square)
The local Italian family restaurant, which has locations in Coeur d'Alene and North Spokane,
expanded in late 2016
to a space in River Park Square formerly home to Rock City Grill. But after having to shut down that location for two months,
a recent decision
to permanently close the downtown Tomato Street was made.
"As you may have heard by now, due to the ongoing COVID-19 pandemic and all the uncertainties it brings, we have made the very difficult decision to close our downtown River Park Square Tomato Street. We will greatly miss all of our wonderful employees and fantastic downtown guests everyday. However, our North Division location will remain open and we hope to see you there!

Many thanks to everyone who has supported our family at our downtown location. We will certainly miss you, but do look forward to seeing you up North. Likewise, our partner store in Coeur d'Alene is alive and well.

Dean Haynes, Owner"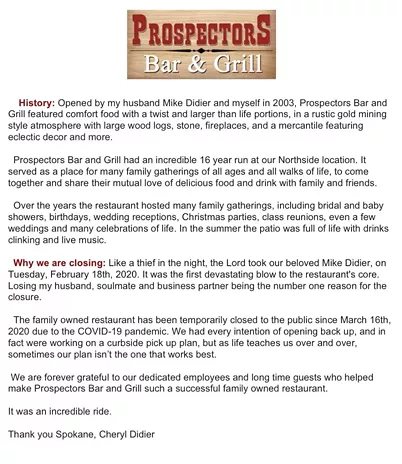 Prospectors Bar & Grill

This rustic, gold-rush inspired North Spokane eatery, at 12611 N. Division St., opened back in 2003, but is now yet another victim of the economic blow that came hand-in-hand with the pandemic.
Owner Cheryl Didier
shared on social media
that another major reason for the restaurant's closure was the unexpected loss of her husband and business partner, Mike Didier, in February. Her full response is shared in the image to the right.
Rocky Rococo Pizza & Pasta

The locally owned franchise of this Midwest chain was one of the area's first pandemic-era closures. On May 1, franchise owner Lee Gibbon said the 35-year-old location in the heart of downtown Spokane would permanently close:
"It has given us great pleasure to serve Spokane and the surrounding area for the past 35 years. To our loyal customers that have supported us, we say thank you for your patronage. You became part of our Rocky's family and we are forever grateful for your role in our success.

There does come a time when all good things must end, and our journey is no different. The challenges of operating a business are never ending. Rocky Rococo Spokane has been up to that challenge throughout the many years we have called downtown our home.

It's now time to step away and allow a new generation of entrepreneurs to use their energy and talent to create the next success story within the Spokane community."

Cheap Shots

The Spokane Valley bar, at 6412 E. Trent, is another coronavirus business casualty. The day before Spokane County moved to phase 2 of reopening the economy, owners posted the
following message on social media
:
"Unfortunately the rumors are true, Cheap Shots will not be reopening our doors. Luckily COVID-19 didn't not claim the life of anyone we know but unfortunately it did kill the business. We just cannot survive being shut down for over two months now and no actual timeline to be able to fully reopen. We sincerely wish there was another alternative but at this time there is not. We will miss each of you and we are very grateful for the time that we had together. The Blues crowd, the bike clubs and organizations, and countless others that made Cheap Shots what it was. We cannot express our gratitude for all of you enough, take care and be kind to each other.

Benny, Jodi and the entire Cheap Shots crew."
Tarascon Empanadas

We have included this closure, even though it's meant to be temporary, because it was caused by COVID-19 circumstances, according to a post owners
shared on social media
last month. The eatery selling Argentinian-style empanadas
opened last summer
.
"On March 18th we decided to temporally close Tarascon Empanadas due to COVID-19.

While working in a shared location with another restaurant, we quickly realized that keeping social distancing in a kitchen where two restaurants operated at the same time would be impossible. After more than a month of debating what to do, when to re-open, and seeing that some seating restrictions would be applied even if restaurants were allowed to open in the near future, we came to the conclusion that we needed to close and let Mr. Wok Restaurant fully use the space they need, in order to keep everybody safe. So we moved out last Sunday from our restaurant space.

Please, keep in touch with us through our social media, because we are planning on coming back! Meanwhile, we will keep expanding our menu with the addition of other traditional dishes, and will post photos to share with you along the way."
Other restaurants the
Inlander
has been informed are closing due to pandemic-related impacts include the Sapphire Lounge cocktail bar downtown and Mascot Pizza in East Spokane. This list will be updated as we learn more.