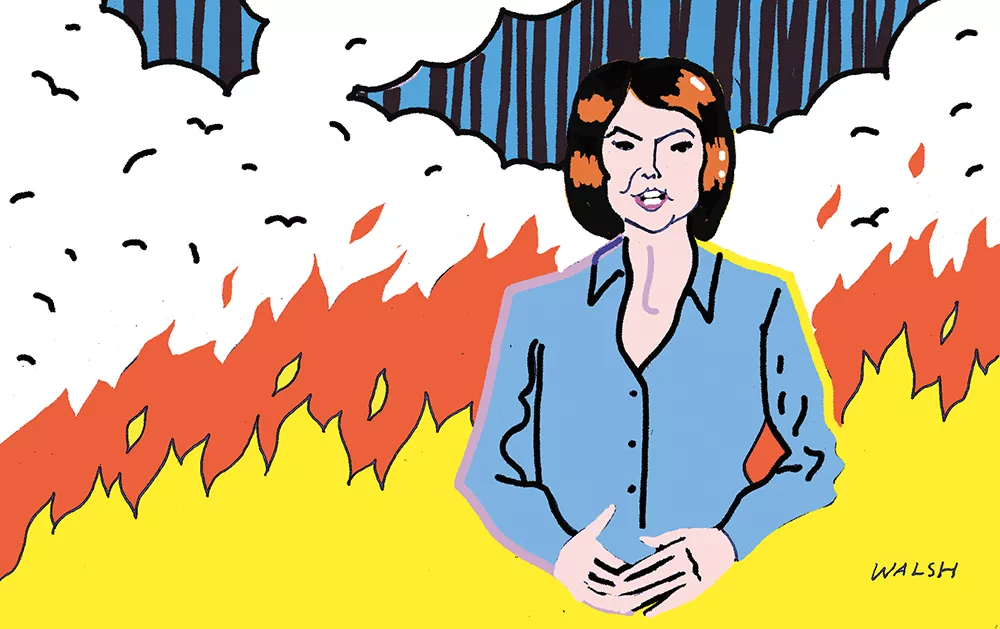 W ith Election Day getting closer, cheap and boldly false advertisements are fighting to win your vote.
Consider the latest ad from Eastern Washington's U.S. Rep. Cathy McMorris Rodgers: A forest burns as a dramatic John Williams-esque score swells with partisan sound bites. McMorris Rodgers declares that she is your champion to prevent wildfires and protector of firefighters — that "we shouldn't put their lives at risk because bureaucrats in Washington, D.C., won't let us properly manage our forests." Cue shots of lost property, a charred forest. It's the politics of disaster in an election year: We don't expect politicians to lead rescue missions, but we do expect them to rhetorically rise to the occasion.
McMorris Rodgers is unashamedly making up for years of doing nothing while her district burned during devastating wildfires. In 2014, she even blocked consideration of emergency wildfire funds after the state's largest wildfire in history, the tragic Carlton Complex Fire. Worse, the shrinking U.S. Forest Service had to pay for its firefighting efforts by taking funding for programs that promoted healthy forests and wildfire prevention.
When August's fires put a chokehold around the city of Spokane and severely damaged the Spokane Indian Reservation, McMorris Rodgers took a break between stops on her national congressional fundraising tour to get on-site briefings and appear at a news conference at the command center. What followed was illustrative: The Spokesman-Review asked her about the relationship of the fires to climate change. The problem, according to her, was not the hotter and drier temperatures of recent years. It's simply forest management. "If people really understood the conditions of our forests — bug infestations that we have, the disease, dying timber that is basically kindling for fires — I believe that they would be demanding that we take action," she said.
However, the failure to acknowledge this connection to climate change is absurd when forest health is a direct link. "Changing climate conditions can influence the spread of infectious diseases and their carriers, and add stresses to trees, making them more susceptible to diseases," says the U.S. Forest Service. "Tree disease can also be caused by abiotic conditions such as air pollution."
The avoidance of science is nothing new for McMorris Rodgers, a proud climate denier, who has the dubious honor of a 4 percent lifetime score on environmental legislation from the bipartisan League of Conservation Voters. She's voted against fracking protections on federal land, to cut funding for renewable energy and energy efficiency while increasing funding for fossil fuels, and to force approval of the Keystone XL pipeline — all while taking donations from Big Oil, and successfully denying the Environmental Protection Agency's ability to regulate greenhouse gas emissions.
Skeptics will say it was a cooler Spokane summer, but global temperature records continue to fall faster than dominoes, month after month and year after year. August was the hottest month on record, and each subsequent month this year broke its own previous record. Not all are equally impacted. Underrepresented communities of color and low-income communities are often the hardest hit by climate change, as was the case in Wellpinit.
As in much of the world, higher temperatures have extended the wildfire season in the United States, and all of the top five years occurred in the past decade. "We now have year-round fire seasons" in some areas, says Matt Jolly, a research ecologist for the U.S. Forest Service.
McMorris Rodgers is out of step with her constituents — and her country. According to a 2015 Stanford University study, two-thirds of Americans, and nearly half of Republicans, are more likely to vote for candidates who campaign on fighting climate change. No matter. She's back on tour, fighting for greater numbers of deniers to move into positions of power in Congress, with enough in the bank to spread misinformation while foolishly ignoring the real causes.
The trouble is, the planet can't afford the cost of doing nothing anymore. ♦