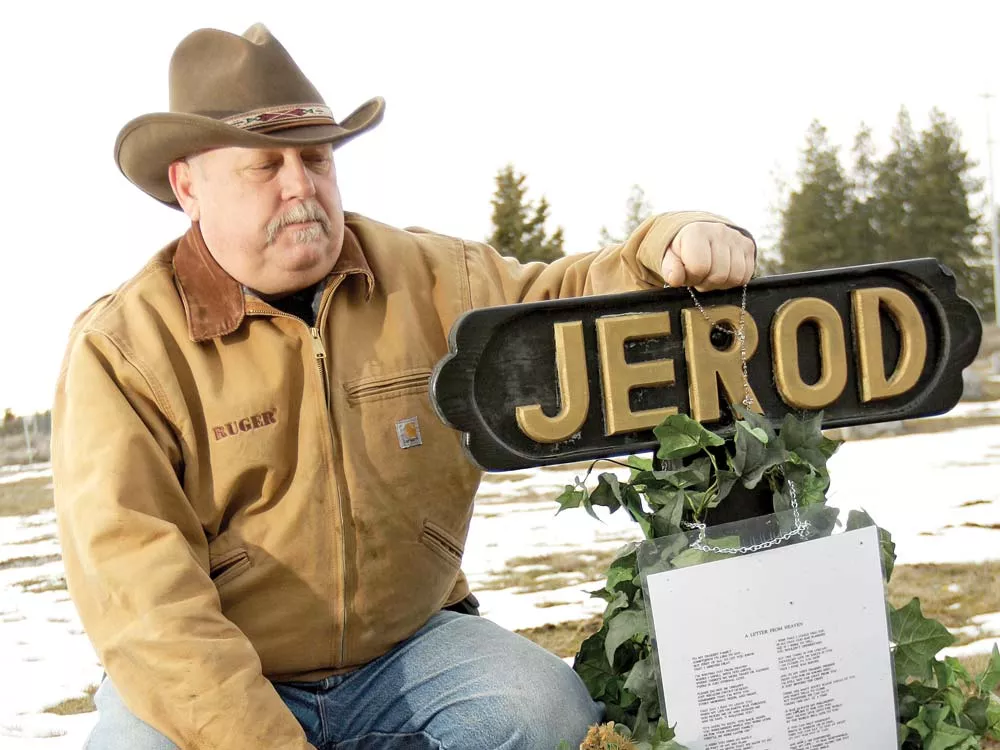 Last fall, Ken Hoeche and his family constructed a simple wooden cross to mark the grave of his son, Jerod Hoeche, who died Nov. 18 in a rollover crash near Medical Lake.
Hoeche says he would like to place a more permanent marker on Jerod's grave, but he is still awaiting a final accident report to send to an insurance company.
On Monday, Hoeche (pronounced "hay-key") learned his records request is being processed and he should get the report — on or about May 1.
Hoeche's tale of waiting months for the Police Records Division to fulfill public records requests is not unusual these days.
The division lost five clerks in the latter stages of 2010 in a hiring freeze intended to help limit Spokane's general fund budget shortfall. With fewer clerks, the records division has suffered. Once clear of backlogs and able to turn around records requests quickly — sometimes in the same shift as the request was made — the department is now swamped by a nearly 1,500-document backlog and an announced wait time of 90 to 120 days to fulfill a request.
Nobody likes it. Not Hoeche, who will have waited more than five months. Not Bob West, who is also awaiting a final accident report to free up insurance monies for his sister Debra, who suffered skull fractures and broken ribs when she was hit by a pickup truck while crossing a downtown street. West learned on Monday it will be months before he sees that report.
"In the meantime, I have bills," West says of the cost of caring for his sister, who is still hospitalized.
Theresa Giannetto, the department's records manager, also does not like the lower level of service in her office. Every day, she says, people like Hoeche and West call or visit to plead for a document that will help end a financial burden during a traumatic time.
"Ninety days serves no one's needs," she says. Media and watchdog groups are also affected.
Local civil rights attorney Breean Beggs says access to records "is an important function of government.
"Media and public interest groups are trying to serve the public. The more sunshine on government, the better decisions get made by government leaders and the electorate," he says. "The vicious cycle is when you don't provide access, the citizens don't trust you, and then they don't vote to provide tax money to provide the services."
The service windows inside the Public Safety Building have been cut from three to two and are closed entirely on Wednesdays so clerks can try to catch up, Giannetto says.
"The people down there [at records] are super nice, but I'm trying to put closure on this for not only me, but for [Jerod's] wife and his mother and his brothers," Hoeche says. "I've been trying to get a headstone. We're not rich."
Hoeche doesn't understand the lengthy delays when, as he puts it, "we are in a computer age."
Bob West is even more frustrated. As a city probation officer, West can access police files. "I can get the police report myself by just pushing a button … but that's illegal," he says.
West has used his access in a different way, taking his complaints about short staffing to Police Chief Anne Kirkpatrick and Mayor Mary Verner.
West, a city employee, understands layoffs, he says, but he's still frustrated by the loss of service.
It's uncertain if West's complaints have born fruit, but last Friday, Giannetto tells The Inlander, she was authorized to hire two more clerks.
To be clear, the clerks do far more than public records requests. They confirm arrest warrants and court documents — information vital to officers on duty, Giannetto says. Clerks also post runaway and missing persons reports and process gun sales, concealed weapons permits and fingerprint fees.
Often, Giannetto says, the department would fail to meet the mandated 72-hour turnaround on warrants and, she adds, "We had never passed a Washington State Patrol or FBI audit."
The pay is often lower than similar clerk jobs in other city departments, which, coupled with crappy hours and high stress, led to the high turnover rate.
"I was thankful to have only lost five [positions]," Giannetto says.
Mike Smith, the Local 270 union rep that covers records workers, says there was little the union could do last year.
"Management still has the right to set staffing levels. We can do things as a union but we can't dictate and we can't scream about staffing levels," Smith says.
Tim Ford, the Washington Assistant Attorney General who is the ombudsman for open government, says he's not heard of any other records division in the state in such dire straits.
And while it is true that the department isn't blowing any official deadline on fulfilling requests, Ford says a three- to four-month wait for records is unacceptable.
"You still have to try to provide the fullest assistance," Ford says. "Our model rules say you should not use the same estimate for all requests. Because some requests are simple, and some are complex."
Mayor Mary Verner says the records division was not targeted for staff reductions.
"Absolutely not. I personally have a strong commitment that we need to be responsive to records requests. They are a key piece to transparency and accountability in government," she says.
In addition to authorizing the hire of two clerks, Verner says that in late February she convened a "project team" from staffers in various departments that handle records requests to brainstorm ideas for better handling requests.
In the meantime, Giannetto says she and her staff are working as hard as they can to keep from sliding deeper into the hole.